Amid heightened concern from Island residents about summer vehicle congestion and the proposed Woods Hole terminal plans, the Martha's Vineyard Commission hosted a wide-ranging discussion with Steamship Authority leaders late last week to discuss recent data and pose questions about Island ridership and ferry usage.
"We see this as an initial meeting meant to foster a productive relationship with the Steamship Authority," commission chairman Jim Vercruysse said at the outset of the meeting held Thursday at the Olde Stone building in Oak Bluffs.
"It will be better all around if people know more about what we do and how we do it," general manager of the Steamship Authority Bob Davis agreed.
In a presentation, commission executive director Adam Turner said data provided to the MVC by the boat line dating to 1990 shows a steady growth in both passenger and vehicle trips to the Island over the past three decades.
Since 1990, the SSA has had a roughly 30,000-person average yearly increase in passenger traffic on the Vineyard route, Mr. Turner said. Since 2011, the SSA has carried 15,000 more cars on the Vineyard route, from 180,000 in 2011 to almost 195,000 this year. Meanwhile, peak seasonal passenger volume has steadily grown from 1.1 million in 2008 to 1.3 million in 2018, making this year the third busiest on record.
About half of all traffic volume occurs between June and September, Mr. Turner said. Over the past three decades, the percentage of people and cars carried between June and September has stayed steady, around 55 per cent for passengers and 45 per cent for automobiles.
The SSA has added 400,000 passengers since 2005, 200,000 of them seasonal.
"It actually is relatively consistent," Mr. Turner said, speaking about the seasonal volume breakdown for passengers carried. "It varies a little bit but there are no outliers that showed up," he added.
"When you realize that fifty per cent of their business is seasonal, it helps to understand what they're dealing with," Mr. Turner said.
One area of significant growth has been in truck volume, with 38,000 more trucks carried on the Vineyard route since 2005. The number went from 98,000 to 136,000 trucks in that time period. Although the SSA stopped classifying noncommercial trucks as automobiles in 2009, there still has been an approximately 20,000 increase in truck numbers since then.
Noting the growth, Mr. Turner said: "Does that just indicate that more people are buying large SUVs and trucks, or does it mean something else?"
The annual growth rate for trucks is 38 per cent while the seasonal growth rate is 37 per cent, the commission found. Both Mr. Turner and Mr. Davis agreed that the increase can likely be tracked to an increase in commercial truck traffic.
"These are probably vehicles to service the Island," Mr. Turner said. "The Island businesses and lumberyards do business all year round."
After the data presentation, commissioners peppered Mr. Davis and Steamship Authority governor Marc Hanover with concerns about summer traffic congestion on the Island.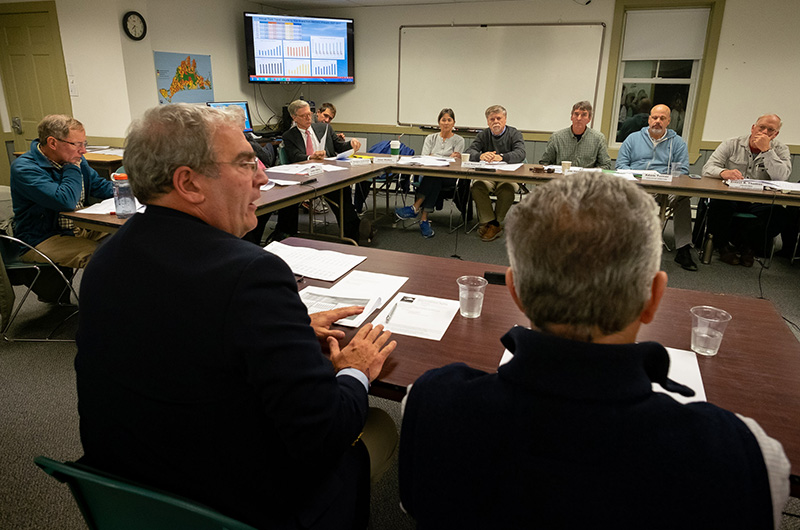 "Has the number of trips increased because of demand?" asked commissioner Richard Toole. Commissioner Fred Hancock echoed the sentiment, asking whether the SSA's carrying capacity has changed over the years.
"Is there a policy about capacity, because that's one of the things that's a big concern on the Island," he said.
Mr. Davis responded that the Steamship Authority's charter forces it to meet consumer demand.
"In 2004, we were running at 86 per cent occupancy," Mr. Davis said. "This past year we were at 81.2 per cent. Overall we've been fairly consistent running at around 80 per cent occupancy."
Commissioners also voiced concern about the Steamship Authority's $1 million advertising budget and Woods Hole parking prices.
"Do you use parking to subsidize other operations?" commissioner Ben Robinson asked. "I would imagine operating a parking lot is much cheaper than running a boat."
Mr. Davis said the SSA has to budget to advertise schedule changes and boat cancellations. He said they have explored variable pricing for parking and potential lot improvements in Woods Hole.
Some commissioners noted the conflicting missions of the two state-chartered agencies, each with it own unique powers.
"You're charged with bringing people here, we're charged with protecting the Island," Mr. Vercruysse said. "They're at odds with one another. Have you ever thought that there might be, at some point, an arm wrestling match?"
But Mr. Hanover said there are areas of common ground. The SSA does not make money from cars and trucks, he said.
"It's a wash," the Vineyard boat line governor said, speaking about profits from vehicle fares. "They make money from walk-on passengers. I'm assuming from what I've been hearing lately is that we want more walk-on passengers and fewer vehicles, so we are going to come up with ways to encourage people to leave their cars."
There was discussion about the need for a more seamless public transportation and bus system and about the breakdown between excursion and nonexcursion fares.
Mr. Hanover reiterated a remark he had made at the monthly boat line meeting earlier in the week, suggesting that it is not within the power of the SSA to limit traffic on the Vineyard route.
"The Steamship Authority is not a zoning board, we can't refuse anybody," Mr. Hanover said. "That's why we want to talk. Wouldn't it be nice if we could all figure this out and perhaps bring less cars and make money from the passengers?"
He concluded: "Eventually we are coming up to a bottleneck. If the Island keeps growing, I don't know how much more it can grow."