A pre-dawn fire at Flat Point Farm in West Tisbury Tuesday destroyed the main barn and claimed the lives of almost 90 animals. But in the days following the disaster, the Island community responded with multiple deliveries of hay and feed for the surviving animals, over $70,000 donated in an online fundraising drive, and plans for a fundraising potluck.
The call alerting first responders came in at 5:08 a.m. A neighbor up early to catch the 6 a.m. ferry heard cracking sounds. West Tisbury fire chief Manuel Estrella 3rd said he hadn't seen such a loss of animal life in his 45 years with the department. "The barn was totally gone when we got there," he said.
The cause of the fire is not certain, but Mr. Estrella said a heat lamp was a likely source. The fire claimed the lives of 22 lambs, 12 sheep, two beef cattle and 50 chickens. No people were injured in the blaze.
Fire departments from West Tisbury, Chilmark and Aquinnah all responded with tankers. The Oak Bluffs fire department helped to refill the tankers, and the Tisbury fire department covered the West Tisbury station, said Sgt. Garrison Vieira of West Tisbury, who was among the first to the scene.
The Salvation Army also responded with rehab supplies for first responders. Richie and Keith Olsen brought excavators to go through the rubble and ensure the fire was fully extinguished.
Flat Point Farm, located on a large parcel abutting the Tisbury Great Pond on Road to Great Neck, has been owned by the Fischer family since 1939. It was founded by Arnie Fischer Sr. and is now owned by Eleanor (Fischer) Neubert and her brother Arnie Fischer Jr. The barn was built in 1939 by Chilmark builder Hariph Hancock.
Mr. Fischer, who lives about a quarter of a mile away from the barn, said he arrived after the damage was done. "There was a glow in the sky from my house," he said. "It was apparent by the time I got there it had already collapsed."
Goats, three pregnant cows and guinea hens were all spared in the fire. Arnie's daughter Emily Fischer makes artisinal soap from the goats' milk. Her studio was undamaged.
Over the last century, the Fischers have grown deep roots on the Island, leading the Agricultural Society, serving in the fire department, working in schools and health clinics. Much of the land at Flat Point Farm is protected by an agricultural preservation restriction, and a Land Bank trail allows public access around the fields to the shore of the Great Pond. Albert Fischer, nephew of Arnie Fischer Sr. and cousin of Eleanor and Arnie, Jr., said the barn was both a home to the animals and a repository for family history.
"I'd walk into that barn and everything was right in the world," Albert Fischer said. "I could feel my grandparents. I could feel my uncle, my aunt. The smells, everything just brought back my childhood: the wooden stanchion my grandfather's bull used to be in, a lot of old tattered blue ribbons from the fairgrounds, the old feed bins, the hay loft, everything."
Eleanor Neubert said her father originally ran a dairy farm and milked his cows in the barn.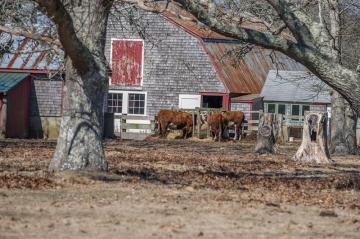 "He had cows down in Vineyard Haven and they drove them up Old County Road—it was still a dirt road—and started up the farm operation, and we all helped out on it. There were four of us girls and my brother," she recalled.
The family moved away from dairy when cheaper milk started arriving from off-Island. They raised sheep, laying hens and beef cattle, and grew hay.
Both Arnie Jr. and Eleanor remembered playing in the haymow as children.
"It had storage for 1,000 bales of hay," Arnie Jr. said. "It was so much fun because people would come help pick
up the bales, and that has continued the whole lifetime, growing from a kid to your own kids helping and grandchildren helping."
Three generations of Fischers currently live at Flat Point Farm, and another Fischer grandchild is due in May. Arnie Jr. said in recent years the barn was maintained with the help of carpenter Jim Creedon. Last summer a barn owl family settled in a newly built owl box. The north face of the building was recently reshingled. He said that the sheep lost in the fire were descendants of a long line.
"That line of sheep, we've kept offspring year after year," he said. "I like to call them Vineyard grade."
He added that after the shock of the loss, there is no choice but to start again.
"The property needs sheep," he said. "It's in my blood, and it's in the family at the farm here. I don't know what direction we're going as far as a new barn and structure, but we will rebuild, and so many people are offering help in that regard already."
Agricultural Society president Brian Athearn said his phone started vibrating at 7 a.m. the day of the fire and has not stopped ringing since with calls and messages from people asking how they can help.
"Julie Scott from the Slough Cove Farm came out with a water truck and hay," he said. "[Richie] Olsen showed up with an excavator to help clear the fire out and bury the animals. We have musicians calling and offering to play for the potluck. Molly Glasgow from the Grey Barn said she can provide livestock. Contractors have been calling me saying they can help with construction" he said.
Arnie Jr. added that there has been aid from the Whiting Farm, Nip and Tuck farm, Blackwater Farm, and others.
"It makes me realize how much we need to rebuild and continue," he said.
Pending town permits, a fundraiser potluck is planned for April 6 at the Agricultural Hall from 5:30 to 8:30 p.m. Agricultural Society president Brian Athearn asked that those wanting to sign up to help with future rebuilding plans email admin@mvasmv.org with contact information.