Edgartown artist Brandon Newton was painting in Menemsha last summer when he heard a car horn blaring behind him and someone shouting his name. It was Aquinnah artist Abe Pieciak, who was looking for a partner in a new gallery venture.
The two were fans of each other's work but knew each other only in passing. They decided to go on a fishing trip together to see if they would make a good team. On the trip a shooting star appeared and a large striped bass was landed.
"The stars aligned," said Mr. Newton on Friday night at the opening of Chilmark Gallery, his arm around a beaming Mr. Pieciak. "It was just a beautiful, celestial occurrence that allowed us to be here in the same space."
Mr. Pieciak said the idea to open a gallery began germinating when a space became available next to the Chilmark Tavern. Finding a partner in Mr. Newton was the final piece of the puzzle. The pair set to work designing the space and recruiting Island artists who would fit the homegrown aesthetic. They turned around the space in five months, filling it with pieces from artists they admired along with a few of their own signature works.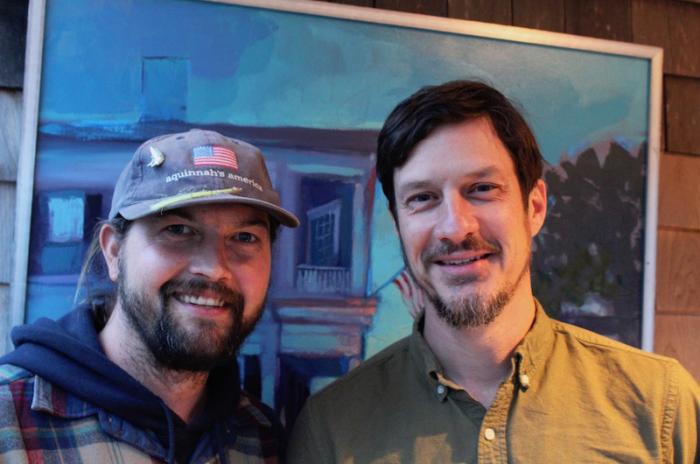 "My heart and soul is in this gallery," said Mr. Pieciak. "It's a lifetime of work and a lifetime of experiences. So many people are in this place."
On opening night the gallery was filled with art lovers for an exhibition that included watercolor paintings, cutting boards, lures, mugs and one very large chicken made from small pieces of wood. There was no theme, just a requirement that all pieces in the gallery be handmade, even the outdoor bar with a chalkboard made out of driftwood.
"They're unique artists that you don't see too much on the Island and that you may not know about," said Mr. Pieciak.
Liz Ragone, who along with Brad Tucker manages Mill and Mason, a new Island woodworking venture in West Tisbury, displayed a table the couple had crafted. She said it was an honor to be included in the gallery and to connect with the other artists.
"It's the most amazing group of people. Everyone's already planning to get together," she said.
Zach Pinerio, another woodworker who makes bowls from reclaimed Island wood in his studio on Chappaquiddick, echoed Ms. Ragone's sentiments.
"The great thing about all of the artists on the Vineyard is we all support each other," he said. "I think there are a ton of artists out here that are psyched to help each other out."
Some visitors to the opening said they were now inspired to begin their own projects.
Mr. Newton said that was a goal, to help people pursue their own artistic passions. "This was something that was a dream and a feeling and emotion," he said.
"This is bigger than us, bigger than anyone," added Mr. Pieciak.
The Chilmark Gallery, located at 9 State Road in Chilmark, will be open seasonally through the spring on Friday, Saturday and Sunday from noon to 5 p.m.