In the coldest months of 2019, some of the Vineyard's hungriest residents had hot soup to eat. Made by local chefs from Island-raised produce, hundreds of quarts of frozen soups were distributed over the winter to food-insecure families and home-bound elders.
"These soups were so well received. People were so appreciative," said Lyndsay Famarris, who directs the Martha's Vineyard Community Services CORE program (Counseling, Outreach and Referrals for the Elderly).
"A lot of the elders have teeth issues and swallowing issues," she said, which makes soup a good alternative to fresh vegetables. "There was also this added benefit of comfort around soup. Many of the people told me that it felt almost like someone was taking care of them, to have soup to snuggle up with at home."
Rebecca Haag, executive director of Island Grown Initiative and a leader in the Vineyard's blossoming food equity movement, said more prepared meals are on the horizon when Camp Jabberwocky turns its kitchen over to Island Grown at the end of this summer.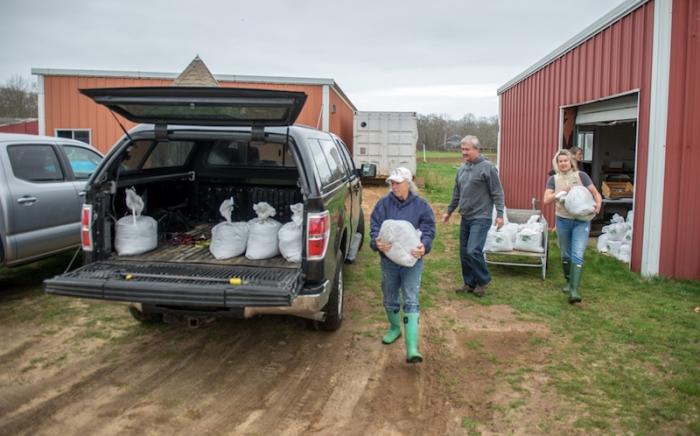 The advent of soups, and the agreement to use the Jabberwocky kitchen to prepare and preserve local harvests during the camp's off-season, are among a number of achievements Ms. Haag noted during a meeting of the Vineyard's Food Equity Network at the West Tisbury library Tuesday afternoon.
The network is an informal coalition of volunteers, social service agencies, faith communities and other nonprofits, most of whom have been working together since the fall of 2016 to tackle the problem of hunger on a bountiful Island.
Margaret Hannaman, former director of the Island Food Pantry who now sits on the pantry's board, said the collaboration has made a big difference in how her organization operates.
"Back in 2016 we were just the food pantry, getting food from Reliable and Cronig's, and there wasn't anything external at all," Ms. Hannaman said. "When we had that [first] meeting, most of us had no idea who else was out there and what they were doing."
Now, she says, the pantry partners with Good Shepherd Parish to share space in the truck Joe Capobianco drives off-Island weekly to pick up groceries from the Greater Boston Food Bank.
Joining the food bank in 2017 has allowed the Island pantry to add frozen foods, meats and "a ton of produce," some provided at cost by Elio Silva of Vineyard Grocer, Ms. Hannaman said.
The pantry began operating year-round in 2017. "When we went to summer hours, it basically doubled the number of visitors," said Ms. Hannaman. She added that the pantry's business is up 37 per cent over the previous year, with about 4,000 people served.
This year, the pantry hired its first full-time executive director. Kayte Morris has been working with the nonprofit since November and officially took over this month.
The Island Food Pantry requires no referrals or documentation beyond a simple pick-up slip. "It's important to us to welcome every single person who comes in," Ms. Hannaman said.
Similarly, the Serving Hands monthly food distribution has changed its sign-in policy and no longer requires a referral letter. And instead of bagged foods ready for pickup, the offerings are in open stock so people can select what they need.
"They're picking out their own food, not getting a bag," said Betty Burton of the Vineyard Committee on Hunger, which operates Serving Hands.
These changes are part of the food equity group's expressed focus on removing the stigma traditionally attached to food insecurity, which affects all ages. More than 40 per cent of children in some Island schools are eligible for free or reduced-price lunches, an accepted marker for possible food insecurity at home.
One mother attending the meeting shed tears as she described her daughter packing extra food in her school bag for a classmate whose stomach was growling.
Getting food to children is a particular focus for Good Shepherd Parish, which brings food baskets to the Boys & Girls Club and also distributes the baskets at the parish center on School street in Oak Bluffs. The next monthly giveaway is April 30 from 2:30 to 4:30 p.m.
One of the newest groups to join the food equity network is the MV Vegan Society, founded by Patrece Petersen of Edgartown, which has been distributing fresh fruits and vegetables monthly at the public libraries in Edgartown and Oak Bluffs and will be moving to the Chilmark library in May.
"There's a major need for produce," Mr. Petersen said at Tuesday's meeting. "I think, personally, it's a public health crisis. It needs addressing and we are more than willing to work with each and every one of you in this room."
Island Grown Initiative also helps local families grow their own food. A compost sale on Monday at the nonprofit's Thimble Farm saw an enthusiastic response, with lines of cars and trucks stopping by to pick up 40-pound bags of compost made with food waste collected from restaurants around the Island.
"We exceeded our expectations," said Eunice Youmans, who runs Island Grown's food waste initiative.
Island Grown and Serving Hands were even able to benefit from the recent Stop & Stop strike, which resulted in about 3,000 pounds of food donations to the two groups.
"There is plenty of food on the Island," Ms. Hannaman said.