A burst of extreme weather passed over Martha's Vineyard mid-day Tuesday, tossing seas and harbors with gusty winds and pelting rain and prompting rare tornado warnings.
The National Weather Service issued a tornado warning for the Cape and Islands just before lunchtime. The Massachusetts Emergency Management Agency confirmed tornado touchdowns in Harwich and Yarmouth, situational statements from MEMA said. In Harwich a state of emergency was declared and power was shut off, MEMA said.
According to Frank Nocera, meteorologist for the National Weather Service, the storm started out over the ocean east of Block Island. It gained strength as it passed over the Elizabeth Islands and onto the Cape, where winds reached up to 90 miles per hour and a tornado made contact in Yarmouth. The roof was blown off one hotel and there were a large number of power outages between Yarmouth and Harich, he said.
He said wind gusts of 69 miles per hour were recorded in Vineyard Haven at 11:34 p.m.
"For this time of year, this is normal. But not for the Cape," the meterologist said.
On the Vineyard there were downed trees and scattered power outages.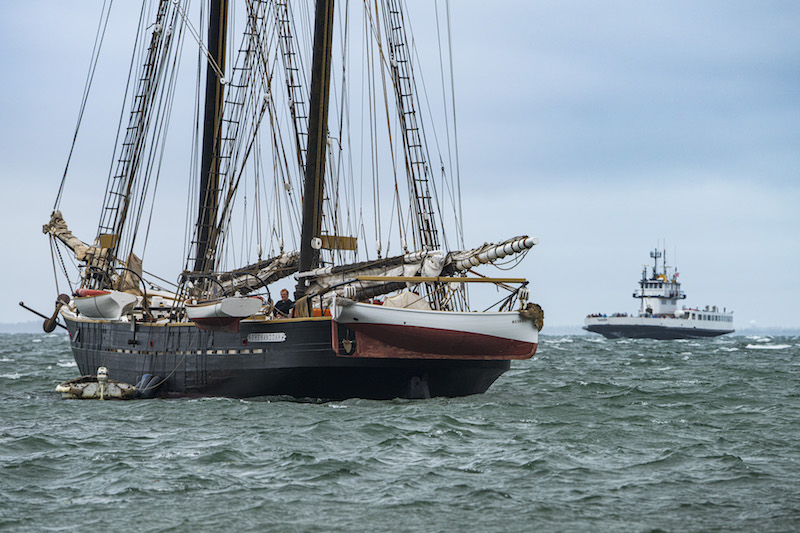 West Tisbury police chief Matthew Mincone said falling trees had downed power lines near Lambert's Cove Road and on State Road near Nip and Tuck Farm, causing power outages.
"It came through quick and did it's damage in a hurry here but it was just trees, no personal property or people injured," the chief said.
A sailboat washed ashore in Eastville area of Oak Bluffs.
"It was anchored," Oak Bluffs harbor master Todd Alexander said. "We are waiting for the waves to settle, but we usually let the owner handle the problem themselves."
Wooden sailboats in the Vineyard Haven harbor battened down in choppy water.
Steamship Authority spokesman Sean Driscoll said ferries were held in port while the storm passed.
"Other than that there haven't been any delays, besides those few late departures," he said.
Holly Pretsky and Will Sennott contributed reporting.