Edgartown's Old Sculpin Gallery celebrated its 65th anniversary on Sunday evening and invited Vineyard art lovers to view art, engage with exhibiting artists and explore the historic waterfront building that was once home to catboat builder Manuel Swartz Roberts. Mr. Roberts sold the building, for below its asking price, to artist Ruth Mead in 1954. Ms. Mead then transformed the building into a gallery space and home for the Martha's Vineyard Art Association.
The crowd of art lovers grew quiet on Sunday as Meg Mercier, co-president of the Martha's Vineyard Art Association, spoke about the historic background.
"This building is over 230 years old," she said. "None of us would be here today if it wasn't for the amazing friendship between Manuel and Ruth, and all the artists here in the 1950s. This place is named after Manuel's nickname Old Sculpin."
Today the first floor of the Old Sculpin is a gallery, while the second floor is used for artists studios and children's art classes. Many who were once students at the Old Sculpin have since returned as professional artists.
"Alison Shaw's work is here tonight, and we are so happy to have her," said Ms. Mercier. "She started taking art classes just upstairs as a kid."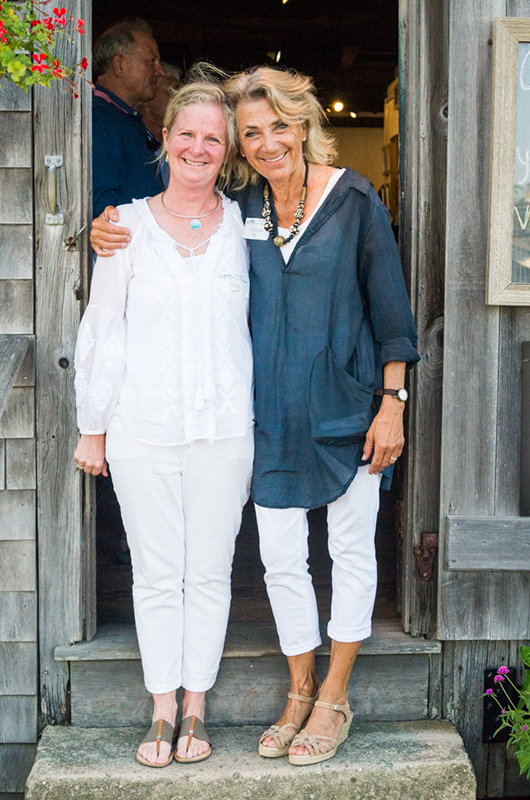 The Martha's Vineyard Art Association consists of 48 members, 34 of whom were represented in the current show curated by Valentine Estabrook.
In addition to classes for children, the art association provides scholarships for two to three high school graduates each year. This year's winners were Alyssa Smith, Emma Van Lohuizen and Charlotte Rooney and the gallery hosted an exhibit of their work earlier this summer.
Current gallery assistant, Salyn Yancey, won the scholarship last year. She studies ceramics at Alfred University.
"I really do love the Island, and working at the gallery," she said. "It's special."
Gallery manager Morgan Collins studies interdisciplinary arts at Lesley Art+Design, and has worked on the Vineyard for multiple summers.
"The continuity of having a scholarship winner now work here, I really appreciate it," said Ms. Collins.
While some artists work with ceramics or oil, others work with seaweed. Kathy Poehler was an early childhood teacher for 22 years in Cambridge before returning to the Vineyard 10 years ago. Seaweed classification was a part of her curriculum, and her father's curriculum—Fredrick Glodis taught at the Tisbury School for 37 years.
"I wanted to bridge the gap between ocean science and art for young children," Ms. Poehler explained. "Seaweed did that. Then I started making my own work and exhibiting it in Cambridge. Later, it was great to take what I learned and then bring it home again. Seaweed is a part of Island culture. "
She continued: "I started doing the mermaid shapes and then these colorful bits of seaweed were added in. None of it is dyed."
Rosalie Ripaldi Shane, former president of the Martha's Vineyard Art Association, looked around the room. Ms. Shane was president of the Association in 2006, when the building was sold to the Vineyard Trust.
"This really is an amazing group of people," she said. "Now, with the Vineyard Trust watching over it, this building can be used by artists and by the community forever."
The Old Sculpin gallery will host an artists reception on Sunday, August 4 from 5 to 7 p.m. for Rosalie Ripaldi Shane, Anna L. Finnerty, Warren Gaines, Debra Gaines and Ned Reade.