A dogged reporter on the four a.m to noon shift at the New York Times was tired. Her mind began to wander while writing the early morning news briefing. That reporter was Tatiana Schlossberg, and she couldn't stop thinking about climate change.
Three years and many detours later, Ms. Schlossberg has a compelling new work of nonfiction to show for it. Her book, Inconspicuous Consumption, tracks how products we use every day connect to global climate change, covering four industries: technology, food, fashion and fuel.
"There is so much to write about, because it connects to everything," Ms. Schlossberg said in an interview near the Gay Head Cliffs. "It's endlessly interesting. It isn't just about the science. It's politics, business, health."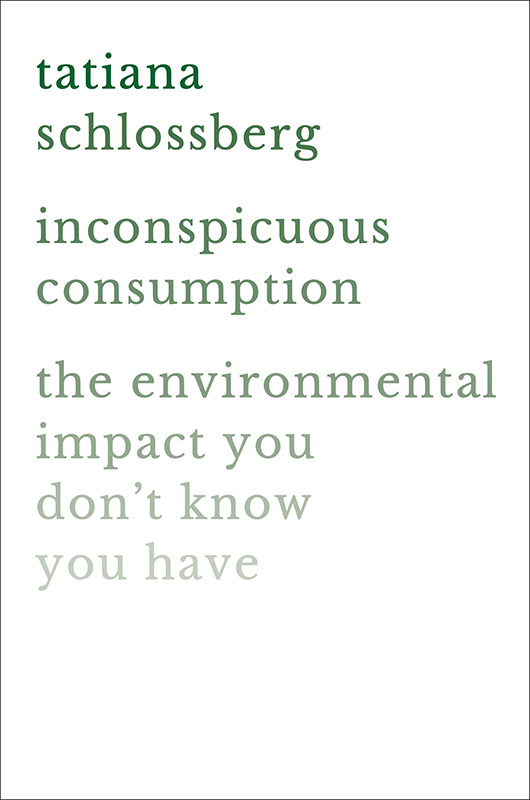 Ms. Schlossberg will take part in the Martha's Vineyard Book Festival, although Inconspicious Consumption will not be published until August 27.
Ms. Schlossberg said she continually encountered these stories and their connections as a reporter for the New York Times, but she sometimes questioned her authority to write them.
"A lot of the people on the science desk are experts," she said. "But the great thing about being a reporter is that you don't have to be an expert. You can learn on the job."
While moving forward with her career as a climate journalist, she was reminded of her past, she said and her childhood spent playing in the sea. "Being able to come to the Vineyard in the summers like I have, obviously gives me an incredible appreciation for natural beauty and low-lying coastal places."
While doing graduate work at Oxford University, Ms. Schlossberg became enamored with ocean history, she said, citing W. Jeffrey Bolster's book, The Mortal Sea: Fishing the Atlantic in the Age of Sail.
"I think you can see so many of the larger global forces at play even in a place that seems as if it is its own little universe, like the Vineyard. My writing about the ocean is where that idea comes through."
She continued: "Watching how the ocean here has changed over time is an incredible thing. What fish are here, when they're here, how big they are, what the fishermen are saying about how far they have to go, what the trawlers are doing. Those are all valuable stories."
While history and journalism were a start, Ms. Schlossberg's book came out of a desire to reach people in a different way. "I wanted to say to the reader, I was like you and didn't know any of this stuff. So, let's learn about it together. I wanted to be more of a guide than a lecturer."
Working on stories for the New York Times gave Ms. Schlossberg the background she needed, but an accessible book, complete with humor, was the goal.
"A lot of climate journalism is intimidating to people because they feel like, oh, it's about science and I'm not going to understand it. So trying to avoid overusing technical language was important to me. To have it be fun, interesting and accessible. Yes, it's scary and alarming, but there are so many ways to be excited about it, and to approach the problems."
At first glance, Inconspicuous Consumption could make a reader feel hopeless. The roses you bought for Valentine's Day? 114 million liters of fuel and 360,000 metric tons of carbon dioxide were probably spent to import them. The TV series you streamed on Netflix? That burned coal in Virginia. Your workout apparel? It's made from crude oil.
Anxious yet? So is Ms. Schlossberg. But humor surfaces when she takes matters into her own hands.
In a chapter about technology and energy usage, statistics from the National Resources Defense Council are tempered with wit and self awareness. She writes: "Cut to me, lying on the floor of my apartment with my watt measurer in hand, trying to figure out how much electricity my devices use in different states of on, idle and off. I took some action shots, but I'm not sure they totally capture the thrill of the chase. I will leave you to imagine the excitement, the passion, and the general hysteria that characterized this experiment."
A part of Ms. Schlossberg's journey, she said, is understanding that personal choices are not the be all, end all.
"I hope people understand that individual actions matter in that they matter to you, and you want to live in line with your values. But it's going to be hard to get seven billion people to behave the same way and those kinds of changes don't usually come without bigger social and policy transformations. So we need to be demanding those things."
Inconspicuous Consumption's goal is not to paralyze consumers, rendering readers unable to purchase floss or shampoo at the store. Instead, the book imagines a world where companies take responsibility for the life cycles of their products.
Otherwise, as Ms. Schlossberg points out in her book: "If we don't get started now, the world ends and the rats take over."
On Saturday, August 3 at 3 p.m., Tatianna Schlossberg will take part in the panel called The Future of Life on Earth: Migration, Immigration and Climate Change. On Sunday, Agust 4 at 9:50 a.m., she will participate in a discussion with Alexandra Styron.