The Martha's Vineyard Book Festival filled the first weekend of August with laughter and calls to action. Authors, scientists, comedians and more packed the grounds of the Chilmark Community Center on Saturday and Sunday with conversations about gender and racial equality, the writing process, politics, sports and the nature of creativity.
Most of all, the weekend was charged with a sense of adventure, the type found from opening a book and diving in.
The three-day festival began on Friday evening with a lot of laughter at the Performing Arts Center for a sold-out conversation between Late Night host and comedian Seth Meyers, and author and comedian Chelsea Handler.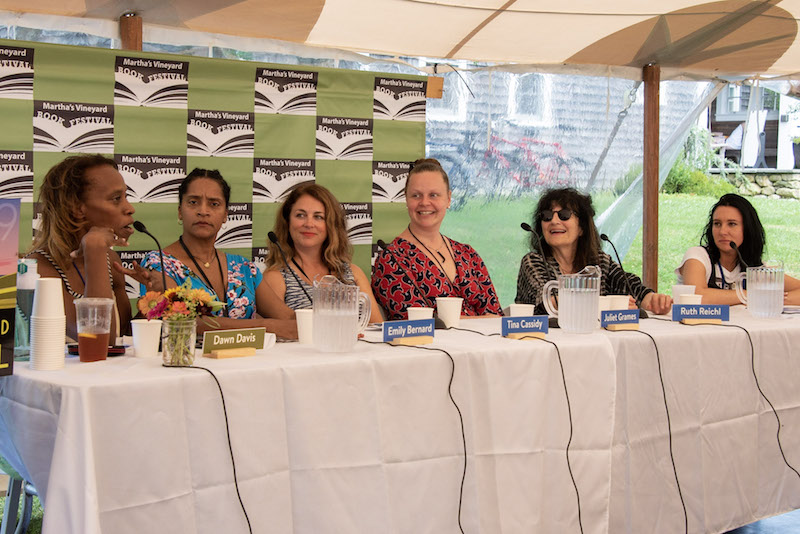 Gazette publisher Jane Seagrave and festival organizer Suellen Lazarus welcomed the crowd with opening remarks.
"Our goal for the festival from the beginning has been to bring together some of the country's leading authors for discussion, and for a chance to get to know a new author, or to see an old issue in a different way," Ms. Lazarus said. "We look for authors who bridge gaps, who through their writing provide tools to think about issues in new ways. I think we've certainly assembled such a group."
Seth Meyers and Chelsea Handler discussed everything from Robert Mueller to summers spent on Katama Bay and the importance of therapy. As the evening came to a close Amy Schumer, a friend of Ms. Handler and Mr. Meyers, jumped on stage and expressed her appreciation for Ms. Handler's new book, Life Will Be The Death of Me.
Saturday and Sunday's free events were held at the Chilmark Community Center. Panel discussions were scheduled for Saturday, with more intimate conversations with the authors on Sunday. Panel topics included the press and politics, fiction and transformative friendships, and the future of the Earth during a climate crisis.
A panel on feminist expression brought together a novelist, essayist, food writer, political reporter and a historian. Emily Bernard's essay collection Black is the Body: Stories from My Grandmother's Time, My Mother's and Mine, was a personal exploration. "My subtitle, on stories from each time, kept me centered on the journey I knew I was on, and one that I wanted readers to accompany me on," she said during the panel discussion moderated by editor Dawn Davis.
Ruth Reichl, former editor in chief of Gourmet Magazine, appeared alongside Ms. Bernard. Her book Save Me the Plums is the story of her rise from restaurant critic to editor at Gourmet. Lisa Taddeo, author of the recent bestselling book Three Women, Tina Cassidy, author of Mr. President How Long Must We Wait, and Juliet Grames, author of the novel The Seven or Eight Deaths of Stella Fortuna, rounded out the panel.
"I think we really came together well up there," Ms. Grames said afterward. "We all see the need to expand the concept of what a woman is, and can be."
Sunday's events began with a conversation between John Grisham and Amor Towles. The two discussed their writing processes, with the prolific Mr. Grisham ribbing Mr. Towles on how long it takes him to write a novel.
Sunday was anchored with a tribute to West Tisbury author Tony Horwitz, who died suddenly in May. Historian and author David Blight spoke with Mr. Horwitz's son, Nathaniel Brooks Horwitz.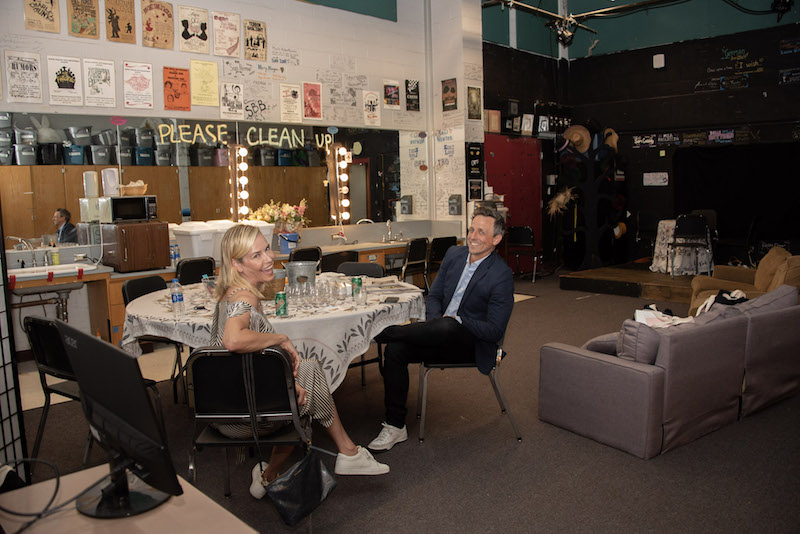 Mr. Blight told the crowd that he was on a train from Washington D.C. to New York city writing a review of his friend Mr. Horwitz's new book, Spying on the South, when he learned about his death. A few hours later, Mr. Blight was on stage at Columbia University accepting the 2019 Pulitzer Prize in History for his book Frederick Douglass: Prophet of Freedom. But at the ceremony he raised his friend's book up for the cameras, and the world, to see.
Mr. Blight and Nathaniel read passages from Tony Horwitz's many books, and talked about his life.
"The best way to honor a great writer is to read his work" said Mr. Blight.
At one point Nathaniel read from One for the Road, the raucous tale of his father's adventures hitchhiking across Australia. As he read passages from the book the crowd erupted into laughter.
"This is how my father would have wanted it," Nathaniel said. "With laughter to balance it all out."