On Wednesday evening the Grand Illumination started the same way it has for 150 years — with a community sing.
The Nieves family traveled from North Attleborough to attend the event. Earlier that morning they had created a lantern at the Oak Bluffs Library craft time. But they were worried they might not know the words to the songs.
"Is there a song book? How does everyone know the lyrics?" asked Angela Nieves.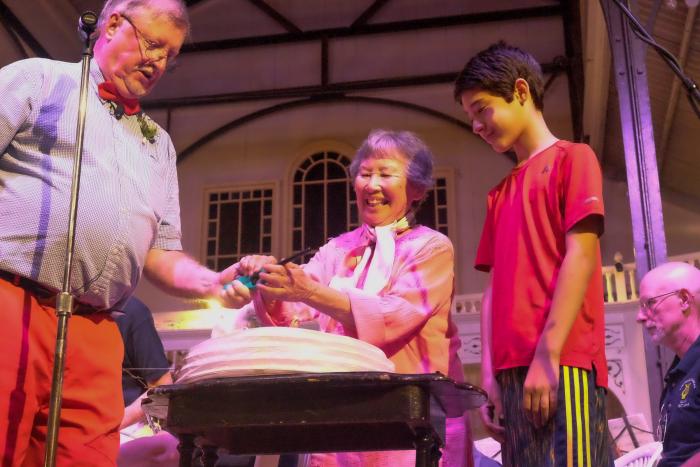 But then Bob Cleasby took the stage to lead the crowd. Mr. Cleasby is no stranger to guiding new singers — this was his 255th consecutive community sing.
While the community sing takes place every Wednesday evening during the summer, Illumination Night is a special night, stretching back to 1869. The event began with a welcome from Rev. Dr. Denise Smartt-Sears. She was followed by special guest Cong. Bill Keating, who presented an official state citation from Gov. Charlie Baker celebrating Illumination Night's longevity.
The Vineyard Haven band followed the speakers. Founded in 1868 by a group of Union and Confederate veterans, the band is the nation's third oldest.
As per tradition a Camp Ground homeowner was chosen to light the first lantern. This year Gloria Wong, accompanied by her grandson Jack, had the honors. In the 1970's, after a fire claimed Ms. Wong's Camp Ground home, she worked tirelessly to restore it, incorporating historic church windows.
Shortly after 8:40 p.m., Ms. Wong lit the first lantern of 2019. Then Mr. Cleasby walked down the aisle as the crowd watched in rapt silence. He climbed a ladder, hung the lantern at the side of the Tabernacle and then the entire Camp Ground took the cue, bringing to light the porches and alleyways of the historic village.
As the crowds wandered Trinity Circle they gazed at the lanterns hanging from the gingerbread cottages. Many cottages have titles, painted on wood or tile, hanging from a door or miniature fence.
Couers De Lisle was built in 1869.
"It means heart of the island. And it is," said Peter DeLisle, steward and resident of the home.
His wife Jan DeLisle, director of special programs for the Camp Meeting Association, felt the same way.
"Tonight is so special, because we get to invite everyone in to our home, on to our porches. We've been doing it for 30 years, and it just gets better."