Lanterns were lit in the Oak Bluffs Camp Ground Wednesday for Illumination Night, an annual tradition dating back more than 150 years when the event was first held to welcome the governor of Massachusetts to the Island.
Both newcomers and longtime attendees reveled in the experience. Hundreds of people joined in the community sing-along, listened to the Vineyard Haven band and watched the thousands of lanterns ignite.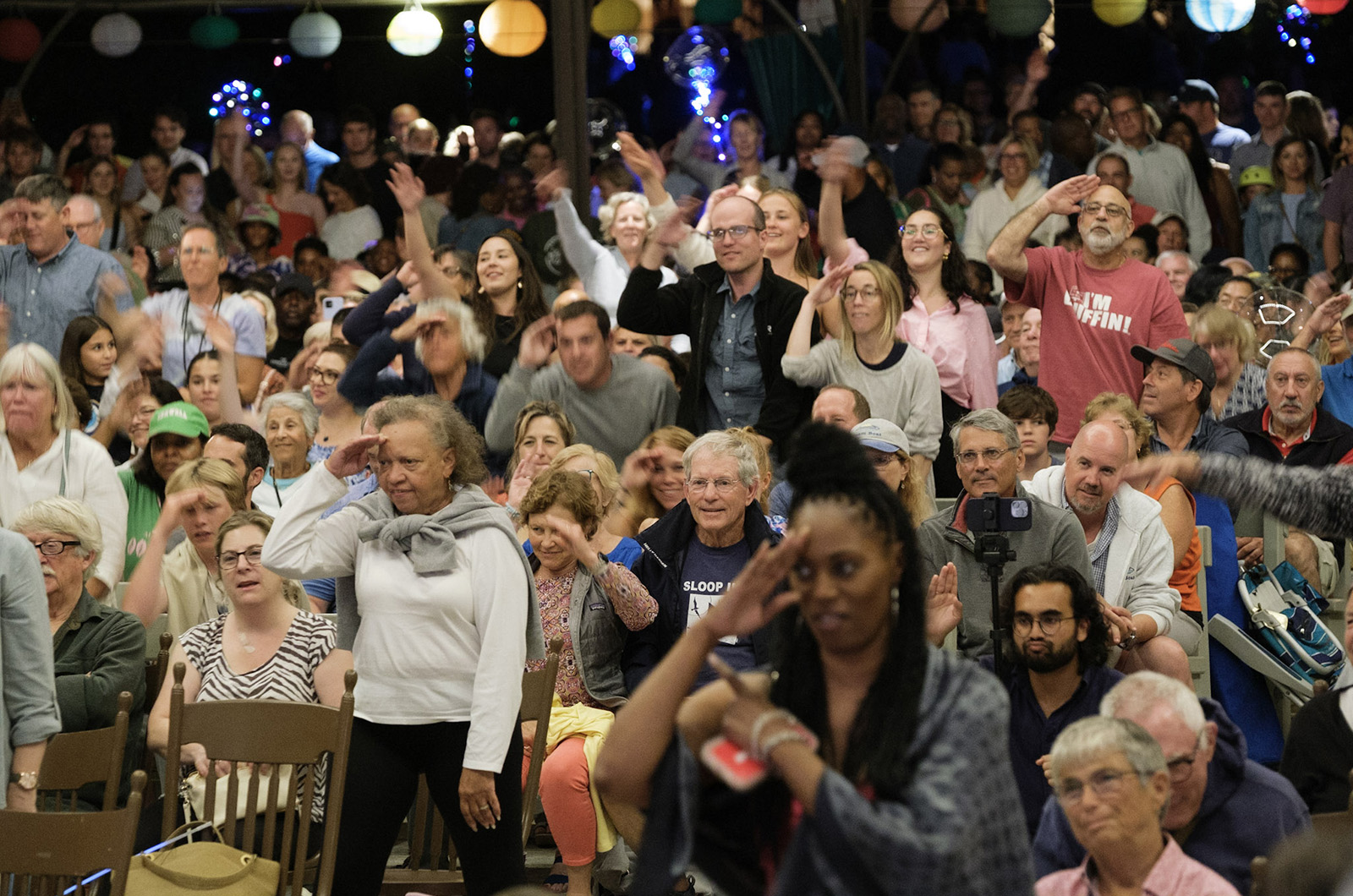 Crowds began filing into Oak Bluffs in the early afternoon and those wary of the quickly-filling Tabernacle seats spread their picnic blankets in prime locations across Trinity Park.
Residents of the Camp Ground emerged from their cottages, stringing paper lanterns across porches and placing ornate parasols on balconies in preparation for nightfall. Erica Fritz arranged a camp chair in front of her home just as her parents and grandparents had for many years before. Ms. Fritz's family house now belongs to her daughter, whose own children ran across the porch and down the steps, the screen door slamming behind them as they joined the crowd at the Tabernacle.
"The tradition is one of hospitality," Ms. Fritz said. "You invite your near and dear to your house, but you never quite know who is going to show up. We have five generations in this house tonight to continue that tradition."
Other attendees were not as familiar with the festivities as Ms. Fritz. Strolling through Trinity Park with an ice cream cone in hand, artists Rachel Rossin and Joshua Citarella made a stop at Illumination Night during their first visit to the Island from New York City.
"Our friends said this is an absolute must-see event," Mr. Citarella said.
Tyjuan and Emma Morrow brought their toddler to the event, an activity recommended to them during their week-long stay on-Island from Minneapolis. As with many others at Illumination, their child held a multicolored light-up balloon — a gift, Mr. Morrow said, from a kind stranger.
"It seems like there's a real community here," he said. "Our trip has been beautiful. It's so nice — everyone's so nice."
A community effort maintains the Camp Ground for events such as Illumination. Kim Gaffey, a volunteer for the Martha's Vineyard Camp Meeting Association, was collecting donations in a paper lantern throughout the night. Donations went toward an ongoing fundraiser for a new roof for the Tabernacle.
"It's not just ours, it's for the community," she said. "This is where we have our high school graduations, speakers, concerts, church services. It is a place to bring everyone together."
Ms. Gaffey has attended every Illumination Night since she moved to the Island in 2004. She said that it is her favorite event of the year.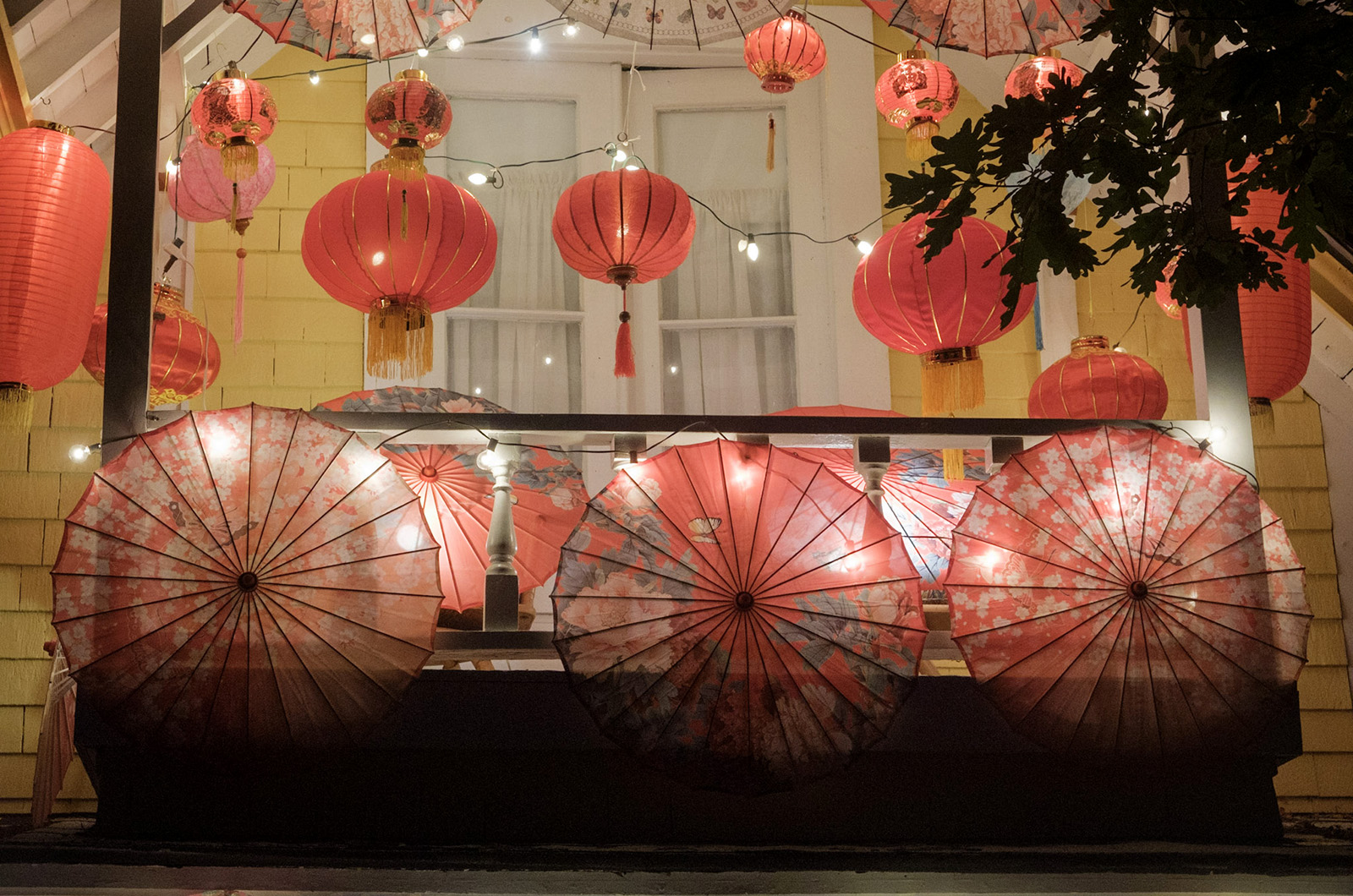 "It's just so beautiful," she said. "And it's unique. I've never seen something like this anywhere else in the United States."
After the community sing and a performance from the Vineyard Haven band in the overflowing Tabernacle, overhead lights went dark and the crowd shared a collective gasp as thousands of lanterns were lit at once. Attendees strolled through the Camp Ground, taking in the night's luminosity.
The Camp Ground cleared and families retired from their porches, but Oak Bluffs remained aglow. A stream of attendees snaked out of the luminous Camp Ground and past the harbor, where bobbing boats with lanterns strung across their decks reflected brilliantly on the water.
"It's like bringing the stars down to us," Ms. Gaffey said.