For Ric Burns filmmaking is a collaborative journey. Last week at a screening of his work-in-progress documentary, Driving While Black, even the audience became part of the process.
"Having your thoughts at this stage is an unusual opportunity and privilege," he said at the event, hosted by the Martha's Vineyard Film Festival. "It's not really almost done, it's really about two/fifths of the way through, so we have a long way to go. It'll be great to get your thoughts on it."
Mr. Burns is the director, writer and producer of Driving While Black, which will premiere on PBS in 2020. The film begins with the Negro Motorist's Green Book, a guidebook first published in 1936 detailing potentially safe places for black families to stop on the road. While publication of the guidebook ended in 1966, after the passage of the Civil Rights Act, the story didn't end there. The idea of race, mobility and travel expands far beyond the open road and car travel, Mr. Burns said.
"Every aspect of mobility in America has been color-coded from the start," he said. "It is not too much to say that the mobility of non-African Americans was entirely dependent on the immobility of black Americans. Immobility in every way. Your foot is chained to the hull of the ship as you're being brought over. You are mobilized, but that mobility is involuntary."
For Mr. Burns, the film is about joining past and present. "The phrase 'driving while black', this is a more or less contemporary phrase, but the prehistory of driving while black comes as a surprise to many."
Also present at the screening were the film's editor, Emir Lewis, and film scholar Craig Wilder. However, one key player was missing, Mr. Burns said. "We are really indebted to Gretchen Sorin. Without her we wouldn't be here at all."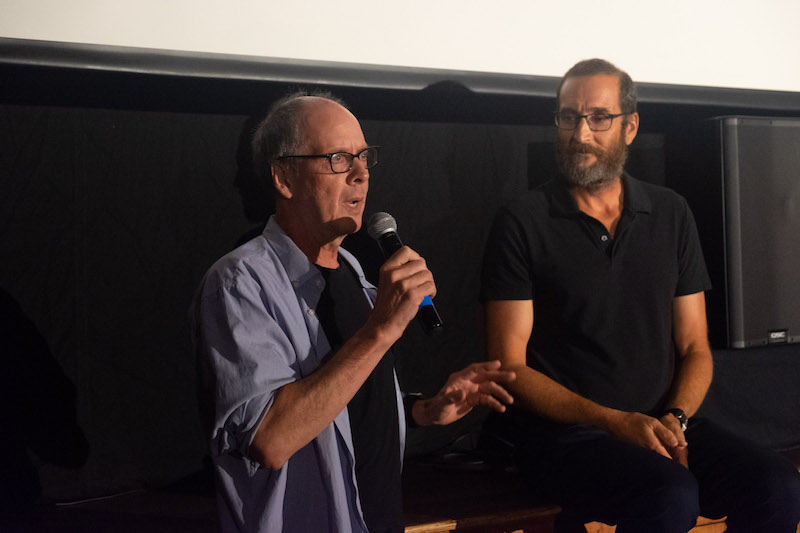 Dr. Gretchen Sorin is director of the Cooperstown Museum Studies Graduate Program, and her forthcoming book Driving While Black: African American Travel and the Road to Civil Rights formed the basis of the documentary film. She was not able to attend the screening because her classes were set to begin.
"This is a transcendent story," she said when reached by phone. "Everyone understands the experience of traveling, of needing to eat something or go to the bathroom on the road."
Ms. Sorin said she felt a personal connection while gathering countless images and films from African American families on road-trips. She grew up in the 1950s and '60s in a middle class African American home in New Jersey. On long drives to visit family in North Carolina they would seldom stop and packed their own picnic food to avoid segregated establishments. And yet, as a child, the reality of why they traveled this way did not sink in.
"I had these middle class African American parents who never talked to us about segregation or the danger on the road," she said.
Doing research into the subject helped her see anew the dangers her family faced while on the road, while also reconnecting her to her past. A bulk of the film's images of black people traveling in America are taken from home movies and intimate moments because people held on to them, she said.
"The kinds of things we save evoke memories," she said. "Those bits of ephemera, pictures from road trips, family vacations. They remind us of our parents, of our loved ones, our friends. Those are the things that connect us. We find those experiences, objects, that connect us across these barriers. That connection across barriers is what America needs right now."
Emir Lewis, the film's editor, is a New Yorker and didn't drive until his mid-30s.
"One of the reasons I'm so grateful we've widened the scope of our film to be less about the Green Book is we needed to really deal with the idea of mobility," he said. "Even though I didn't drive, my mobility was consistently affected by being black."
Mr. Lewis grew up in Brooklyn's East New York neighborhood in the 1970s. On Sunday mornings he had to traverse neighborhood to run errands for his father.
"This mythical line separated out Bensonhurst," he said. "The New York Times didn't exist where I grew up, but it existed in Bensonhurst, so my dad would ask me to go get bagels and the Times on Sundays. I crossed the line, my pace quickened, I got the bagels and the paper, and I got out as soon as I could to get back to the safety of East New York."
"You know, that was the end of the 20th century," reflected Mr. Burns. "It was recent."
"Mobility is the physics of liberty," Mr. Burns continued. "William Blackstone in 1760 said, here is what freedom means. You get to move yourself. Isn't that just amazing?"
The Martha's Vineyard Film Festival continues its summer programing with a screening of Maiden on Wednesday, August 28 at the Chilmark Community Center, and Ask Dr. Ruth on Saturday, August 31 at the Performing Arts Center. Visit tmvff.org.