Three years after its Spanish-style tile roof was replaced with red asphalt shingles, the 1905 stone bank on Main street in Vineyard Haven is getting its original look back.
This week, Associate Roofing of Chilmark began working to replace the controversial shingles with terra-cotta barrel roof tiles, like the ones that had crowned the historic structure until owner Santander Bank replaced them in late 2016.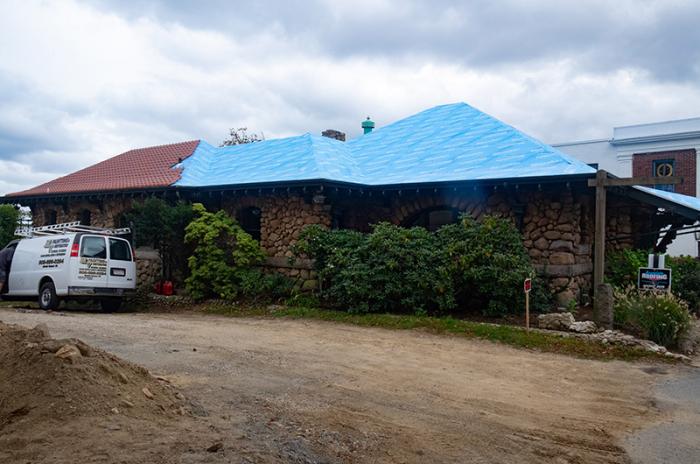 The contractors are "making a pretty quick pace of things," Tisbury building inspector Ross Seavey said Wednesday afternoon.
After stripping the asphalt roof, Mr. Seavey said, roofers applied a blue vapor barrier and then began installing the curved terra-cotta tiles. He estimated they would be done with the work in about two weeks.
The asphalt tiles went up late in 2016, after the previous town building inspector mistakenly signed off on the roof replacement without a project review by the Martha's Vineyard Commission.
Created by state legislation in 1977 as the Island's regional planning agency, the commission holds the legal power to approve or deny design changes to historic buildings like the stone bank.
In June 2017, the commission voted that the bank would have to restore the building's original tiled-roof design. Santander fought back with a court appeal before agreeing last September to comply with the ruling.
The bank closed its branch in the stone building in 2017 and has since put the property up for sale, including the drive-through, where a still-active Santander ATM and mortgage service center are accessible during construction through a gap in the wall of chain-link panels fencing off the roofers' work zone.
While the bank in 2017 said it could cost $400,000 to restore the asphalt shingles with historically accurate clay barrel tiles, Mr. Seavey said the permit he approved this summer estimated the cost of the job at $189,500.
The stone landmark was built for the Martha's Vineyard National Bank, with funding from William Barry Owen, a whaling captain's son who became a "millionaire gramophone magnate," according to a 1905 Vineyard Gazette account.