In a triple board meeting Friday morning, the Tisbury selectmen, school committee and school building committee chose Boston-based Tappé Architects to remodel and modernize the 90-year-old town elementary school.
Tappé emerged as the school building committee's unanimous choice at the end of a marathon meeting Thursday, with presentations from three competing firms followed by long deliberations, committee chairman Rachel Orr said.
"We met for six hours and we had a meeting a week to get ready for this — they were not short meetings," Ms. Orr told the joint panel of selectmen and school committee members, before a small audience that chiefly included other building committee members and school administrators.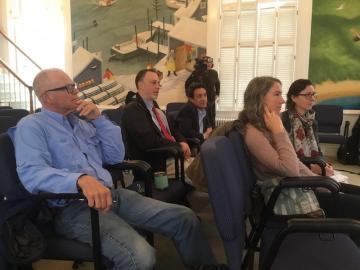 Best known on Island for the Edgartown Public Library, Tappé last worked on the Tisbury School in the 1990s, Ms. Orr said.
Originally built in 1929, the school on West William street is plagued with leaks, mold, peeling paint and asbestos.
In April 2018, Tisbury voters narrowly defeated a $46 million proposal for a new school, later forfeiting a $14 million state grant for reimbursement.
This past spring, voters approved up to $400,000 for design work to renovate and expanding the existing school building.
Late-summer testing revealed enough lead contamination that officials closed the older part of the building, relocating grades five through eight to the high school. Younger children remain in the newer wing designed by Tappé more than 25 years ago. Scrambling to make the shift, Tisbury started its school year a week later than other Island towns.
Tappé and its civil engineering partners, Griffith and Vary Inc., of Wareham, will coordinate their work with Richard Marks of Daedalus Projects Inc., the owner's project manager for the school.
The money approved at this year's town meeting will pay for the three firms' work during the design phase of the project, with construction costs — yet to be determined — expected to come before Tisbury voters at a special town meeting sometime next year.
The exact timeline remains to be determined, but Tisbury selectman James Rogers, who sits on the building committee, noted that it could run into early summer, prompting a need for other decisions.
"Let's say that it comes to fruition in the middle of June. We have to make a political decision: Is it going to be wise to try and bring the voters into a special town meeting in July, on a project that's so important as this? Or do we then say, look, let's let everybody get through the summer and have a special town meeting in September?" he said, adding: "Some of these timelines, I think, the boards are going to have to decide."

Ms. Orr concurred. "If we're not going to have a town meeting in July, then we can revise our timeline a little bit," she said. "But one thing we impressed on everybody involved is that we want that project to move.
"Right now we have given [Tappé] three months to learn everything that they can about what our community wants, and to do full reviews [of exisiting conditions at the school]."
After that, she said, architects will have another three months to come up with a proposal.
"We are not building in a lot of down time," she said.