Sparse ferry traffic, sleepy harbors, quiet streets and an unprecedented pandemic: the Vineyard experienced its slowest Memorial Day in recent memory this past weekend, as the traditional start of summer signaled an unusual season ahead.
Preliminary Steamship Authority numbers released Tuesday showed ferry traffic was down in all categories on the Vineyard route compared with the 2019 holiday weekend, particularly among passengers and automobile traffic.
From Thursday May 21 to Monday May 25 passenger traffic was down from 51,715 riders in 2019 to 17,690 in 2020, a 65.8 per cent decrease. Car traffic fell from 7,082 automobiles last year to 4,706 in 2020, a 33.5 per cent decrease.
"We've certainly had these figures before, but probably not for 40 years," SSA spokesman Sean Driscoll told the Gazette Tuesday. "And we've never seen that much of a year-to-year decrease in the history of the steamship."
"There's no precedent for this," he said.
The 2019 Memorial Day weekend numbers include traffic from the Oak Bluffs terminal, which has been closed for repairs during the initial part of the 2020 season. In an email, Mr. Driscoll said he did not think the closure of the pier had measurably impacted the 2020 weekend numbers.
"I find it extremely unlikely the terminal being unavailable has a material effect on this year's traffic figures given Covid-19," Mr. Driscoll wrote.
He said further in a phone conversation that torrential rainstorms on Saturday might have caused a slight dip in traffic numbers, but that Saturday was normally the lowest traveled day of the Memorial Day weekend, with most travel occurring on the Thursday and Friday before the weekend, and the Sunday and Monday at the end.
"The rain probably did hurt a little bit," Mr. Driscoll said. "But especially this year, if you knew you were going, you already knew you were going. There weren't going to be a lot of impulse travelers."
The SSA has seen a dramatic plummet in traffic since the start of the pandemic, with the most measurable and precipitous decline occurring in the last two weeks of March and first week of April. But as the weather has warmed, traffic too has slowly heated up, with overall ferry figures climbing to about 50 per cent of their normal numbers in the second week of May.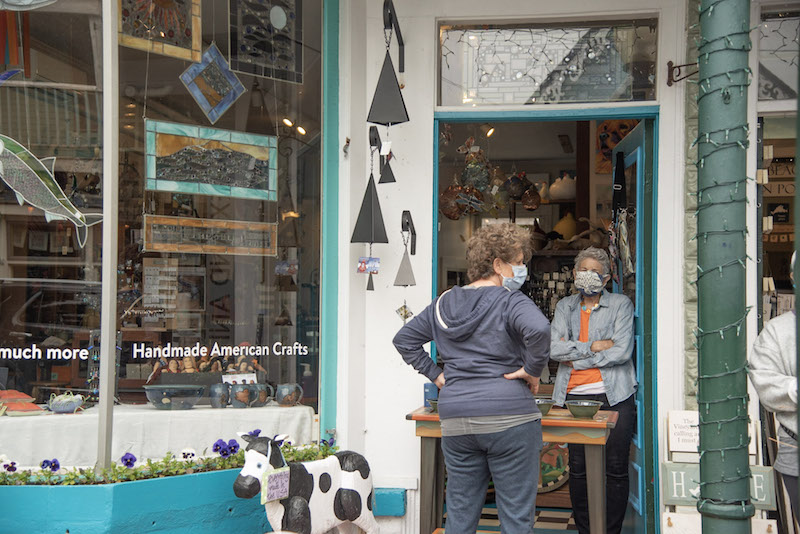 Passenger traffic is at the lowest ebb, with declines in around the 70 per cent range.
For Island businesses, Memorial Day weekend was largely on-par with the same trends.
The Edgartown and Oak Bluffs harbors, normally bustling for Memorial Day, both saw huge declines in boater traffic. Edgartown harbor master Charlie Blair said the harbor normally moors between 50 and 70 boats for the weekend. This year, there were eight.
"No one comes over here to stay on a boat and eat a ham sandwich from home," Mr. Blair said. "They come over to walk around town, go to the stores, eat and drink at the bars, and none of that was happening."
In Oak Bluffs, the harbor is now allowing only one boat per slip to maintain distancing. But even with the limited space, there were still empty slots all weekend — the normal ring of boats familiar on a busy Memorial Day dwindled to a dotted U-shape.
Fuel attendant Evan Hartford, working his seventh year in the harbor, described the boats as a "spattering."
"This past weekend was very, very quiet," he said. "It really is usually our first big weekend. It was not like that this year."
Businesses along the harbor, already many weeks into a stay-at-home order and hopeful that the holiday weekend would bring an increase in sales, felt the impacts of the quiet boat traffic as well. Coop De Ville, a colorful bar and eatery right on the harbor, is normally packed for Memorial Day, with attendants delivering food and drinks to customers that overflow into the harbor boats. But this year, assistant manager Delano Green said that while a few regular customers came for take-out, overall sales were slow and that the harbor atmosphere was "dead," especially for Memorial Day.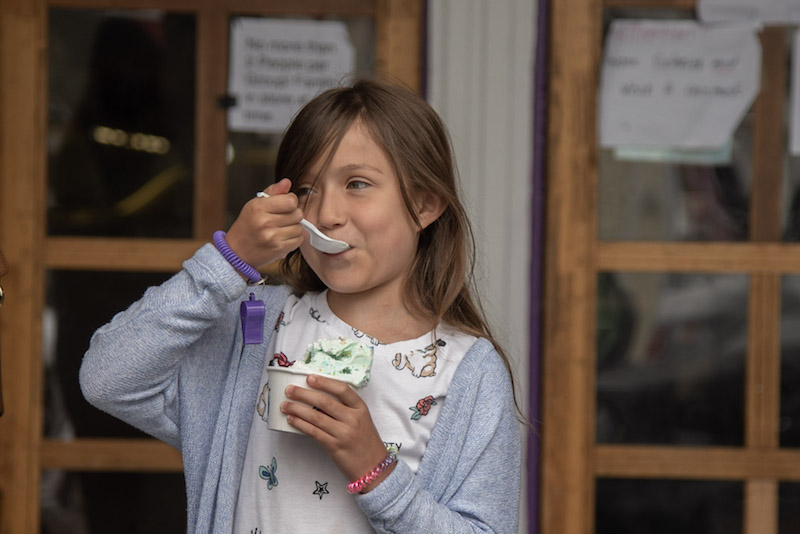 The lack of business on a holiday weekend loomed ominously for Mr. Green, who expressed worries about the impact the pandemic could have on the rest of the summer.
"It's normally crazier than this. It was not as crazy as it should have been," he said. "If it continues with this for the whole summer, I am honestly not sure what is going to happen."
On Circuit avenue the weekend was up and down. Benito's barber shop, a hallmark of the avenue, opened for the first time since March on Monday, as the first phase of the governor's gradual reopening plan allowed barber shops and hair salons to open on Memorial Day.
Business was booming.
"This whole week we're booked," said Tracy Briscoe, who runs the shop. "The next available appointment is in June."
Along with the additional mask, gloves and temperature checks for all customers, the biggest difference on Monday was that Benito's couldn't take walk-ins, the foundation of their business for the past 20 years.
"On Monday, when we opened, there was a gentleman waiting at the door who thought he was going to be able to be a walk-in," Ms. Briscoe said. "That's been a little tough, but it's worked out."
Donna Kruszewski, part owner and manager of the iconic Ben and Bill's ice cream shop, said despite the weekend being slower than normal, cash sales at the shop's Vineyard location actually outpaced the Falmouth franchise.
She noted a small amount of tourist traffic on the street, and said the clothing retailer Captain's Club across the venue was successful with its curbside business. But she added that the ratio of tourists to regular customers was much lower than Memorial Day's past.
"People were happy we were open because they've been waiting a time for ice cream," Ms. Kruszewski. "A lot of people said, oh, Ben and Bill's being open brings a little normalcy into our lives."
For most Islanders, however, any sense of normalcy on Memorial Day was exactly that — a sense. And no amount of bunting or backyard barbecues could portend anything other than the quiet summer that likely loomed.
"It already is a strange May. And it's going to be a strange June," Mr. Blair said. "We'll see if there's any light in the tunnel."