On Saturday morning at 9 a.m. the West Tisbury Farmers' Market officially opened in its new location, moving from the Grange Hall to the Agricultural Society fairgrounds this summer. The move was made to provide for more space for social distancing due to the coronavirus.
Organizers said it was the largest opening day turnout in recent memory. Before 10 a.m., 387 people had walked through the grassy fields of the fairgrounds.
Collins Heavener, farmers' market co-manager, said there was a lot of "calculus" required to make sure the event ran smoothly and all safety protocols were followed. Donning face masks and sun hats, people circled the market in one circuitous loop, moving from the flower stands, to a diverse spread of vegetables, to baked goods and prepared food, before finally ending at the newly established "seafood corner."
"I'm just amazed at how busy it is," said co-manager Olivia Rabbitt. "I'm glad we could all make it work. It's been a long road to get to this moment."
Mr. Heavener said there was a big shakeup this year, with 11 vendors dropping out and nine new vendors joining the market. Some traditional staples of the market, such as Ghost Island Farm, have been too busy with their own farm stands to set up at the farmers' market, while new vendors are looking for an additional outlet to sell their product. Of the nine new vendors this year, four were selling locally caught seafood.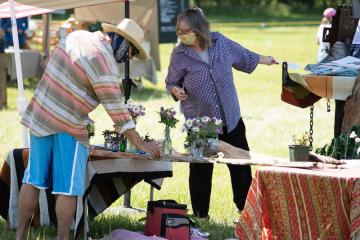 "There is more emphasis on the local food supply," Mr. Heavener noted. "And we have a lot of small farms and food suppliers on the Island... It's a beautiful system."
First-time vendor Paul McDonald sold lobsters caught off his boat, the F/V Shearwater. He said many of his clients were local caterers and private chefs.
"It's better quality, supports local fishermen, has no carbon footprint and it's not coming in on a boat from off-Island," he said. "It's good to see."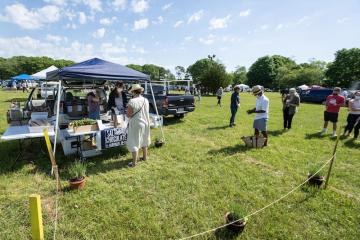 Perhaps the longest line of the morning formed in front of Salt Rock Chocolate Co., a new business co-founded by Allison and Sarah Flanders. The sisters had worked at Chilmark Chocolates and decided to start their own chocolate business after Chilmark Chocolates closed down last year.
"It turns out people still want chocolate during a pandemic," Allison said, adding that her business does not yet have a store front and has been selling their chocolate mostly online since they opened in April.
"This is the first time we get to interact with our customers in person," she said. "The farmers' market is our store front for this year."
The farmers' market is open Saturdays from 9 a.m to noon through Oct. 10, and Wednesdays, starting June 17, from 9 a.m. to noon through Sept. 3.