Two of the Island's four cinemas will soon be showing movies again, as Massachusetts enters Gov. Charlie Baker's third phase of pandemic reopening that allows movie theatres, gymnasiums and cultural centers to reopen for indoor activities under strict conditions.
But many Martha's Vineyard businesses covered by phase three guidelines are taking a more gradual approach, with managers holding off for now on reopening their doors.
With state-mandated restrictions including masks and limited seating, the Martha's Vineyard Film Center in Vineyard Haven resumes screening July 8 with The Trip to Greece at 7:30 p.m. Wednesday and Thursday. Afternoon movies begin Friday with Emma at 4 p.m., followed at 7:30 p.m. by the documentary John Lewis: Good Trouble.
In addition, the Martha's Vineyard Film Society begins a free outdoor movie series at Featherstone Center for the Arts in Oak Bluffs July 14.
Tickets for both indoor and outdoor films must be reserved in advance online.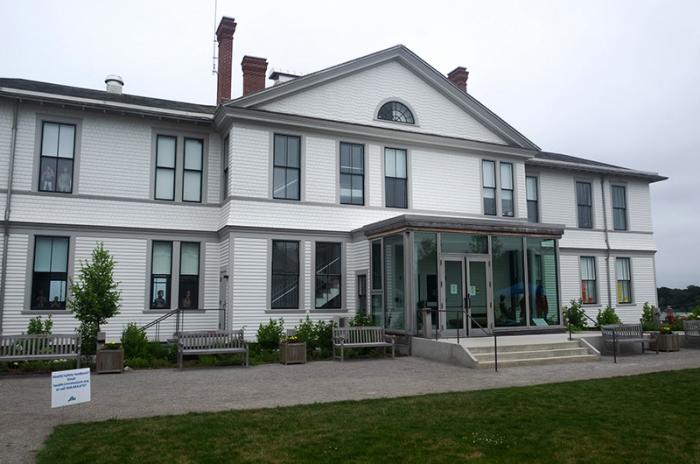 The 45-year-old summer blockbuster Jaws will be the first movie shown at Edgartown Cinemas, where manager Anne Evasick said the screening schedule and socially distanced seating are still being worked out in advance of a hoped-for weekend opening for the Main street duplex.
The Capawock Theatre in Vineyard Haven and the Strand in Oak Bluffs, two historic single-screen movie houses operated seasonally by the film society, remain closed this summer.
Gyms and fitness centers may return to business if they follow the phase three guidelines. Airport Fitness owner Connie McHugh said she'll be opening the doors on Wednesday.
Ms. McHugh said in addition to its indoor tennis facility, the center has nine fitness rooms.
"We're only going to put two people in each room, with the exception of the cardio room which will probably have four," she said. "People can feel safe about working out with lots of room without being on top of people at all."
Club members can reserve space in advance online or over the phone. The building will be cleaned every day from 1 to 3 p.m.
Senior fitness time will run from 3 to 4 p.m. daily.
Tennis and pickle ball reservations and lessons are available.

But Mansion House manager Josh Goldstein said his family hasn't yet set a date for the health club and pool at their year-round Vineyard Haven hotel.
"The commonwealth's regulations are specific and involve much more than arrows on the floor or hanging shower curtains," Mr. Goldstein told the Gazette Monday, the day the phase three rules went into effect.
Workout equipment and other high-touch surfaces must be sanitized after each use and patrons must be stringently distanced, he said.
Mansion House health club members, who include many senior Islanders, had their memberships frozen when the pandemic shutdown began in March, so they are losing none of the workout time they paid for, Mr. Goldstein said.
At the Yoga Barn in West Tisbury, which normally offers bodywork and acupuncture therapy as well as yoga classes, owner Scarlet Johnson said the facility will remain closed in July. A decision about whether to open in August will be made collectively later this month, she told the Gazette Monday.
"It can't be a top-down decision with something like Covid-19," Ms. Johnson said.
The YMCA of Martha's Vineyard also will remain closed to most members until further notice, according to an announcement from membership coordinator Lindsay Webster.
"The current guidance restricts us from having certain programs and services operating simultaneously," Ms. Webster wrote to Y members. "Per current CDC guidelines, we aren't able [to] use the facility as both a fitness space and educational campus."
In July, the Y will host drive-in movies and offer lifeguard skills training for swimmers under age 18, to certify them as summer lifeguards.
July 20 begins the Y's six-week summer camp program, renamed Camp Kindness this year, and on August 3 the ice arena will become available to groups. The summer camp has just 50 spots and filled up quickly.
Phase three also allows the limited reopening of museums and other cultural centers, but the Martha's Vineyard Museum in Vineyard Haven has chosen instead to turn itself inside out for the summer. Museum grounds are open at no charge, six days a week, from Tuesday through Sunday, with new exhibitions mounted in the windows of the building for outdoor viewing.
Along with a panoramic view from the former Marine Hospital high above Lagoon Pond, the grounds include a shed gallery holding larger museum exhibits, a historic catboat and the recently-completed Rose Styron Garden by acclaimed Island stoneworker Lew French. Guided tours are offered daily.
The Vineyard Trust, which manages numerous historic properties on the Vineyard, has reopened its downtown Edgartown visitor and history center, the Carnegie on North Water street, Tuesdays through Saturdays.
Other cultural properties owned by the trust, including the Flying Horses carousel and Union Chapel in Oak Bluffs, remain closed.
Aaron Wilson contributed reporting.