In one of the hottest, driest summers in recent memory, critical drought conditions were declared late Thursday for all seven regions in the state, including Martha's Vineyard.
"The combination of three months of limited rainfall and well above normal temperatures through July and early August have led to very dry conditions in every region," said Massachusetts Secretary of Energy and Environmental Affairs Kathleen Theoharides in a press release formally announcing significant drought conditions.
"It is essential that residents and businesses across the commonwealth take extra care to conserve water both indoors and outdoors and be mindful of the increased risk of wildfire," the secretary wrote.
Parched hayfields, burned-out lawns, dirt roads recast as dust bowls and forest fire managers on high alert have all been part of the weather story on the Vineyard this summer.
After a wet, cold spring, temperatures began climbing in June and never came down, records show. Rainfall in June, July and early August has been scant to nonexistent.
In the month of June, the Island received 1.78 inches of rain. The average temperature was 65.2 degrees — 1.8 degrees warmer than normal, according to the Northeast Regional Climate Center.
In July, the Island received only half an inch of rain — 2.41 inches below average for the month. The temperature averaged 72.6 degrees, 3.4 degrees warmer than normal, according to the climate center. There were three days in July when temperatures reached 90 degrees or above.
On July 28, the National Weather Service cooperative station in Edgartown reported a record high temperature of 94 degrees.
June and July were preceded by a washout spring, with above-average levels of rain in April and May.
"If we didn't have those good, earlier spring rains, we would be in a worse condition," said Jessica Spaccio, a climatologist with the Northeast Regional Climate Center, in an interview with the Gazette that took place before the formal drought declaration.
Earlier in the month the Island had been placed under moderate drought conditions, according to the U.S. Drought Monitor, a collaboration of government and university meteorologists.
Dave Celino, chief fire warden for the state Department of Conservation and Recreation, confirmed that fire spotters have been manning the state-owned fire tower at the top of Christiantown in West Tisbury this summer. He said wildfire risk is increasing overall in southeastern Massachusetts.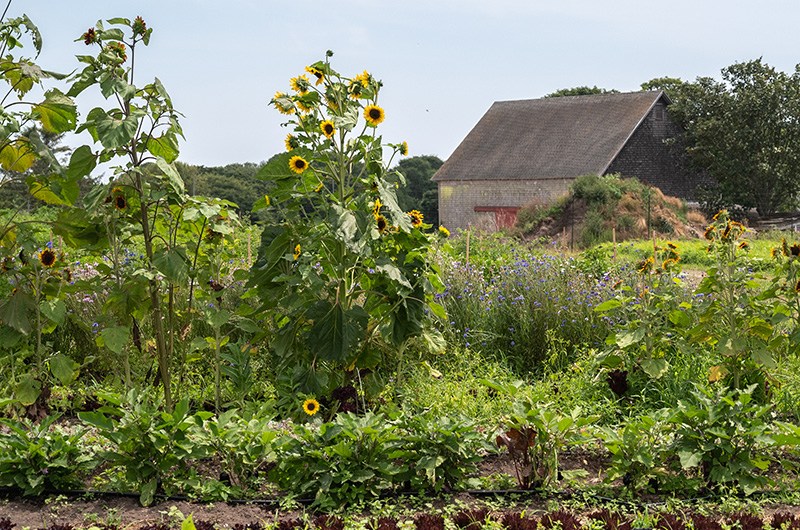 Farmers are irrigating crops and many say they have had to bring in supplementary hay and grain to feed their animals this year.
"We usually have some drought in the summertime, but I can't remember having a stretch this long or this early in the season," said Lily Walter, owner of Slip Away Farm on Chappaquiddick. "We haven't had a really solid soaking since May."
At The Grey Barn and Farm in Chilmark, the sheep have been given summer shelter for the first time, according to livestock manager Elizabeth Tarantino. She said the grass has been overtaken by weeds, and while the farm has planted sorghum, a drought-resistant grain, on a 70-acre plot, it won't be ready for grazing until winter. "Pastures are the first thing impacted by a drought," Ms. Tarantino said. "Everything is so dry and there is so little food."
There have been four confirmed wild-land fires in Edgartown this summer, all ignited by humans but fueled by dry conditions, Chief Celino said. Each burned less than one acre, he said. West Tisbury fire chief Manuel Estrella said one three-quarter-acre fire in July was sparked by illegal brush clearing.
Chilmark fire chief Jeremy Bradshaw said all Island firefighters are on high alert. He also said streams and other water sources typically used for firefighting are compromised.
"If this drought keeps going it will be a problem," Chief Bradshaw said. "We'll be drafting saltwater to put out fires."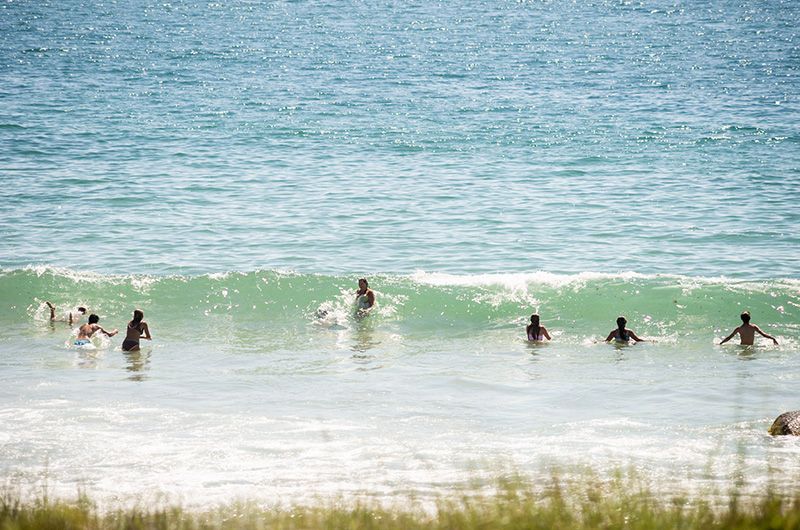 Edgartown water department superintendent Bill Chapman said the town pumped significantly more water in June and July than it did last year. In July last year, the town plant pumped 67.6 million gallons of water. This year, he said it has pumped more than 75.7 million gallons. He said the town still has not reached its full pumping potential, and believes the majority of added water pumping is for irrigation.
"The aquifer is in just as good shape as it has ever been," Mr. Chapman said. "We are only pumping about 90 per cent of what we can . . . which means we still have water production capability in reserve."
The drought declaration and advisory released by Secretarty Theoharides Thursday includes an array of recommendations for residents, businesses and communities, including restrictions on nonessential outdoor water use, prohibitions on certain types of landscaping such as sod installation and new seeding, and conservation measures for public drinking water supplies. A state task force has been assembled to meet and monitor ongoing drought conditions statewide.
Meanwhile, Ms. Spaccio at the Northeast climate center said her team is forecasting high temperatures and lack of rain to continue into at least September.
"There are not a lot of indicators that this is going to end soon," she said.