Protesters flocked to Five Corners in Vineyard Haven on Monday afternoon to show support for the United States Postal Service and its workers, in the most recent of this summer's community-organized protests.
The group of 35 or so protesters gathered at the intersection at 12 p.m., with facemasks and signs, to voice their concerns over the future of USPS and the possible consequences that inaccessible mail-in ballots will have on the upcoming election.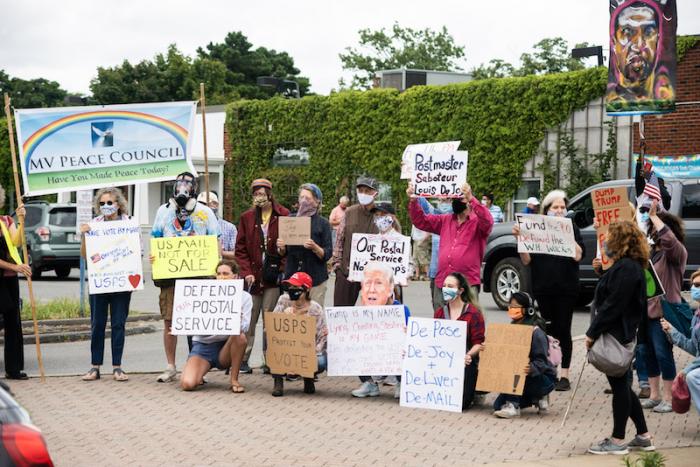 The event was organized by the treasurer of the Martha's Vineyard Peace Council, Bruce Nevin, who staged the event as part of a multi-pronged plan to oppose mail disruption, following President Trump's recent refusal to provide federal aid to the institution.
"This is part of a direct attack on our country, our democracy," said Mr. Nevin, who took his cue from other USPS rallies happening around the country. "The U.S. Postal Service is a vital institution…it's important for people to know that there are things that they can do, and take action."
During the protest, Mr. Nevin stood at the head of the crowd, facing heavy afternoon traffic, with a sign that read "Enough! Corporations Bailed Out, USPS Sold Out."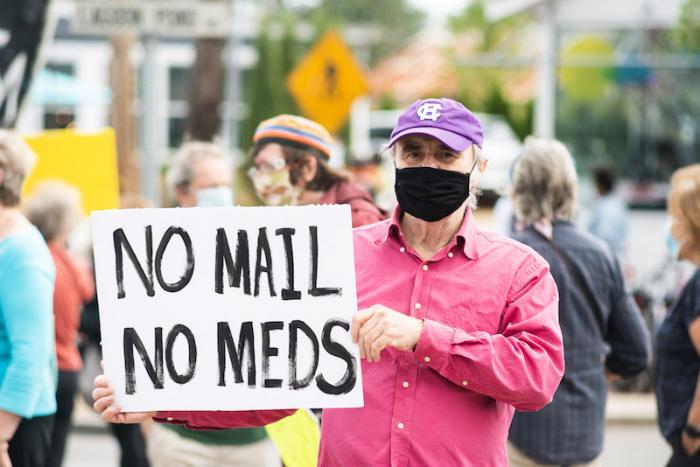 Another protester, Carla Cooper, stood on the corner wearing a giant cardboard cutout of the President's face as a mask. Ms. Cooper, who has attended multiple protests this summer, helped spread the word for Monday's event.
"We've got an administration that is so corrupt and so afraid of losing that they are willing to put the U.S. mail on the chopping block to keep people's votes from being counted," she said. "It's un-American, it's unconstitutional, it's unethical. It's disgusting."
Ms. Cooper hopes the Island protest, and others like it, will pressure elected officials and state representatives to act in defense of the postal service.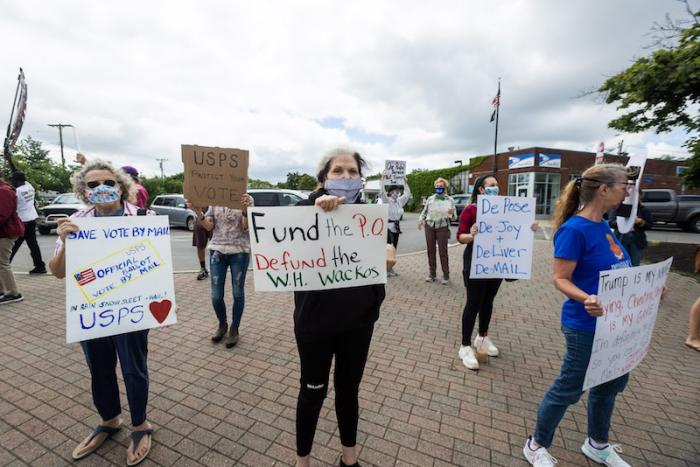 The protest also saw participation from Island youth, including summer residents Willa Spalter and Zari Garfield, both 17, who joined the protest after noticing the crowd gathered at the intersection.
"Mail-in is something super important for the election and defunding the USPS and taking away mail sorting machines is essentially like grabbing the election," said Ms. Spalter, whose sign read "No Place for Hate, Vote, Vote, Vote."
"Republican politicians need to hold Trump accountable because no matter what political party or who you're voting for, you should know that this isn't right," she added.
As passing cars honked their horns in solidarity and passersby paused to show their support, the crowd broke into a lively protest chant.
"U.S. mail, not for sale," they shouted, as one. "Protect your vote."
There will be another rally at Five Corners on Saturday, August 22 at 11 a.m.