Ray Gosselin grew up in Pocasset. He joined the Navy in the 1960s where he ran a ship store that, among other things, sold James Taylor cassette tapes. One day a fellow sailor pointed to the tapes and said to Mr. Gosselin, "Oh, James Taylor, he lives on Martha's Vineyard."
"Where is Martha's Vineyard?" Mr. Gosselin asked.
About 10 years later he moved to the Island full-time to work as an electrical contractor.
Mary Gosselin graduated from college with a degree in nutrition and began work as a registered dietitian in Boston. Then she took a trip to Germany where she met a young woman who owned The Bakery at the Triangle in Edgartown. When Mrs. Gosselin showed an interest the woman offered her a summer job.
"She literally gave me the keys and went to Boston," Mrs. Gosselin said.
In some circles that may sound like an unlikely beginning for a career as the owners and purveyors of the Island's popular Island Cove Adventures. But on the Vineyard it is a familiar tale, of falling in love with the Vineyard even before setting foot on its shores.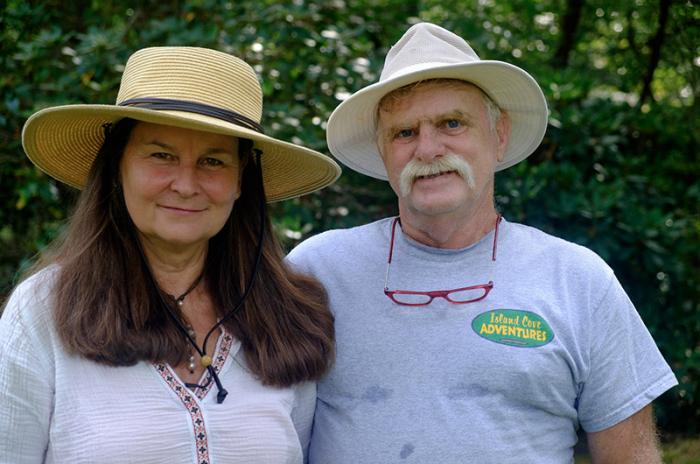 This summer the Gosselins sold the business to Brook Katzen, putting away their putters and colored balls after 28 years at the helm. The Gosselins said they knew it was time to move on when they began hiring and training the children of their first employees.
"That's when Mary and I said, I think we've got to go," Ray said.
"It felt like a marathoner who has to put up their sneakers, we loved it so much," Mary added.
Ray and Mary met at the Dock Street Diner, where Mary was working and Ray was a frequent customer, on account of Mary.
"I didn't know he was coming from Vineyard Haven to have breakfast in Edgartown; he was just another contractor lined up on the counter," Mrs. Gosselin said with a smile. They married in 1990. On a whim, Ray came home one day and said he wanted to start a mini-golf course. Duffer's Delight, the mini-golf course once located where Cronig's parking lot is today, had recently closed and Ray wanted to fill the void. Mary was game and agreed.
Mr. Gosselin talked to his sister Debbie and brother in law Scott Melanson about teaming up. Then they reached out to Harry Nelson, a contractor on the Cape who built Pirates Cove and Sand n' Surf mini-golf courses in South Yarmouth and Wareham. When Mr. Nelson came to the Island, he told Mr. Gosselin the key thing is "location, location, location."
In September of 1992, Island Cove Adventures had its grand opening on State Road in Vineyard Haven. During its first full season President Clinton made a trip to the Vineyard. The Gosselins sent the President a gift certificate for his birthday.
"And he came!" Mary said.
But they were off-Island that day. They saw the news on television.
"I'm sitting there watching, and I say, what the heck is that?" Ray remembered. "Is that a waterfall? And they pan back, and I say holy mackerel, Mary get up. The president is there. We missed him. I don't believe it."
The next summer when the Clinton family came back to the course the Gosselins were there. Earlier that year the Clinton administration had revived the Small Business Association. Ray talked with Mrs. Clinton about applying for a loan and jokingly asked the First Lady if he could put her down as a reference.
"Yes, we can do that," Mrs. Clinton said. She gave him the address to send the reference papers to.
"And next thing you know, we got the loan," Ray said.
In the early days, Ray continued his work as an electrician. At the mini-golf park he focused on maintaining the course while Mary ran the office, management and handled all the bookkeeping. A few years after opening they started selling Mad Martha's Ice Cream.
"That year we opened with the ice cream we made more money on the ice cream than we did golf," Ray said.
They added more food to the menu, put in a climbing wall and people began coming from all over the Island, the Gosselins said. "We had plenty of parking, no huge line, we got them here and they played mini-golf," Ray said.
"If it was actually all about the money we would have been very poor and it never would have worked," Mary added. "You sacrifice so much if you're only focused on the money."
The focus, it turned out, was on their young customers, watching them grow up and giving some extra encouragement, along with free chances, to finally make it to the top of the climbing wall.
"That to me is our community, taking care of each other," Mary said.
But like all things, there comes a time to move on.
"There's a lot more competition for the family's dollars so we had to work harder, and we're not at the age where we could," Mary said. "It was time to turn it over to somebody younger, and that was our hope, that we would find somebody that would want to keep it a mini-golf."
Island Cove Adventures has a new name under its new ownership, simply The Cove. Mr. Katzen also recently purchased Little House Cafe, not far down the street, and has partnered this summer with Spring Sheldon to operate a taco truck, El Gato Grande, in the mini-golf course's parking lot.
"We like Brook, he's a go-getter," Ray said.
"It feels like we've been able to pass the torch, which is lovely," Mary said.