The beach plums ripened this week, just like that. My friends are making jelly. I should be too. After all, this was a tradition in my childhood home, after the annual pilgrimage to mosquito-laden Beach Plum Island, where sunburn and soggy sandwiches and warm Cokes that exploded when you opened them made the family outing kind of like a Hallmark channel special gone bad.
Still, in my fantasy world of self-reliance, I would become an expert preserver, pickler, jam-maker, dehydrator, smoker and canner. I would buy a vacuum-sealer and an extra-large freezer. Heck, I'd have a handsome country kitchen with an antique hutch displaying all my beautiful canned goodies. Or an entire pantry for preserves, with artisan fermentation crocks on display. Perhaps that's taking it a bit too far, but one can dream.
Instead I rely on my small endeavors to preserve what I can with the time and space I've got. I roast tomatoes, layer them in storage containers and freeze them. It's no secret that I'm obsessed with roasted tomatoes; that's why I've made sure there are a few different ways to make them posted on cookthevineyard.com. Quick-roasting is good for plum tomatoes and cherry tomatoes; slow-roasting is best for beefsteaks so that they lose a lot of moisture before they burn.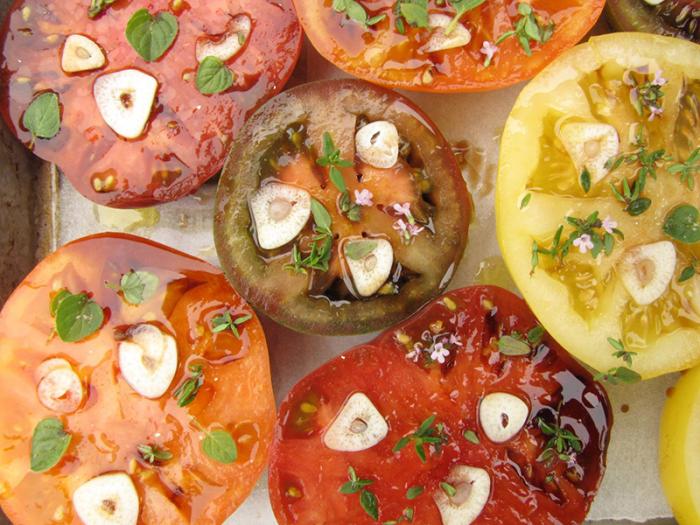 This weekend I took my roasting obsession a step further, turned the oven down as low as I could (175 degrees F in my 30-year-old range, according to a possibly accurate oven thermometer) and attempted to dehydrate my tomatoes that way, figuring I could make "sundried" tomatoes and store them in oil. I put them in the oven at 3 p.m. and decided at 10 p.m. they should stay in the oven overnight as they were still somewhat moist. Well, they were plenty dehydrated by 8 a.m.
I have my dried tomatoes in a jar of oil in the fridge, hoping they'll soften up a tiny bit. They do taste good; they're just a tad chewy.
I also love to make and freeze tomato sauce. (Yes, I have finally ordered that chest freezer for the basement.) I make my sauce with whatever ripe tomatoes are lying around. I always start with onions, carrots, and garlic, as Chef George Germon taught me years ago at Al Forno restaurant (carrots deepen and sweeten tomato sauce), and I always cook everything in a lot of butter, thanks to the late Marcella Hazan.
Lastly, I'm fond of quick-pickling. This is an easy technique. You make a simple brine by combining water, vinegar, sugar and salt and heating until the sugar dissolves. You pour this brine into clean jars over raw veggies (corn kernels, sliced peppers or onions or fennel) or blanched veggies (beets, carrots, cauliflower), spiked with whatever aromatics you choose (dill seeds, mustard seeds, red pepper flakes, etc.). You let the jars cool, cover them, and store in the fridge for up to a few weeks. These refrigerator pickles are great pick-me-ups for tacos, eggs, rice or grain dishes and more.
I'm planning to dry some herbs this year and I'd love to make a batch of kimchi, which I've only done once a few years ago with some special jars and a bag of Korean gochugaru chile powder that West Tisbury cooking guru Katharine Long leant me. It was fun to make and truly delicious. Katharine doesn't like to put a lot of ginger in her kimchi, but I put a fair amount in mine.
To go beyond my modest suggestions, look to other Islanders for preserving ideas. Preserving (along with hunting and gathering) is probably one of the oldest traditions on this Island and there are no shortage of enthusiastic practitioners to this day.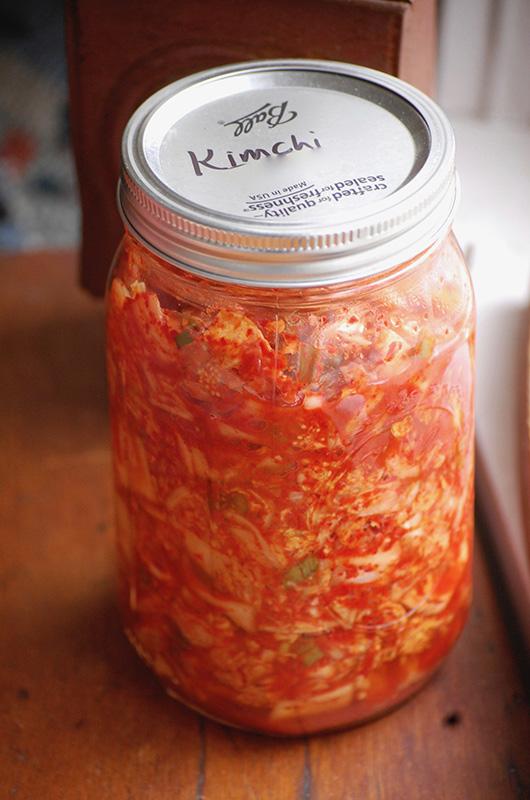 Super-gardener David Fielder told me he and his wife Libby and mom Ann have canned 13 quarts of tomatoes, 10 pints of salsa, blanched numerous bags of hot (jalapeno) and sweet (Costa Rican and Banana) peppers, blanched and frozen 10 pounds of green beans, roasted and frozen five pounds of eggplant, dehydrated a gallon bag of basil, and raised dozens of mammoth winter squash that will hold over the winter.
Also in West Tisbury, Tom Hodgson is making a lot of jams and jellies this year since by all accounts it has been a great berry year. Tom uses a dehydrator, he says, "to turn pounds of tomatoes into ounces!" And he freezes a lot of what he grows. And he grows a lot.
Linda Alley is collecting both elderberries and beach plums for her jams, and Rebecca Gilbert of Native Earth Teaching Farm says she is "doing a lot of lacto-fermenting, as usual" with a good supply of cucumbers. In Edgartown, Dylan Hausthor is making tinctures from locally-harvested mushrooms and herbs.
But I'd have to say Heather Thurber of Breezy Pines Farm is my hero. She's got one of those big dehydrators from Cabela's. (Can you tell I want a dehydrator?) She says at the farm they've been dehydrating a lot of vegetables, including squash, zucchini, onions, peppers, and tomatoes (especially cherry and Roma) to use for winter soups and dishes. Heather's been making kimchi, sauerkraut, and bread & butter pickles and is getting ready to put up a lot of salsa and hot sauce from the wide variety of hot peppers they grow. They'll also be turning pounds and pounds of tomatoes, onions and garlic into slow-roasted sauce and tomato paste that will be vacuum-sealed and frozen.
Heather agreed that it has been a great berry year. "I've been crafting syrups, tonics, and oxymels (a tonic featuring honey and vinegar) for the apothecary to ready for the cold months." She's also looking forward to a good-sized batch of apple cider vinegar, apple sauce and apple butter that they'll make with their Macintosh apples.
The good news is that you can buy Heather's apothecary products from her Breezy Pines Farm booth at the farmers' market. You can buy Linda's jams and jellies at her New Lane Sundries booth at the Farmers' Market. You can buy canned farm tomato sauce and pickles and jams at Morning Glory Farm or The Larder or from Jan Buhrman's Kitchen Porch or any number of other local spots. I guess I'm saying you don't necessarily have to make preserves yourself.
That's all very well and good, but writing about all this has made me restless. I think I'll take the afternoon off and go beach-plum picking. Want to go with me?