A slow dribble of Island voters — readied with masks, hand sanitizer and yoga mats — headed to the polls Tuesday for the state primary election, with tight races for the junior senate seat topping both sides of the ballot.
Polls are open from 7 a.m. until 8 p.m. at polling stations across the Island. Face coverings are required to vote.
Reached last week, town clerks noted a large increase in the number of mail-in ballots requested and a steady flow of early voters relative to state primary elections in years past. Statewide, a possible record turnout is expected.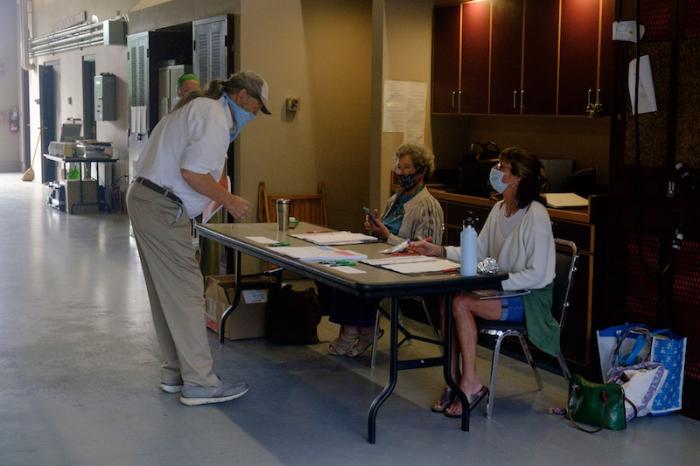 Clerks also said there had been an increase in voter registration on the Island, as the November presidential election nears.
But fears of in-person voting during a pandemic, combined with the large number of early and mail-in voters and a lack of contested local races, meant the Island saw a quiet day at the polls on Tuesday. By mid-afternoon, town clerks across the Island had reported almost no lines, despite a wide-array of social distancing rules.
In Edgartown, longtime constable Scott Ellis said he had seen no lines or delays at the polls by 2:30 p.m., even though the polling station only had two voting booths available. Mr. Ellis attributed the light traffic to the fact that an impressive 500 town voters had already cast their ballots during the early voting period that ended Friday.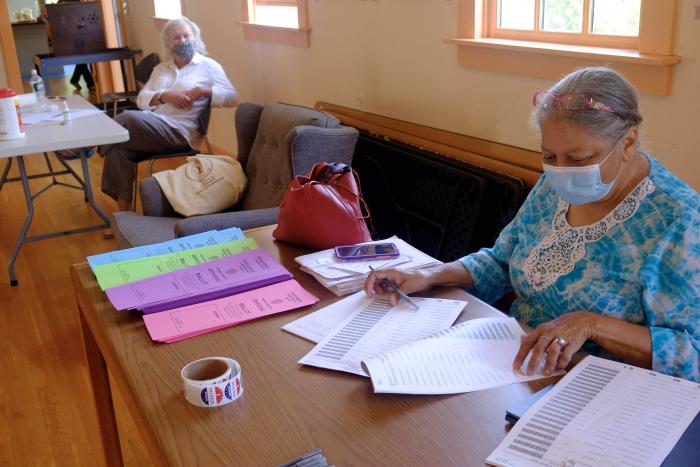 A similar scene was reported at the Island's other polling stations Tuesday.
In Oak Bluffs, town clerk Colleen Morris said the busiest part of her day had been counting the mail in ballots, which she has more of than in any other election. Other than that, voters trickled into the polls at a rate of about one every 15 minutes.
"Business has been pretty normal," Ms. Morris said.
Over in Tisbury, town clerk J. Hilary Conklin estimated that about 600 voters had cast their ballots early or through the mail. Of that figure, 200 or so had voted in-person at the station. But on Tuesday, Ms. Conklin reported a quiet morning, with only a few spurts of election-day voters.
"They come in waves," Ms. Conklin said.
The state's junior senate seat provided the lone contested races on the Democratic and Republican ballots Tuesday.
On the Democratic side, a close battle for the nomination has shaped up between incumbent Sen. Edward Markey, who is 74, and challenger Rep Joe Kennedy 3rd, who is 39.
Senator Markey has represented Massachusetts in the U.S. Senate since 2013 and before that was a Congressman since 1976. Representative Kennedy has served as the House representative for the state's fourth district since 2013.
The race has taken on national significance in recent weeks, as competing factions in the Democratic party have offered endorsements of each candidate.
On the Republican side of the U.S. Senate ticket, scientist Shiva Ayyadurai will face off against attorney Kevin J. O'Connor for the nomination. Neither candidate has previously held elected office. Mr. Ayyadurai ran as an independent for the Senate in 2018. This is Mr. O'Connor's first run.
In district-wide races, incumbent Cong. Bill Keating is running unopposed for the Democratic nomination to represent the Cape and Islands district in the House of Representatives. Helen Brady is running unopposed for the Republican nomination to challenge Congressman Keating.
Incumbent state Sen. Julian Cyr and incumbent state Rep. Dylan Fernandes are running unopposed for the Democratic nomination for their seats in the state legislature.
Beyond U.S. Senate and state legislature races, the Sept. 1 ballot will see an eight-way race for seven seats on the Dukes County Commission. But one of the candidates, Hunter Moorman of West Tisbury, has dropped out of the race and has been requesting, via paid newspaper advertisements and letters, that voters not cast ballots for him.
One voter, Bob Gilpin of Tisbury, discussed the importance of exercising his right to vote, especially in a presidential election year.
"I think it's our responsibility and right to vote," Mr. Gilpin said. "We should come out whenever there's an election, which I hope a lot of Americans will recognize on the third."
Raymond Gosselin agreed.
"You know you can go in there and get behind that booth and make that decision and nobody else knows," Mr. Gosselin said. "That's what it comes down to. It's voting. To make changes you got to vote. If you don't do anything, don't say anything."
Louisa Hufstader, Maia Coleman and Aaron Wilson contributed reporting.