Voters in all seven Dukes County towns threw their strong support to Vice President Joe Biden over President Donald Trump, according to preliminary results after a long day at the polls Tuesday. And in an extremely tight three-way race, Clarence (Trip) Barnes, 3rd and Ben Robinson edged out Josh Goldstein for two elected Tisbury seats on the Martha's Vineyard Commission.
Results released late Tuesday also showed that Vineyard voters had soundly defeated Question 3 on the ballot, rejecting an effort by the Dukes County Commission to switch its county treasurer from an elected to an appointed position.
Aquinnah, Edgartown, Oak Bluffs, Tisbury and West Tisbury all turned in unofficial results by 10:30 p.m. Chilmark submitted its final results just after midnight. Both Chilmark and Aquinnah still count ballots by hand.
The only contested local race on the ballot was a three-way battle for Tisbury's two elected seats on the Martha's Vineyard Commission. While Mr. Barnes maintained a steady lead throughout the night for the town's first seat on the commission, garnering 7,842 votes, Mr. Robinson was able to pull away from Mr. Goldstein in Chilmark and Aquinnah after running nearly dead even in the down-Island towns.
The final unofficial tally from Tuesday night was 5,974 votes for Mr. Robinson and 5,911 for Mr. Goldstein, giving him a 63-vote margin of victory. Meanwhile, Mr. Barnes was the top vote-getter by far in the MVC race.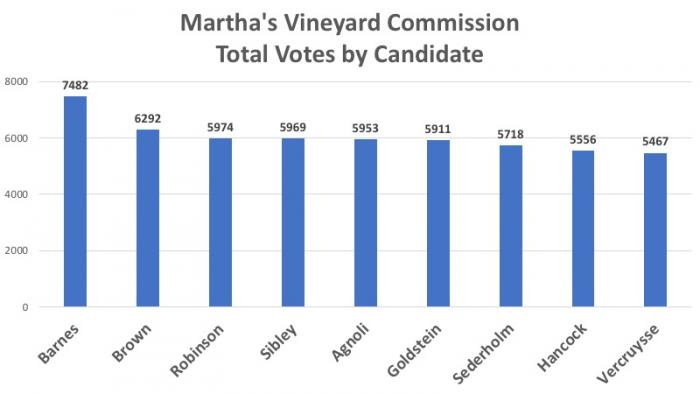 Also elected to the commission were: Christina Brown (Edgartown), Fred Hancock (Oak Bluffs), E. Douglas Sederholm (West Tisbury), Linda Sibley (West Tisbury), James Vercruysse (Aquinnah) and Jeffrey Agnoli (Edgartown). No one was on the ballot from Chilmark, but write-in candidate Jay Grossman appears to have won the seat with 47 votes.
Turnout was strong on voting day, when a steady stream of voters lined up at the polls from early morning to early evening. Mirroring the country, early voting had been heavy this year, with some 60 per cent of registered voters casting their ballots before election day. Busy town clerks processed those hundreds of ballots throughout the day Tuesday.
A record number of people cast ballots this year. At about 78 per cent of registered voters, however, countywide turnout on a percentage basis matched the 2016 presidential election and fell short of the 2012 election when 11,003 voters, or 80.5 per cent of those eligible cast ballots.
Chilmark recorded the highest turnout, with 87 per cent of eligible voters casting ballots, followed by West Tisbury at 86 per cent.
Total voter turnout was 12,680, in a year when voter registration numbers are up across the board.
Between 2016 and 2020, Dukes County voter rolls grew by 1,117. Total voter registration for Dukes County as of Oct. 24 was 16,242, according to the Secretary of State's office. Of those, 37 per cent registered as Democrats, 8 per cent registered as Republicans and 53 percent were unenrolled in any party. (The Secretary of the State's office includes inactive voters, accounting for a slightly higher voter registration figure than reported by town clerks.)
Voters soundly defeated ballot Question 3, that would have changed the county treasurer position from elected to appointed. The sleeper question generated debate and interest on all sides in the weeks before the election, with the former county treasurer campaigning vocally against it, and even the county commission itself divided.
With results from all six towns tallied early Wednesday morning, the question failed 55 per cent to 45 per cent. The question saw more support in up-Island towns than in down-Island ones, with both Aquinnah and Chilmark recording more "yes" than "no" votes. All other towns voted against Question 3.
County treasurer Ann Metcalf, who was running unopposed, was easily elected to a six-year term with 8,780 votes county-wide.
Seven candidates who were running unopposed for the Dukes County Commission were also elected: Leon Brathwaite, John Cahill, Keith Chatinover, Tristan Israel, Christine Todd, Don Leopold and Richard Wharton.
At a meeting of the county commission Wednesday, the ballot question did not come up for discussion during the regular agenda.
When commissioners were asked for comment at the end of the meeting, commissioner Keith Chatinover replied. "Speaking for myself, I was actually quite encouraged by the result we received on Question 3," he said. "I thought it would lose by a much greater margin. I think that it proves that the outreach a bunch of us did to explain our reasoning, that it was not a power grab, that it was simply implementing what the Department of Revenue asked us to do in their report. That's all we were doing. I think that education was effective . . . I think that every day as we prove our competence, county voters trust us more and more as they should. I think it's a pretty competent group of people that serve here and just got re-elected."
Vineyard towns and Gosnold went for Mr. Biden at a rate of nearly four to one in a historic presidential election that appears to have prompted record turnout across the Vineyard and country and remains undecided the morning after election day. On the Island, Mr. Biden received 78 per cent of the votes cast.
Voters joined the rest of the state in strongly backing ballot Question 1, which involved the right to repair for mechanics, and narrowly favored ranked choice voting.
Statewide, the right to repair question won by a wide margin, but ranked choice voting was rejected.
Comparing this race with four years ago, Vice President Biden received 1,383 more votes in Dukes County than Hillary Clinton did in 2016. President Trump received 134 more votes than he did four years ago.
Mr. Biden ran the strongest in West Tisbury, where he captured 1,942 votes to President Trump's 330. He also captured votes at a nearly 10-to-one margin in Aquinnah. His worst result was in Edgartown, where he won 2,126 votes to Mr. Trump's 841.
In other state and national contests, Dukes County voters added their strong support to incumbent Democratic Sen. Edward Markey over his Republican challenger, Kevin J. O'Connor, along with U.S. Rep. Bill Keating, who had two challengers, and state Sen. Julian Cyr, and Rep. Dylan Fernandes, who were running unopposed.