Island churches, nonprofit organizations, Stop & Shop and countless volunteers teamed up to provide over 400 Thanksgiving meals to Vineyard families in need this past weekend.
On Friday afternoon, a police detail from the Duke's County Sheriff's Department helped guide traffic to and from the Agricultural Hall in West Tisbury where the First Baptist Church of Vineyard Haven distributed food through its Serving Hands program.
Betty Burton, a coordinator for Serving Hands, said this year recipients received a box with either a whole frozen turkey or chicken, a bag of apples or oranges, potatoes, onions, spinach, stuffing, cranberries and squash.
"Just about everything they would need to have a really good Thanksgiving dinner," Ms. Burton said.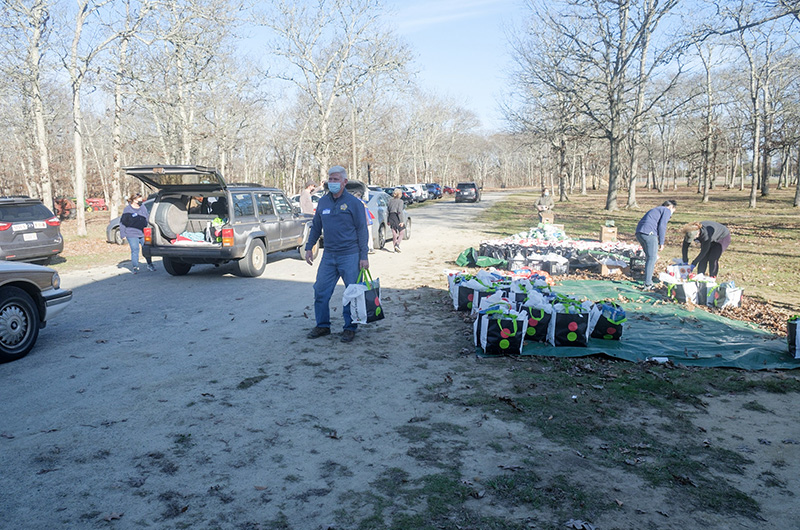 Alicia Nicholson, a coordinator for the Friday distribution, said they gave out about 150 meals and delivered an additional 100 boxes of food to those who could not make it to the Agricultural Hall.
"People were very happy and very thankful to get all the food they were getting," Ms. Nicholson said.
On Saturday at the Good Shepherd Parish House in Oak Bluffs, volunteers loaded box after box of Thanksgiving supplies into car trunks and truck beds.
Joe Capobianco, facilities manager for Good Shepherd Parish, said Saturday was the largest distribution they have done since the spring when between 300 to 350 boxes of food were given out every week during the early days of the pandemic. Mr. Capobianco said Good Shepherd gave away about 230 boxes of food on Saturday
"Everything has been great," he said.
Janay Dlabaj, an organizer for Good Shepherd, moved to the Island in the summer of 2019 with her family. She has helped with the food distribution since her arrival on the Vineyard. Ms. Dlabaj said since the end of the summer the number of people picking up food has steadily increased but the community has risen to the occasion.
"I have never seen a community, not just this church but everybody, be so giving. I can't believe how giving this community is, it's amazing … You put so much food in, help so many people, it makes you feel really good," Ms. Dlabaj said.
The majority of the food distributed by Serving Hands and Good Shepherd comes from the Greater Boston Food Bank. Mr. Capobianco drives a 26-foot refrigerated box truck to the food bank every Friday for pickups. The box truck was donated to the Good Shepherd Parish earlier this year by the Martha's Vineyard Bank Charitable Foundation. The Greater Boston Food Bank and the diocese of Fall River have also recently donated a large, outdoor storage freezer to Good Shepherd as well.
On the Vineyard, Island Grown Initiative and Stop & Shop were also involved in supplying food for the Serving Hands' Thanksgiving distribution. Sophie Mazza, food equity director for IGI, said her organization teamed up with Stop & Shop to donate and distribute whole frozen turkeys and side dishes to Serving Hands, the Island Food Pantry and the Wampanoag Women's Center.
Ms. Mazza said this is the first time IGI has been involved in a Thanksgiving distribution.
"Everything went really well," Ms. Mazza said. "Everything was on time and where it was supposed to be. The products that we were told we were getting were all there. Stop & Shop was really helpful. They even helped our staff load up."
Donations to help the food distributions can be made at Good Shepherd Parish (thefoodbasketsmv.org) Island Grown Initiative (igimv.org) or mailed to Serving Hands at The Vineyard Committee on Hunger, P.O. Box 4685, Vineyard Haven, MA 02568.