In the fall of 1970, Kate Taylor made her way from Martha's Vineyard to Los Angeles, to record her first album in the city that had become the center of a musical universe.
"The place was a magnet," recalled Ms. Taylor, on the phone from her Chilmark home last week.
"There was just this bevy of creative, productive, brilliant musical people, all... on the cusp of these amazing careers," Ms. Taylor said, naming the Eagles, Jackson Brown and Joni Mitchell among others on the scene.
"They were all drawn to L.A."
What drew Ms. Taylor, who had just turned 21, was an invitation to record with Peter Asher, her brother James Taylor's producer and a former half of the hit 1960s duo Peter and Gordon. After hearing the Taylor siblings singing together, just for fun, in an empty stone swimming pool at his British summer cottage, Mr. Asher suggested that Ms. Taylor come West to make a record of her own.
"And I said 'Let me think about it, yes!" Ms. Taylor said with a laugh.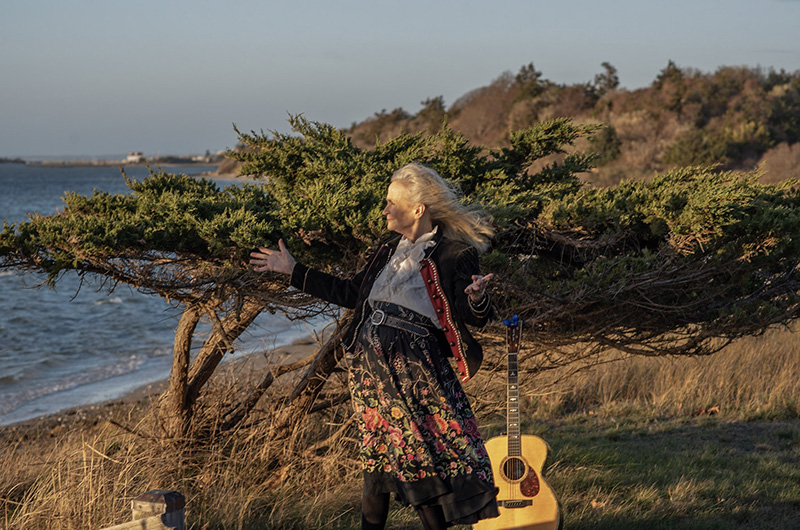 In Los Angeles, Mr. Asher assembled a list of songs by contemporary writers including Carole King, Elton John and Bernie Taupin, James Taylor and another one of the four Taylor brothers, Livingston. Musicians who played and sang on the recordings included Ms. King, Linda Ronstadt, John Hartford, Eagles guitarist Bernie Leadon, James Taylor and several of his bandmates working on his second album Sweet Baby James.
The resulting album, Sister Kate, came out in 1971 and remains a touchstone for lovers of the bluesy, folk-rock sound. But it would be seven years before Ms. Taylor released another album, and nearly half a century before she and Mr. Asher worked together again.
After a tour in support of Sister Kate, instead of remaining in the heady L.A. music world, Ms. Taylor came back to the Vineyard.
"I was a very excitable gal who needed some grounding," she said. "Martha's Vineyard was a great place to do that… Before I could go on, I needed to strengthen my core."
And one thing led to another, Ms. Taylor said: love, marriage and motherhood. She calls her daughters "my two greatest hits."
"I started to develop a life on the Vineyard that I think was giving me everything that I needed to get," she said.
After a pair of albums in 1978 and 1979, Ms. Taylor concentrated on her family, her artwork—she paints and makes jewelry—and live performances, releasing just three more records between 2003 and 2009.
"Life goes on," she said.
And sometimes, it comes full circle. This fall, 50 years after her first recording session, Ms. Taylor reunited with Mr. Asher and some of the Sister Kate musicians to make a new record in Los Angeles. Guitarist Danny Kortchmar, bassist Lee Sklar and drummer Russ Kunkel, who also played on Sweet Baby James, are among the Sister Kate alumni who returned to the studio with Ms. Taylor and Mr. Asher. Guitarists Albert Lee, Waddy Wachtel and violinist Scarlet Rivera, known for her work with Bob Dylan and the Rolling Thunder Revue, also play on the new album.
"These guys are just totally busy all the time, but they're sidelined because of Covid," Ms. Taylor said.
The same was true of Mr. Asher, on hiatus from his popular touring autobiographical show in which Ms. Taylor has also performed over recent years.
"We all just thought, look, if we can feel like we're safe to do this, let's do this," she said. "We were very careful. Everybody got tested before we started. We were all wearing masks."
After recording basic tracks in Los Angeles last month, Ms. Taylor and Mr. Asher are finishing the album remotely. To add their vocals, Ms. Taylor's daughters Liz Witham and Aretha Brown had to travel no further than Phil da Rosa's Oak Bluffs studio.
"They sent the tracks from L.A. to Phil and the girls put their beautiful, amazing voices on there," Ms. Taylor said.
In 1970, Ms. Taylor had not yet started writing songs for herself. This time around, she has more than one tune of her own on the track list.
"I was thrilled that [Mr. Asher] wanted to include them—honored, totally honored," she said.
The album also has songs by Etta James, the Staple Singers, Taj Mahal, Little Feat and Ed Sheerhan, among others.
"A number of the tunes are songs that I've sung live for years and never recorded," Ms. Taylor said. "There are a lot of different kinds of songs—r&b, gospel, country, blues, folk— in a lot of different styles."
To finish the album, Ms. Taylor and her collaborators are seeking donations through a crowdfunding website at indiegogo.com.
"I had always dreamed that some day I would get to work with Peter again," Ms. Taylor said. "Dreams can come true in the middle of all of this. Art goes on."