Vernon Jordan, the civil rights activist and Washington power broker who died Monday, had been a longtime summer visitor to the Vineyard, where he played golf with Presidents Clinton and Obama, celebrated his birthday every year and put his feet up on the porch while smoking a cigar.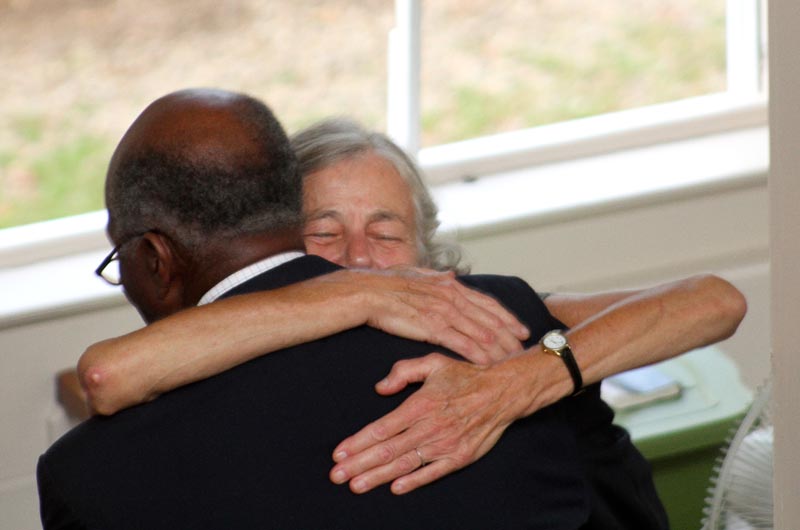 The Island was a place he held close to his heart, friends said.
Mr. Jordan was 85. He had come to the Vineyard every August for some three decades. He became a much-photographed figure on the Island in the 1990s when President Clinton and his family began summering on the Vineyard. In those years Mr. Jordan and his longtime friend could be found on the links at Farm Neck Golf Club in Oak Bluffs nearly every day.
"He loved it here. Really loved it," said Ronald H. Rappaport, an Edgartown attorney who was a close friend and across-the-street summer neighbor to Mr. Jordan for many years in Chilmark.
"He loved sitting back on the screened porch, putting his feet up on a chair smoking a cigar. He loved going to Farm Neck and playing golf. He loved the people. He was truly at rest and at peace here . . . it may sound trite, but it was such a privilege to know him," Mr. Rappaport said.
"I remember Vernon's 80th [birthday] on the Vineyard when so many of his wonderful friends were there. I was so honored to be, if not the oldest person in the room, his oldest friend," wrote Charlayne Hunter-Gault, the acclaimed journalist and Oak Bluffs resident, in an email to the Gazette. "For I was able to recall when he took his first steps on the road to helping create a more perfect union."
Mr. Jordan was Ms. Hunter-Gault's attorney 60 years ago when she and another student were the first African Americans admitted to the historically segregated University of Georgia.
"He walked me through the screaming, racist mobs protesting my entry into the University of Georgia as the first of two black students, the result of a case he was critical in helping win," Ms. Hunter-Gault said. "He was a newly minted lawyer and yet he discovered the one piece of evidence that demonstrated the university officials were lying about why I couldn't be admitted." She concluded:
"And here we are this year marking the 60th anniversary of that landmark ruling that has opened the door to so many students of color over the years and that set me on my wonderful journalistic journey. I will celebrate Vernon now and always. Long live!"
Henry Louis Gates Jr., another Oak Bluffs summer resident and friend, added his own memories.
"He escorted Charlayne through those columns of racist people . . . I was watching that evening on our little black and white 12-inch TV with my parents, looking at these two brave people, tall, elegant Vernon Jordan," he recalled.
"The Vineyard has lost one of its genuine monuments and America has lost one of its heroes."
On the Vineyard, beyond the unavoidably public outings with presidents on the golf course, Mr. Jordan mostly shunned the limelight, never granting interviews, preferring to enjoy spending time with close friends and family.
But he left his mark in quiet, sometimes unexpected ways.
His signature deep, mellifluous voice is still recorded on the answering machine for State Road restaurant in West Tisbury, a favorite haunt.
In 2013 he presented the annual Martha's Vineyard Museum Medal to Sheldon Hackney, the late historian and academic who was a longtime Vineyard resident and friend.
In 2016 a new science wing at the Martha's Vineyard Public Charter School was named for Mr. Jordan, a gift from another longtime friend Robert Day, an Edgartown summer resident.
Mr. Day gave the school $500,000 to help build the state-of-the-art Jordan Science Center. In August that year Mr. Jordan was on hand to help cut the ribbon.
"Vernon . . . has contributed so much to everybody in his life," Mr. Day said at the ceremony.
In rare personal remarks, Mr. Jordan recalled the segregated high school he had attended in Atlanta, Ga., which had one Bunsen burner in the chemistry lab, with a dollar budgeted for each black student and $4 for each white student.
"This, today, is a long way from then and there," he said.
"I'm 81 years old and I have 80 honorary degrees from some of the best schools in this country, but this [science center] named for me thanks to my friend Robert Day means as much to me as any one of those honorary degrees, or all of them combined. It means that much to me."
He is survived by his second wife Ann, a daughter Vickee Jordan, two grandsons and three stepchildren.
Louisa Hufstader contributed reporting.