Despite a light morning rain, cheerful crowds headed to the Agricultural Hall grounds on Saturday morning for the first West Tisbury Farmers' Market of the season. Business was so brisk at Stoney Hill Pizza and Khen's Little Kitchen that the two purveyors sold out before closing time.
Throughout the market familiar vendors were back, representing the broad spectrum of Island farms, from Morning Glory Farm, Beetlebung and Tea Lane Farm, to smaller purveyors like Island Bee Company, and Flat Point Farm with its goat's milk soap and wool. The Pie Chicks were back, along with Cinnamon Starship bread, Mimi's Hitting the Sauce, and Chilmark Coffee pulling shots of espresso.
Farm stands brimmed with early produce: strawberries, colorful lettuces, feathery herbs and the first peas of the season.
Market stalwarts Bucky Burrows and Suzanne Fenn manned their longtime lemonade and salsa stand, greeting old friends.
The market will continue to be held on Saturdays and Wednesdays through Oct. 30 on the Agricultural Society grounds, having made the temporary move last year from the Grange Hall due to the pandemic. Much of the Covid safety rules have been relaxed this year, allowing for mask-less shopping outside. But vendors are still spaced well apart, and signs remind market-goers to observe social distancing.
"It makes it nice and open, gives people room to walk around, and we've got great feedback on it last year from customers and vendors alike," said Tucker Pforzheimer, who is co-managing the market this year with Elana Carlson.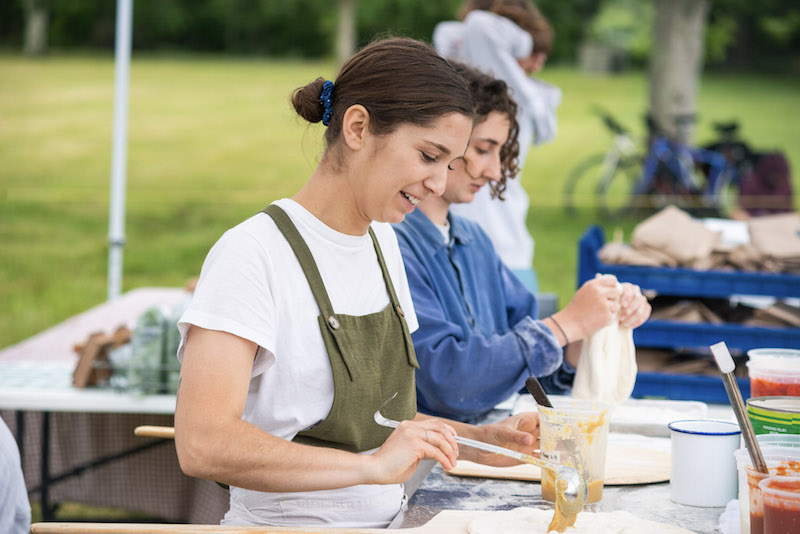 Picnic tables are on their way, added Ms. Carlson, along with live music. SNAP benefits will be accepted too.
On Saturday, Margaret Fleischner made sure she arrived on time to get an egg roll from Khen's Little Kitchen.
"Just say I love egg rolls," she said as she stood in line.
New vendors were also setting up stands Saturday, including Bryanna Allen Rickstad of Santosha Farms in Edgartown. Ms. Rickstad moved to the Island in 2018 and is leasing land for farming.
"I was nervous it would feel competitive because I'm a pretty small farm compared to some of them but everyone's really nice," she said. "It feels really community driven."
Kate Woods, the new manager of Beetlebung Farm in Chilmark, said she enjoyed being able to meet so many other Island farmers in one place.
"I have been meaning to go and visit and meet a lot of the different managers of farms but I haven't had the time or known when to drop in, so this is kind of like the perfect space," she said.
Shoppers filled their bags and children frolicked about, bringing back a sense of normalcy to an Island institution founded in 1934 in response to the Great Depression and then revived in 1974. Mr. Pforzheimer thanked last year's managers, Collins Heavener and Olivia Rabbitt, for the work they did in keeping the market going during the pandemic.
"Compared to last year I think that we've had it very easy," he said. "They put some amazing rules in place around Covid last year that luckily we were able to relax with the help of the board of health and state regulations."
The West Tisbury Farmers' Market continues through Oct. 30, every Saturday and Wednesday from 9 a.m. to noon at 35 Panhandle Road, West Tisbury.