As Hurricane Henri churned toward southern New England Saturday, outbound vacationers scrambled to get off the Vineyard ahead of the storm while inbound travelers were advised to delay their trip by a day or two.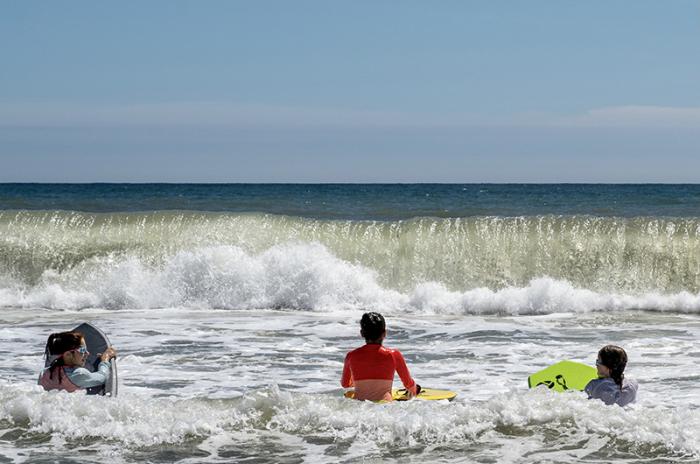 A hurricane watch was canceled for the Cape and Islands by the National Weather Service early Saturday but the area remains under a tropical storm and storm surge warning, as Henri tracks toward Long Island and Connecticut.
A dangerous storm surge of three to five feet is expected when the storm passes by the Vineyard Sunday. Ferry service cancellations are expected Sunday and travelers are being advised to stay off the roads. Mariners are being advised to stay off the water.
The Steamship Authority is posting frequent updates on a dedicated webpage.
The Vineyard remained on high alert Saturday as Henri churned up the eastern seaboard, upgraded to a hurricane Saturday morning with sustained winds of 75 miles per hour. Late Saturday morning the storm was located about 500 miles south-southwest of Nantucket, according to the National Weather Service in Taunton. Henri is expected to make landfall at the tip of Long Island sometime Sunday, with Connecticut and western Massachusetts expected to feel the brunt of heavy rainfall and flooding as the storm moves inland.
Island mariners and emergency managers breathed a slight sigh of relief when the storm turned west late Friday, sparing the Vineyard a direct hit.
But weather forecasters continue to emphasize the uncertainty of the track for the extremely slow-moving storm.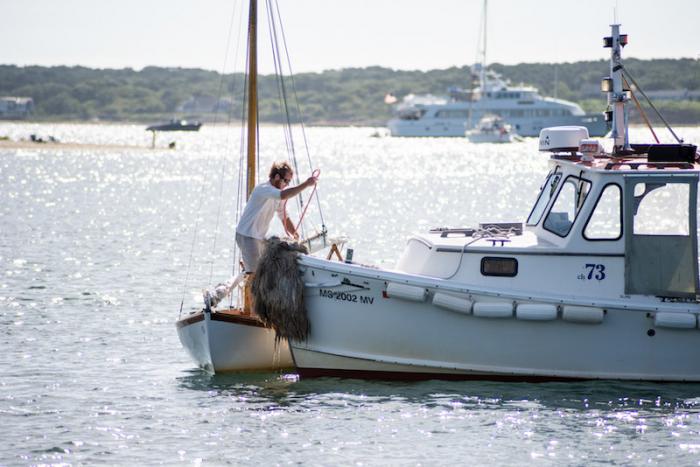 On the current the track, a dangerous storm surge is predicted for the Cape and Islands, with the potential for high winds and flooding Sunday and possibly into Monday. The National Weather Service in Taunton upgraded its storm surge status from watch to warning late Friday.
The Coast Guard has placed all its ports in New England in a state of readiness and urged mariners to secure their boats and equipment, seek safe harbors and stay off the water.
On the Vineyard Friday harbor masters and shipyards were busy hauling boats from crowded harbors from Edgartown to Menemsha. Supermarkets and farms stands were jammed with shoppers.
Gov. Charlie Baker has advised that travelers to and from the Cape and Islands either delay travel, make prepartions to leave Saturday — or stay until Tuesday.
In the latest Steamship Authority update, the boat line reiterated that despite the shifting track of Henri, it remained likely that service to both Islands would be canceled for most of Sunday and possibly into Monday. Extra trips are running all day Saturday in an effort to accommodate travelers who want to leave ahead of the storm. The SSA ran extra freight runs to help bring fuel and other necessities to the Vineyard as well.
Travelers looking to rebook are asked to call the Mashpee reservation office, 508-477-8600.
Additionally, the Oak Bluffs terminal will be staffed on Saturday for travelers who want to change a reservation in person, but ferry traffic will be diverted to Vineyard Haven. People booking in person are asked to go to Oak Bluffs, in order to ease pedestrian traffic congestion in Vineyard Haven.
Eversource has sent crews to the Island to stand by in the event of power outages Sunday.
All Massachusetts waters have been closed to shellfishing, Tisbury shellfish constable Danielle Ewart said Saturday.
As preparations were under way on the waterfront, in West Tisbury the Agricultural Fair was a hive of activity in its third day. Fair organizers said Sunday events would go on as scheduled, subject to change if the storm worsens.
Weekend weather conditions were hot and sunny, with foamy pre-storm surf at ocean beaches.
This week marks the 30th anniversary of Hurricane Bob, the last hurricane to directly hit the Vineyard.