With flames raging on the West Coast, a newly-released, 250-page wildfire protection plan for Dukes County has identified all six towns on Martha's Vineyard as high risk for wildfire, pointing to the Island's unique ecology, topography and limited resources as challenges in its ability to fight fires.
"While wildfires are more commonly associated with the western United States, Dukes County is incredibly flammable," the report states. "The combination of forested lands with dry, sandy soils on the islands increases wildfire risk."
Created by a "core team" of local and state planners, firefighters and an environmental consulting firm hired by the Martha's Vineyard Commission in 2020, the community wildfire protection plan released early this week was developed over the first nine months of 2021 and paints a dire picture for wildfire risk on the Vineyard.
In exhaustive detail, the report produces community risk assessments for each Island town and a comprehensive risk map for the entire Island, based upon hazards that include fuel type and density, water access, topography, weather and urban interference. Report participants included MVC staff, Edgartown fire chief Alex Schaeffer, Martha's Vineyard Airport director Geoffrey Freeman and a team of SWCA environmental consultants.
Risk assessments varied by town. While the report identified 15 per cent of Oak Bluffs and 17 per cent of Tisbury as having extreme risk of wildfire, those risk levels were much higher in the more forested areas of Chilmark, Edgartown and West Tisbury. Approximately 45 per cent of all three towns were identified as having extreme risk for wildfire, particularly near the state forest, Chappaquiddick and inland Chilmark.
Despite the differences, every Island town received a risk assessment of "high," partially because of the Vineyard's pine barren ecosystem, with large amounts of flammable small growth plants.
"All of Dukes County is classified as Atlantic Coastal Pine Barrens. Because soils in this ecoregion are sandy, acidic, and extremely porous, the soil loses moisture rapidly," the report states. "Under certain conditions, these vegetation communities can support extreme fire behavior."
The report also provides significant historical detail about wildfires on the Vineyard. While there hasn't been a significant forest fire on the Island since 1967, when 1,200 acres burned, there has been a dramatic increase in smaller fires over the past two decades, 82 per cent of which have been started by humans.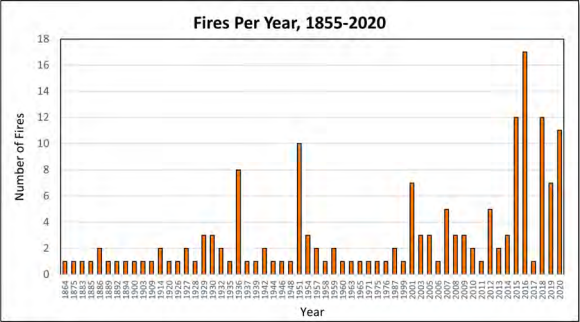 "There has been a significant increase in wildfire frequency beginning around the year 2000, which in part may be due to the prevalence of drought over this time period," the report states.
Ten or more wildfires occurred on the Island in 2020, 2018 and 2016 and 2015, according to the report — the most since 1950. And despite the lower risk of fire in Oak Bluffs and Tisbury, dense wooden houses and fences, as well as human interference, present substantial risks for the more urban Island communities.
"These trends highlight the need for greater public education and outreach focused on reducing human-caused fire ignitions," the report states. "Although the majority of fires take place during the spring months, human-caused ignitions increase the potential for wildfires throughout the year."
Mitigation suggestions in the report include reducing hazardous fuel through various maintenance techniques and fuel break management, among other options. Homeowners in high risk areas are recommended to create a "defensible space" around their home that involves reducing fuel and creating a fire break zone. Other options include prescribed burns, forest thinning and improving water access.
Report coordinators have created a survey to gauge community input. In addition to the survey, two public information sessions will be held regarding the report, on Sept. 24 at noon and Sept. 30 at 5 p.m. Zoom information will be available on the Martha's Vineyard Commission website. The full report can be found here.