Dozens of Wampanoag tribal members from Aquinnah, Chappaquiddick and Mashpee gathered at Felix Neck Wildlife Sanctuary Monday afternoon to observe the Vineyard's first Indigenous Peoples' Day.
Close to 200 people of all ages turned out for the two-hour event, which included a separate story time for children.
Hosted by David Vanderhoop of Sassafras Earth Education in Aquinnah, the afternoon began with drum and vocal music by the Black Brook Singers, followed by speeches in the Wampanoag language Wopanaak, and English.
"We're going on a journey today, so be ready to be educated and to feel feelings. Some things will not be easy for you to hear," Mr. Vanderhoop told the largely non-native crowd.
"But we have no choice. The truth needs to be told."
Inherited trauma from centuries of loss continues to afflict native Americans, who have higher rates of unemployment, poverty, violence against women and youth suicide, Mr. Vanderhoop said.
"We have been ripped away . . . ripped apart by the genocide, the destruction and assimilation," he said. "The harm and destruction continues today."
While Indigenous Peoples Day has emerged as an alternative to Columbus Day, which is increasingly seen as celebrating a brutal conquest rather than the discovery of a new world, Mr. Vanderhoop would rather see it outright replace the older holiday.
"Abolish C-Day. I don't want to even say his name," he said, to applause.
Alexis Moreis, of the Chappaquiddick Wampanoags, noted in her remarks that Felix Neck takes its name from the tribal member who once owned the land. His name was Felix Kuttashamaquat and he lost his property to the town because he could not pay a fine for drunkenness, Ms. Moreis said.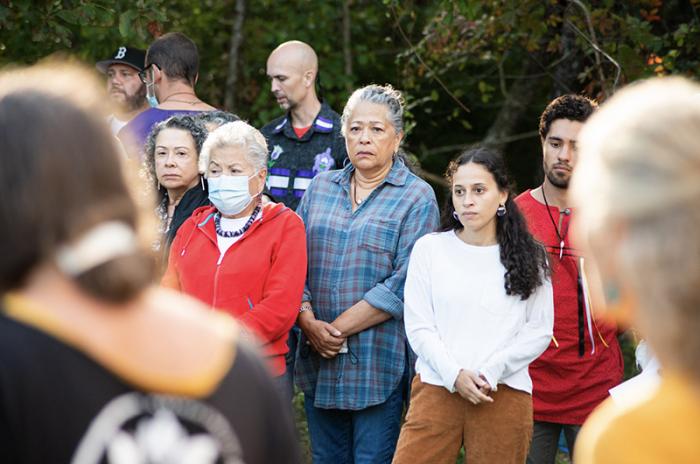 "I never was told that Felix was a Wampanoag," she said.
Chappaquiddick was illegally divided between Wampanoags and settlers in 1788, Ms. Moreis said.
"We did not say yes to that," she said. "It is still unceded land."
Ms. Moreis also had a question for today's non-Indian Islanders and property residents: "What privilege are you willing to share?"
Other speakers reflected on their personal and tribal history as Wampanoags. Carol Vandal smiled as she recalled growing up with her grandfather, revered Gay Head elder Napoleon Madison.
"He was our medicine man, and I learned a lot," Ms. Vandal said. "He had a peacefulness that our people are known for."
Mr. Madison's great-granddaughter Camille Madison also spoke, acknowledging her forebears on both sides.
"I stand on the shoulders of those names that I have called, and all of those who have come before them" Ms. Madison said.
"When I engage in discussions of why Indigenous Peoples Day should be celebrated, I think of them."
The audience also heard from tribal members Beverly Wright, Adriana Ignacio, Durwood Vanderhoop, Ramona Peters of Mashpee, Kristina Hook and Michael Frederic Rising Sun Sellitti Jr.
In return, the Wampanoags listened to an apology, on behalf of European colonialism, from David Vanderhoop's Dutch-born wife and partner at Sassafras, Saskia Vanderhoop.
Concluding the afternoon, the Black Brook Singers performed again and Orange Peel Bakery proprietor Juli Vanderhoop passed out slices of a sheet cake with the icing inscription: Happy Indigenous Peoples Day — Tell Your Stories.