The Vineyard baseball team shut out Dennis-Yarmouth on opening day Monday for a final score of 10-0.
"I thought it went really well for our first game, definitely some things we need to improve upon, but overall, our veterans stepped up when they had to, and some of our younger players stepped up to the plate as well," said head coach Kyle Crossland after the game.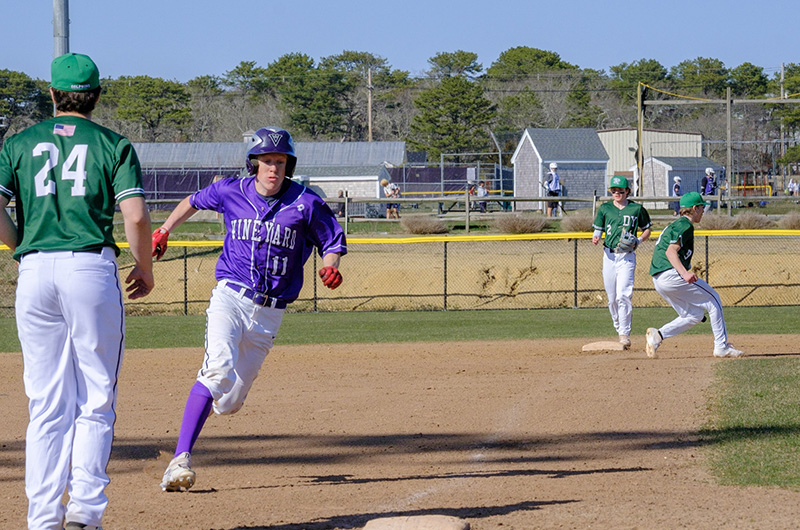 The runs started coming in at the bottom of the second inning after Dennis-Yarmouth walked two Vineyarders, senior Nico Arroyo and sophomore Bryan Sornas. Senior Atlas Zack sent both players home with a grounder to the Dennis-Yarmouth shortstop. Senior Silas Abrams added some insurance runs with two more RBI's in the second inning.
"We've been going at it pretty much every day since March 21, and it's really a testament to the seniors and their leadership," Coach Crossland said.
The Vineyarders scored two more runs in each of the third and fourth innings, while on the mound junior Cam Napior held the D-Y players scoreless. Atlas Zack came in for relief in the later innings.
In the fifth inning, the Vineyarders extended their lead to 9-0 with base hits from Finn Lewis and Abrams. After scoring a 10th run in the 6th inning the mercy rule was called and the game ended early.
"I'm always pleased when we get a mercy rule. It doesn't happen very often, so when we get, we'll take it," Coach Crossland said.
On Tuesday the baseball team continued its early-season streak with a 4-0 win over Sturgis Charter School West, thanks in part to a dominating performance on the mound by freshman Wyatt Loughman, who pitched seven innings, notching eight strikeouts and letting up only two hits.