On Monday morning the American Legion Post 257 in Vineyard Haven held its annual Memorial Day parade, coupled with a ceremony that saw prayer, speeches and the traditional laying of wreaths.
Service members spanning generations marched from the American Legion post to Oak Grove Cemetery, where they were met by a cheering crowd along the Avenue of Flags — an array of 450 American flags placed in the cemetery each year for Memorial Day.
"If you go through the Avenue of Flags, I think it really hits you — what Memorial Day is about," said former Veterans Affairs Officer JoAnn Murphy, who led the ceremony.
Ms. Murphy opened the event by introducing Natalie Wood, who performed the national anthem.
Throughout the morning speakers focused on the importance of Memorial Day beyond its status as a holiday weekend.
"For us veterans it has a different meaning," said Randy Dull, the Dukes County veterans services officer. Mr. Dull underscored the weight Memorial Day holds by honoring three men he knew during his time in the military. Teary-eyed, he named Sgt. Michael Carlson, Sgt. Edward Grace and Sgt. Kevin Nicoli.
"Just to put an emotional face to it," Mr. Dull said after the ceremony. "To show that it's all generations."
Mr. Dull told the crowd that veterans issues, especially regarding mental health, are often overlooked. He asked attendees to think about the reason for Memorial Day as they go about their holiday weekend.
"The Island community, when it comes to their veterans, is very backing and strong," he said. "Lucky to be part of that tight community on the Island."
Toward the end of the ceremony, Ms. Murphy read off the names of all the Island veterans who have died in the last year. She reflected on the long list of veterans.
"It seems every year, the list gets longer and longer of veterans lost," she said.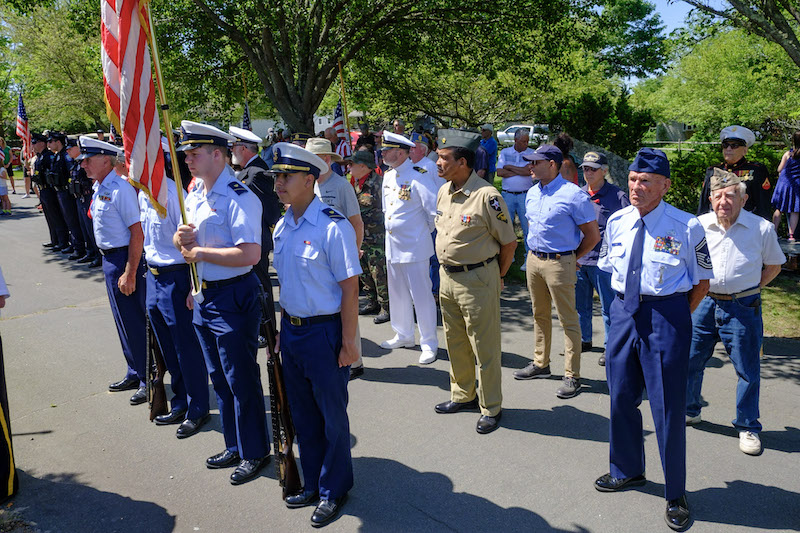 Tisbury fire department chaplain Rev. Stephen Harding led a prayer honoring first responders who have died in their line of work.
"We thank you for the first responders who have given their lives in the service of others," he said.
The laying of wreaths on memorials was followed by one shot from a firing detail and the playing of Taps by John Schilling. Then the parade reassembled and marched back to the American Legion Hall, stopping one last time to place a final wreath on the Oak Grove Cemetery's Civil War memorial.
After the ceremony, Ms. Murphy said the parade and ceremony went off without a hitch, lauding the community attendance and good weather.
"It was beautiful," she said.