When the Martha's Vineyard Sharks open their season June 6 with a scrimmage against the Cotuit Kettleers they will do so short handed — about 15 of their players are still competing for a national championship with their college teams.
In other words, a shallow dugout to start the season is a good sign for the rest of the summer for the 32-player squad.
"I have one middle infielder who will get here Sunday. We'll have to find somebody to fill in until we get everything else rolling," Sharks general manager Russ Curran said. "Once everybody gets here we're going to be good."
Monday's scrimmage starts at 4:30 p.m. at the Martha's Vineyard Regional High School baseball field, also known as the Shark Tank. The game is free to the public, Mr. Curran said. The regular season gets underway the next night with a home game against the Valley Blue Sox. The Sharks, which have been in the New England College Baseball League since 2019, are looking to build on a strong 2021 campaign which saw the team fall just one game short of reaching the league championship.
Even with all the talent on the team this year, the season promises to be a challenging one, Mr. Curran said. This year the league is expanding from two divisions to three, and the Sharks will be part of a new five-team coastal division which Mr. Curran said is stacked with tough competition.
"Six teams make the playoffs. I could foresee those other two divisions just having one [each]...and the other four come out of this conference," Mr. Curran said.
Four players are returning from last year along with a wealth of new talent, Mr. Curran said. Bryant University outfielder and Northeast Conference player of the year Matt Woods is back for another summer of Island baseball. JD McCracken and Logan Chambers are two newcomers from the University of Tennessee, the nation's top-ranked team heading into the national tournament. The Sharks will also have players from the University of Miami and Virginia Tech, both of which are ranked in the top 10 nationally.
This year's team features some big hitters, Mr. Curran added. Jake Elbeery batted .323 during his first year at the University of Richmond. Ryan Nicholson hit 12 home runs in 50 games for the University of Cincinnati. Thomas Bramley had multiple games where he hit two home runs for Mt. St. Mary's and ended the year with a team-leading 11 homers.
"We got a lot of guys that can play and we're excited about all of them," Mr. Curran said.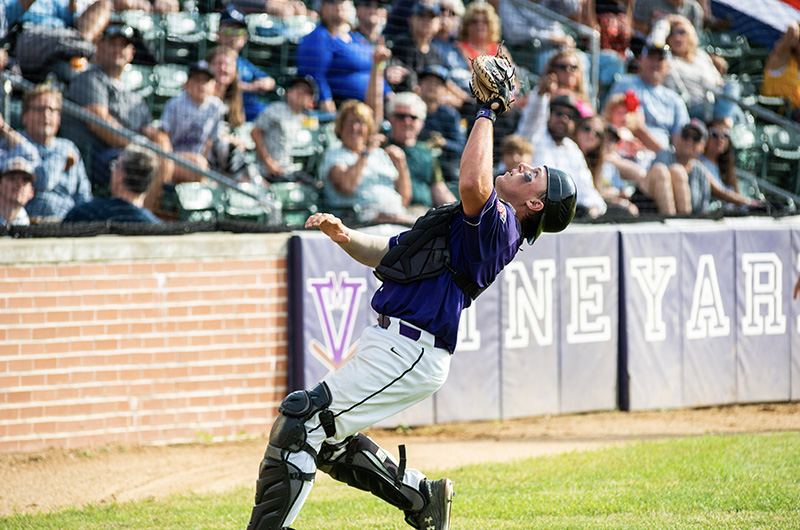 The new season also brings with it a new amenity at the Shark Tank. Beer, wine and alcoholic seltzers will be sold this year at a beer garden behind the right field fence. The Offshore Ale Company is set to sponsor the beer garden, Mr. Curran said.
"The official beer of the Sharks is what they're calling themselves," Mr. Curran said in reference to Offshore.
Another season also means another year of looking for host families to house the players. Currently there are six Sharks who need a place to stay for the summer, Mr. Curran said. He pointed to his own experience hosting players as a reason why others should consider it.
"My son was 12 when we housed our first player and he still talks to the kid. My son is 27, so it's a lifelong relationship," Mr. Curran said.
For more information on hosting a player, contact Russ Curran at russ.curran@mvsharks.com.