She's a thespian and an Eagle Scout; he's editor of the school newspaper and plays baseball. She lives in rural Chilmark; he's a suburban West Tisbury kid.
Ingrid Moore, 2022 valedictorian, and Hardy Eville, 2022 salutatorian, have been classmates since sixth grade at the West Tisbury School. But they had never been in the same classes until this year when they they took AP English and Spanish together.
"Ingrid is a lot better at Spanish," confessed Hardy, seated outside the Gazette office this week with his fellow honors classmate on a breezy, picture-perfect June day. "I always feel intimidated because I struggle in Spanish, it's my hardest class."
"Same with Hardy for English," said Ingrid. "We went to a writing workshop up at Featherstone for one class and you just wrote this beautiful story. I was sitting there like how does one come up with that off the top of their head?"
Hardy and Ingrid will both attend Yale University in the fall. But despite their excellent academic records and many other accomplishments, it was never preordained that two Martha's Vineyard Regional High School seniors would gain admission to the highly competitive Ivy League school. No student from the regional high school had been admitted to Yale in at least 15 years.
March 31 was a nerve-wracking day, they recalled. That was the day colleges sent out their acceptance and rejection letters by email.
Ingrid was performing in the high school production of Les Miserables at the time. She decided to check the results during intermission, figuring she could bury what she thought would be bad news by getting back on stage. But it wasn't bad news. She told one friend — and the show went on. The friend told her mom, who told another mom, who told Hardy's dad, who told Hardy, who was at home with his family in West Tisbury. He had just found out he had also gotten in.
Once Ingrid got off stage she opened her phone to an explosion of congratulatory texts. One was from Hardy.
"I knew it was Ingrid's dream school, so when I first got in I was super excited but I also felt bad," Hardy said. "I was like oh no, Ingrid! So it was such great news when Ingrid also got in."
After that frenetic night, both decided they would attend.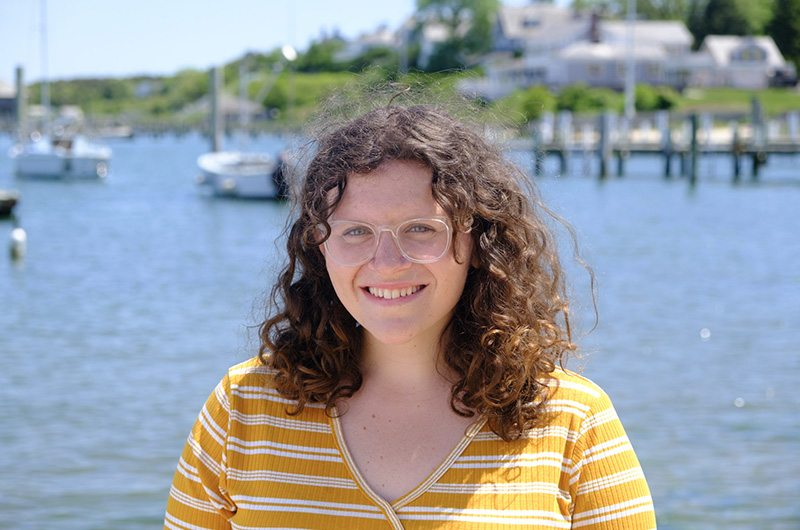 "I'm of course excited, especially because we're both going to Yale, that's really making me even more excited," Ingrid said.
They agreed that their college experiences will be different. During a recent weekend hosted by the college for newly admitted freshmen, each took a different tack.
Ingrid, who wants to study ecology and environmental biology, spent the weekend sitting in on science classes as well as learning about environmental and drama clubs. Hardy — who is unsure what he wants to study but is interested in ethics, politics and economics — sat in on humanities lectures and learned the many ways he could continue his interest in writing.
But in fact they said their journeys down separate paths began with a middle school production of Shrek. Ingrid played the wicked witch while Hardy played a pig. He did not like the experience and swore off theater.
"No more theater for me [after that]," he vowed.
Ingrid has been in plays every year since.
"For me, all the theater, everything," she said.
And while they will make their marks in different ways, they will have at least one point of connection in New Haven. Both plan to spend time at the Yale Farm, a one-acre oasis of greenery which will help them keep in touch with their rural roots, they said.
"I'm totally going to hang out there all the time, it's such a good scene there," Hardy said. Nodding enthusiastically, Ingrid agreed.