When it comes to Vineyard history, up-Island mariner and antiquarian bookseller Virginia Jones pulls no punches. Since 2014, Ms. Jones, known to most as Ginny, has spent her days holding court at her Menemsha used bookstore, Fo'c'sle Locker, educating locals and visitors alike on her particular view of Island history and culture.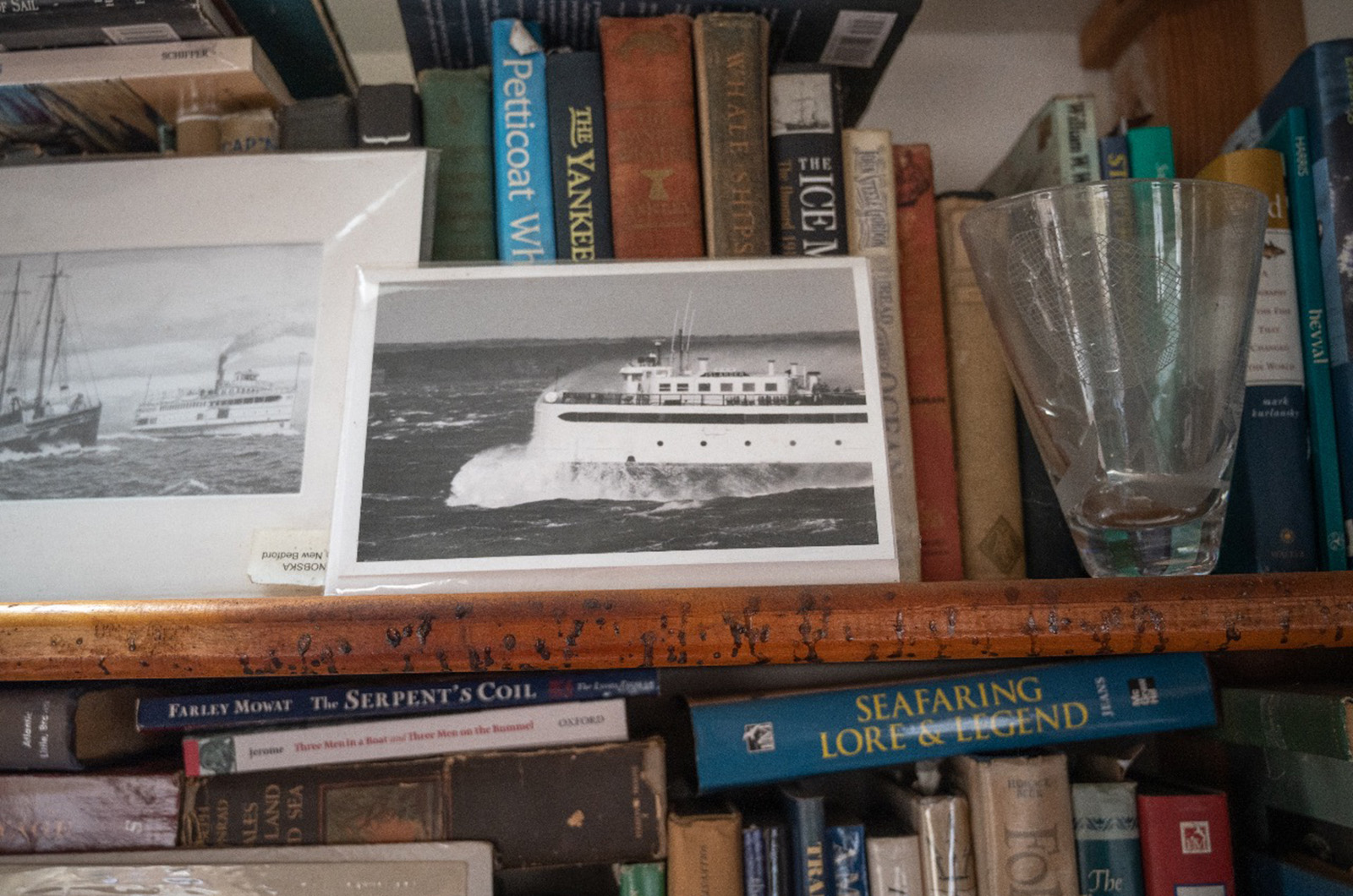 At the end of 2022, Ms. Jones closed her doors for the last time to transition into retirement.
Speaking to the Gazette this week, Ms. Jones reflected on her mission to dole out accurate and uncompromising Island history, to keep her vision of the true Vineyard spirit alive.
"The Island was not a perfect place back when I grew up, and it still isn't perfect," she said in a characteristically blunt interview.
Ms. Jones was born on the Vineyard and her Island roots date back for a century when her maternal grandparents bought Tea Lane Farm, her mother's birthplace, around World War I.
Growing up, she said she was influenced by "Island literati" such as Gale Huntington, whom she described as a "fisherman, author, amateur archaeologist, teacher, folklorist, musician and historian."
In high school, Mr. Huntington taught her courses in Latin and democracy. To this day, she is quick to recommend his book, Songs the Whalemen Sang, to her customers and anyone else who might be interested in a good maritime read.
She said her strongest influences growing up came from being around the informal summer colony of social scientists who used to live around the Tisbury Great Pond. As a result, she decided to major in anthropology in college.
In retrospect, it was "just about a useless subject" for a young mother without time for grad school, she recalled. The one bright spot that came from her degree, she said, was learning the value of good research.
After graduation, Ms. Jones went on to work as a secretary and researcher at Mystic Seaport Maritime Museum, cultivating a maritime passion that also went back to childhood.
"I was fascinated by all that because we have an incredible maritime history on the Vineyard," she said. In 1985 she returned to the Island, working as office manager for Gannon and Benjamin Marine Railway for nearly 30 years, among other endeavors.
During that time, Ms. Jones experienced the maritime world firsthand, working as cook on wooden-boat voyages from the Vineyard to the Caribbean (she still extols the superiority of Antiguan pineapples).
She also worked as a cook on her son's sailing yacht crew from Hawaii to Washington in 2004. "It was 21 days, and that was about 10 days too many for mom," she said, recalling the difficulty of catering to a hungry crew with limited ingredients and equipment. The biggest crowd pleaser was her chicken pot pie.
"I am happy to say that I will never have to cook on a boat again," she declared.
While she does not miss the cook-in-the-galley side of sailing, her life on dry land remained defined by boating, as her book store's name suggests: a foc's'le, short for forecastle, is a ship's front deck, location of the locker which holds its anchor chain.
The small shop was tucked away next to the Copperworks on Basin Road, packed floor to ceiling with Island and maritime letters, and always staffed by Ms. Jones herself.
"I don't read much current literature, I tend to read the old stuff," she said of her book sense. Her approach to Foc's'le Locker was to focus on that old stuff, leaving newer offerings to other Island merchants.
The most fulfilling part of shopkeeping, she said, was directing customers to accurate, lucid accounts of Island history.
"I could point them out to people looking for factual info and say, this is what you need to look at," she said. "I knew their research was impeccable." Among her most recommended authors were Henry Beetle Hough, Gale Huntington, Eleanor Ransom Mayhew, the Island naturalist Ann Hale and whaling captain George Fred Tilton.
She said her mission was helped by the volume of high-quality writers the Island has produced. "We have the tranquility that makes it conducive to being that kind of person," she said.
Through those referrals, Ms. Jones felt she was positively influencing Island culture.
Well steeped in Island politics from her many long years on the West Tisbury planning board, she is prone to taking a dour view of the Vineyard's future. But recently she found inspiration from other islands across the globe. In 2020, she began attending virtual meetings of the Island Innovation network, an international group that aims to foster collaboration among islands on issues they face.
"I was just mind-boggled, and practically on my knees with awe," she said. "Islands of the so-called third-world, which is a pejorative term, are so far ahead of us . . . they are the ones leading us against climate change."
In retirement, Ms. Jones hopes to do more inter-Island advocacy.
Still, she is also looking forward to a rest.
While she demurred on the question of her age, Ms. Jones admitted that she doesn't have the energy she once had, and that was a factor in her closing the shop. Besides, she said, the old building is too cold.
Most of the time, she said, "I'll sit in a comfortable chair with a nice cup of tea and my knitting, and a good book."