The Oscar for best feature documentary went to Nalvany at Sunday's night's Academy Awards ceremony in Los Angeles. The movie was initially screened at last year's Sundance Film Festival, which was when seasonal Vineyarders Jim and Susan Swartz, Geralyn Dreyfous, and David and Nina Fialkow decided to get involved as executive producers.
"We were totally blown away by it," Mr. Swartz said by phone Monday from his winter home in Park City, Utah. "We loved the story and the people so our team ­— us and our dear friends Geralyn Dreyfous and Nina and David Fialkow — decided to come on board as executive producers and help with the film rollout and a potential Oscar campaign."
Navalny tells the story of Russian opposition leader Alexei Navalny, who narrowly survived being poisoned by a nerve agent. The film relates his efforts to prove that the assassination attempt was ordered by the government of Vladmir Putin. After recovering, Navalny returned to Russia where he was immediately imprisoned and where he remains in solitary confinement.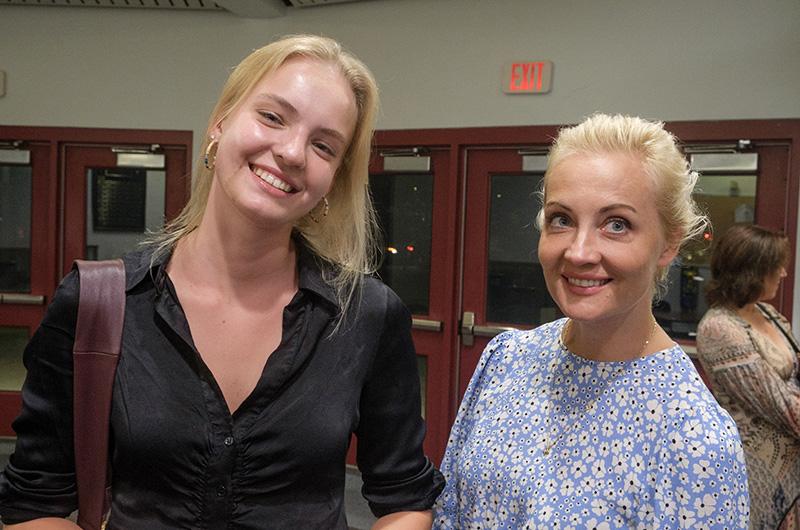 Mr. Swartz and his team had previously won an Oscar in 2018 for the documentary Icarus about the Russian doping scandal in Olympic cycling, and so had deep knowledge about both Russian-focused documentaries and how to get the word out about important films. Over the years, through Impact Partners, their film financing company, they have helped produce more than 130 documentary films, Mr. Swartz said, including Oscar winners Born Into Brothels (2005) and The Cove (2010).
"We were intimately involved in the making of Icarus, but in this case the film was in the can and our role was to help promote and evangelize it. Navalny had an incredible young director, Daniel Roher, and four capable producers already," Mr. Swartz said.
Part of that process involved bringing the movie to the Vineyard last summer for a screening as part of the Martha's Vineyard Film Festival/Circuit Arts and discussion with the filmmakers and Alexei Navalny's wife Yulia and daughter Dasha. Mr. Swartz said Dasha lived with him and his wife, Susan, last summer, relaxing and working on the film and her father's cause.
"The Vineyard is blessed with a lot of filmmakers and Academy voters and so we wanted to get the film in front of them," Mr. Swartz said.
Speaking of Yulia Navalny's appearance at Sunday's award ceremony, Mr. Swartz said her brief remarks were "eloquent and heartfelt. A touching outreach to her husband. They are an impressive family and we love them."
When asked if he ever worries about the potential dangers of being a part of making a movie in which the central character was poisoned by the Russian government, Mr. Swartz shrugged it off.
"We get asked that question all the time," he said. "But the biggest threat is from typical scamming and phishing. We get a lot of that."
Now that the film has won an Oscar, Mr. Swartz has high hopes that the documentary and its cause will take on a life of its own.
"This comes with a huge platform and will accelerate the knowledge of Alexei's plight," he said. "I hope it will also get shown inside Russia. Someone will get it on the internet to help it penetrate the country."
Mr. Swartz also recommends checking out the Anti-Corruption Foundation website.
"They are doing excellent work in exposing corruption in Russia and providing an independent voice of hope for the future. To get a sense of what they do, take a look at Putin's Palace on YouTube, which has millions of views."
In addition to producing films and helping filmmakers, Mr. Swartz is a founder and co-chairman of MVYouth, along with Dan Stanton, which over the years has invested over $14 million in college scholarships and grants to Vineyard organizations dedicated to helping Island youth.