A first-of-its-kind educational center, nestled amid conservation land and private property in West Tisbury, cleared the Martha's Vineyard Commission this month and is now seeking permits from the town to begin holding classes and group conversations.
Stillpoint Meadows LLC, a nonprofit established in 2021 by Martha's Vineyard Film Festival founder and former director Thomas Bena, will operate out of a spacious, multi-purpose barn built by South Mountain Co. for the property's former owner, Claudia Miller.
With a workshop, a small kitchen and an outdoor fire pit, the barn is also suited to yoga and movement classes, craft workshops and any number of other community activities, although specific programming has yet to be developed, Mr. Bena and Stillpoint advisor Jake Davis said during a tour of the property this week.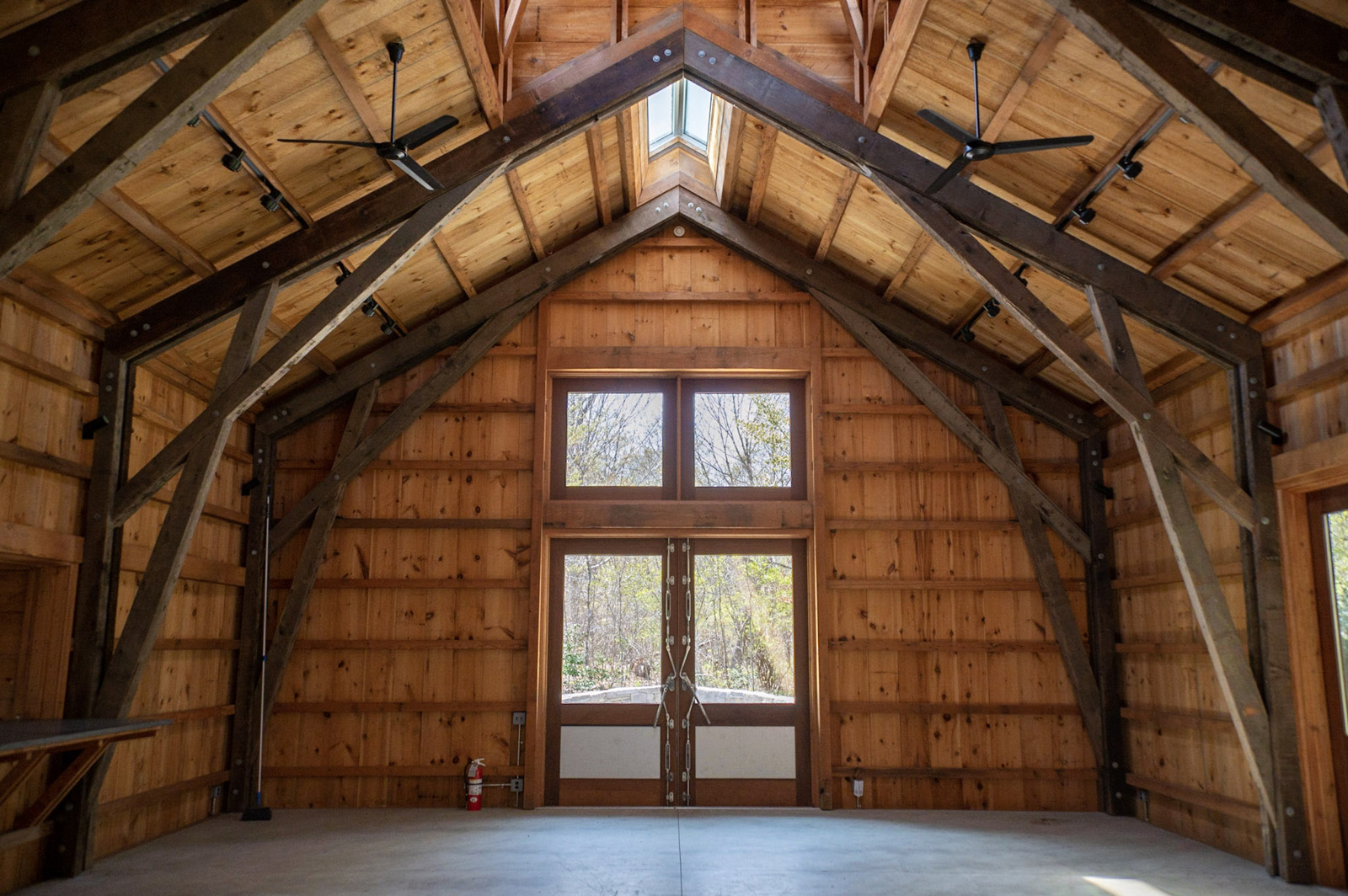 "It's a beautiful space for getting quiet together," said Mr. Davis, who is also a meditation teacher.
The MVC's approval, which is due to be formalized next month, sets a cap of 38,000 visitors per year, with further limits on the type and size of activities.
The West Tisbury zoning board of appeals is expected to take up Stillpoint's special permit application at its June 8 meeting.
Mr. Bena told the Gazette his idea for Stillpoint was inspired by a series of ticketed conversations Mr. Davis organized for the film festival in 2019, offering patrons the opportunity for dialog that went deeper than the typical post-screening exchange of reactions.
With challenging topics such as power, dying, civility and sanity, the talks were limited to 40 people each — and all seven of them not only sold out, but proved to be enlightening and invigorating, Mr. Bena said.
Not long afterward, Ms. Miller, a former member of the film festival board, told Mr. Bena that she wanted to move off-Island and sell the property — all 52 acres of it, including the barn and multiple homes.
"She said, 'I'll give you a year to put together a deal for the whole thing … so get creative,'" Mr. Bena said.
Mr. Bena noted that the MVC had approved the property for a 12-lot subdivision before Ms. Miller purchased it. "Without Claudia, giving me that year to bring in other nonprofits, and providing an incredible discount to both the Land Bank and our organization, none of this would be possible," he said.
"All the conservation groups … that I've talked to told me they were beside themselves. How did [the MVC] permit a 12-lot subdivision right on the Mill Brook watershed going to Tisbury Great Pond?" Mr. Bena continued.
Forming his Stillpoint nonprofit in 2021, Mr. Bena teamed up with the Land Bank and a private couple for a three-way purchase the following year of all but three lots, which remain privately owned.
Filmmakers Banker White and Anna Fitch bought a home on the property, where they are raising their family.
The Land Bank now owns 26 acres along Crocker Pond and Priester's Pond, where walking trails will be developed.
The rest is now Stillpoint.
"If we didn't do this, there would be houses here," Mr. Bena said, gesturing to the woods that surround the barn.
In approving the project, the Martha's Vineyard Commission set specific limits on how the property can be used. Stillpoint can host up to five events a day that draw up to 35 attendees, and up to three a week with 36 to 100 attendees, under the MVC conditions. The commission defines "event" as a gathering of 10 or more people and "attendees" as including staff and anyone else on the premises.
Weddings are prohibited, but the nonprofit can host other types of events that are not related to its educational mission as long as they don't add up to more than 20 per cent of all events in a year.
Other conditions of the approval include strict limits on noise and exterior lighting and outright bans on alcohol sales and overnight stays.
Stillpoint also is required to develop a landscaping buffer along its property line with Polly Hill Arboretum and to keep visitors from wandering there without the arboretum's knowledge.
A project like Stillpoint has never come before the MVC in the past, giving commissioners no previous examples to consider in their deliberations.
There is also no prospect of a similar development of regional concern (DRIs) in the pipeline.
"I think this is pretty much a unicorn in terms of DRIs, so I'm not too concerned with setting precedent," said commissioner Doug Sederholm, who voted with the majority.
Brian Smith cast the sole nay vote on the approval, while Kathy Newman abstained after raising concerns about the level of activity.
"We're supposed to be protecting the culture of the land," Newman said. "Thirty-eight thousand [people] seems like an awful lot to me."
Commissioner Linda Sibley acknowledged that 38,000 was a large number, but said she felt the nonprofit's mission makes it worthwhile.
"If that many people get serviced by this, I think something good is happening," Ms. Sibley said.
While the organization still has more regulatory hurdles to clear, new traditions are already taking shape on the land.
In the center of Ms. Miller's vegetable garden behind the barn, a patch of sweetgrass is growing, planted there last year by Jennifer Randolph of the Northeast Native Network of Healing and Kinship, a domestic violence program also known as Kinship Heals.
Ms. Randolph and her clients dried the sweetgrass, braided it and will use it in ceremony, Mr. Bena said, and Stillpoint has committed to preserving the patch for their use.
As for Stillpoint's own plans, Mr. Davis indicated that it's too soon to say when the first classes and events may be scheduled.
"It really depends on how the permitting process goes," he said.
The West Tisbury zoning board of appeals is expected to take up Stillpoint's special permit application at its June 8 meeting.