Last summer the Martha's Vineyard Sharks took first place in the New England Collegiate Baseball League defeating the Vermont Mountaineers 7-6 on a Saturday night in early August at the Shark Tank. The evening capped an incredible season of baseball, and started a year's worth of anticipation for next summer.
The wait is finally over as the Sharks return next week to begin their run for back-to-back titles. The team makes its 2023 debut on Monday, June 5 in a pre-season face-off with the Cotuit Kettleers at the Shark Tank in Oak Bluffs. First pitch is at 5 p.m. and admission is free.
The season officially starts June 7 when the Sharks face the North Shore Navigators in a home game beginning at 6:35 p.m. On June 8, it's $1 hot dog night at the Shark Tank as the team takes on the Mystic Schooners. Start time on Thursday is also 6:35 p.m.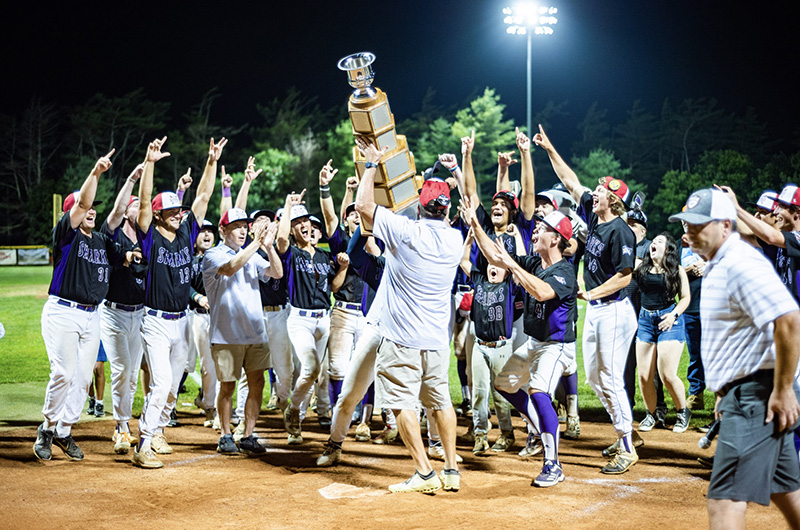 General manager Russ Curran said the team has a packed roster of top-notch university players, and he is once again looking to go all the way.
"We have 40 players this year," he said. "Most of our guys get a lot of action playing on college teams... so we're pretty good all the way around."
Mr. Curran credits the support of Island fans for the Sharks' success last season.
"This place is just electric when the fans are behind us and the kids respond," said Mr. Curran.
With several team members still wrapping up their college baseball seasons, the Sharks will kick off the summer with around 25 players. Mr. Curran said that the remaining members will join the rest of the team once they are out of school and have secured housing on the Island.
But even with several players absent, Mr. Curran is certain the team will start its season off strong.
"We want to go undefeated," he said. "We're all pretty confident."