An entirely new energy industry in the U.S. took a step forward earlier this month when, just 14 miles south of the Vineyard, construction started on the country's first commercial-scale offshore wind energy farm.
The building of Vineyard Wind marks the arrival of large offshore wind projects on this side of the Atlantic, an endeavor that has been in the works for decades and has been plagued by delays, shifting economics and lengthy reviews at the state, local and federal level.
Federal studies have indicated that by mid-century, approximately 40 per cent of the country's electricity could come from wind power, and New England – with its high, consistent winds and shallow waters – could be at the center of it.
"Offshore wind is the biggest piece of the electric generation mix," said Michael Judge, undersecretary of energy for Massachusetts. "It's sort of the lynchpin."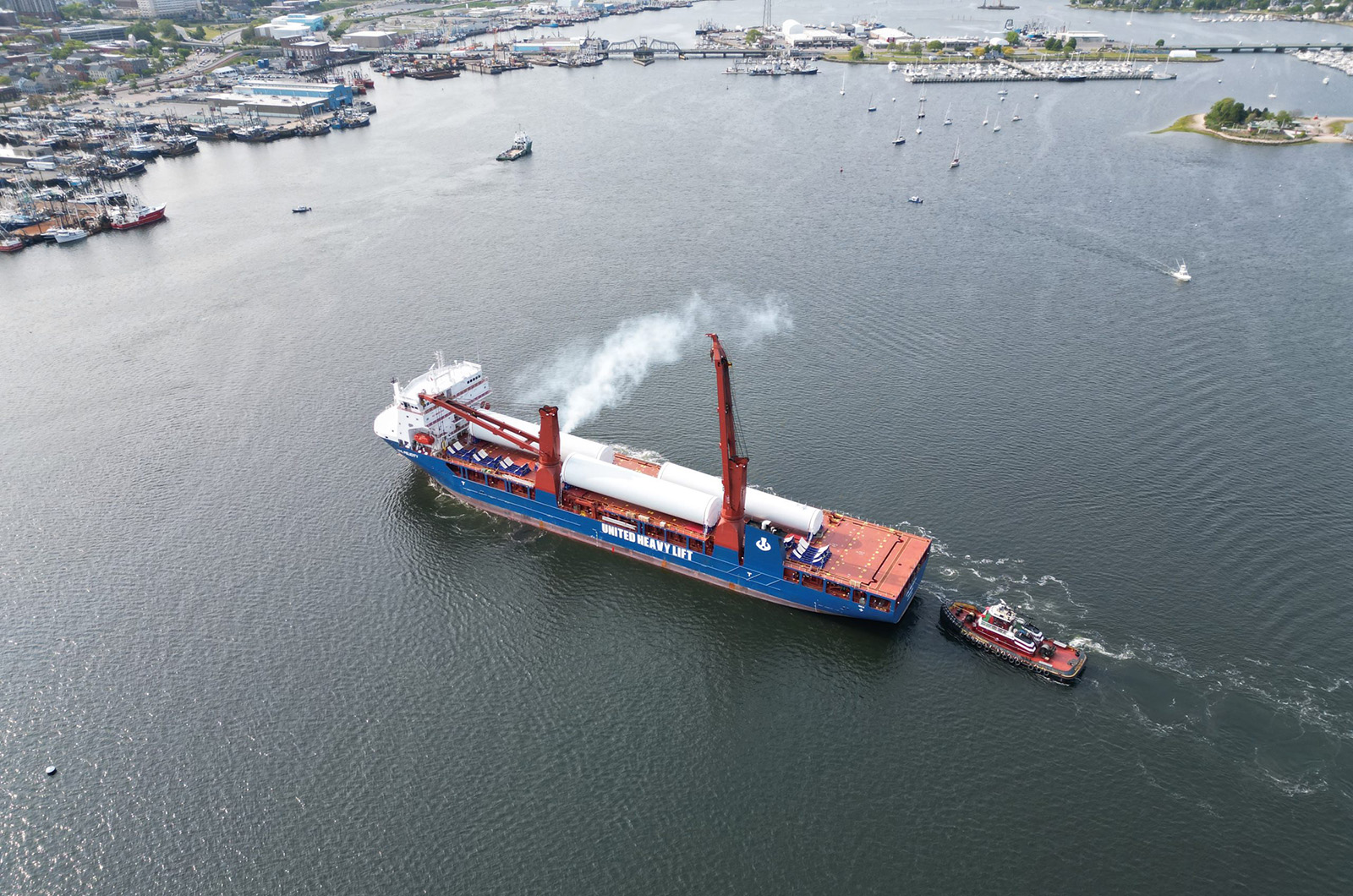 The federal government has designated about 800,000 acres of sea south of the Vineyard and Nantucket to lease. Vineyard Wind, one of several companies to secure a lease there, is the first to have made it through the multi-year permitting process.
Construction on the $4 billion project could be completed as early as next year, with some turbines expected to be generating power as soon as this summer. In its 166,886-acre lease area off the coast, Vineyard Wind plans to erect 62 turbines standing as high as 837 feet above the water, some of the tallest in the world, with blades as long as a football field.
As of last week, two monopiles had been put in, and a third was scheduled to be hammered down over the weekend.
With "steel in the water," as Vineyard Wind chief executive officer Klaus Moeller described it, the Gazette talked with officials with the offshore wind energy company, grid operators, state and federal government officials and others to learn about how offshore wind works and its potential future.
Offshore wind turbines operate much like colonial windmills before them: wind from the gusty open ocean turns a wind turbine's propeller-like blades around a rotor, which spins a generator, creating electricity.
Generally speaking, the technology is similar to the towering turbines that have been operating for years on land throughout the country, but the different environments create significant implementation differences, said Nathan McKenzie, the technology manager for offshore wind research and development at the U.S. Department of Energy.
Ocean winds are much stronger and more consistent than those on land. And the waters off the Vineyard and Nantucket — sometimes dubbed the Saudi Arabia of wind – have been seen as one of the most promising areas to get turbines in the water and meet climate goals. Powerful winds of about 10 meters per second, relatively shallow waters and proximity to the east coast's population centers make the location ideal, advocates say.
"There's nowhere on land that has winds speeds as high as offshore," said Matthew Lackner, the director of the wind energy center at the University of Massachusetts Amherst.
Vineyard Wind's turbines, a model from General Electric, will be spaced one nautical mile apart from each other on an east-west and north-south orientation.
Each turbine can generate 13 megawatts of electricity, with about 800 megawatts of electricity potentially being produced annually.
Electricity will run to a 3,000-ton substation on the water. From there, the electricity will be sent through two thick undersea cables about 35 miles to Covell's Beach on the south side of Barnstable.
The cables will be buried six feet below the seabed, similar to existing power cables that already send electricity to both the Vineyard and Nantucket.
The electricity generated by the turbines will then go through onshore cables beneath the roads in Barnstable to an existing substation and switching station in Hyannis and enter the grid.
ISO New England, the nonprofit that manages the grid, is ready for at least the initial wave of power from offshore wind energy development. The grid has room for an additional 4,000 to 6,000 megawatts of energy, said Matthew Kakley, a spokesperson at ISO New England.
"The system is built to accommodate that," he said.
Upgrades to the system would likely be needed if development continues, and the potential for multiple projects to tie into the same location is currently being investigated.
By Vineyard Wind's estimates, its turbines could annually churn out enough energy for more than 400,000 homes and businesses across the state, a comparative bite-size of Gov. Maura Healey's hope of reaching 5,600 megawatts of wind power by 2027.
Officials with the state office of energy and environmental affairs said Vineyard Wind's estimated production would roughly satisfy a little more than five per cent of the state's current electricity needs.
Some of that electricity could reach Vineyard homes, though the nature of electrical transmission makes it difficult to quantify, Mr. Kakley said. He described the state's transmission system as a highway for electricity. Electric power coming from Vineyard Wind or other projects would enter the grid and then be directed to whatever need is closest.
"That changes hour-to-hour, day-to-day," he said.
In New England, cold snaps can lead to higher gas prices and shortages of fuel. Wind power is ideally suited to address that issue, according to Mr. McKenzie. Unlike solar power, wind power is not dependent upon daylight, and winter is when wind is at its peak.
"In some marine environments, the wind is strongest in the winter when the solar resources are not as strong," he said. "Also, when the solar resource goes down at night, that's often when the wind resource picks up."
Even as the first project goes into the water, several hurdles remain.
Much of the technology for offshore wind development is produced in other countries, leaving builders at the mercy of fluctuating global supply chains. The industry is also brand new to the U.S., prompting several workforce programs to train workers. The vessels needed for projects of such magnitude are also few and far between, creating another potential source of backups if projects do make it to the construction phase.
Right now, economics has been harshest on projects in the pipeline.
Two offshore wind energy developers that have leases for waters off the Vineyard have over the last few months said they want out of current contracts connected to their plans, due to economic issues in the pandemic.
SouthCoast Wind and Park City Wind have written to regulators to say their companies want to cancel their energy contracts because they are no longer financially feasible because of significant and unforeseen rises in inflation, supply chain costs and financing costs.
"While SouthCoast has pursued, and is open to other solutions, and even after factoring in potential tax incentives, termination, and payment of a financial penalty for termination, has become the prudent commercial course to realize the project due to material and unforeseen supply chain and financing cost increases affecting the whole offshore wind industry," said SouthCoast CEO Francis Slingsby.
Both companies say they plan to continue moving forward with their projects after rebid on power contracts, but it is likely that it could be several years before another project starts construction.
Vineyard Wind was able to dodge many of these obstacles, partially because of timing. The company had secured several contracts prior to the pandemic, though expenses, including those for the company's ongoing construction on the Vineyard, have risen significantly.
"We were lucky because we had locked some of our exposure down before the world went into pandemic mode," said Mr. Moeller. "We managed to get through it, however it was very tight for us to secure the steel."