The Island is preparing for potential impacts of Hurricane Lee, the third major hurricane of the Atlantic season and the first to possibly affect the Vineyard in a significant way.
The storm, a category 3 hurricane as of Wednesday afternoon, is poised to lose some of its strength as it moves over colder Atlantic waters, but Islanders are readying themselves for strong winds this weekend. On Wednesday the National Hurricane Center issued a tropical storm watch for the Island, potentially bringing between one and three feet of storm surge.
The hurricane appears to be headed through the waters east of the Island between Friday and Saturday.
Nelson Wirtz, the Oak Bluffs fire chief and leader of the Dukes County Emergency Management Association, said the organization makes its plans on sunny days so it is ready when severe weather hits the Island.
"Right now, our potential here is 60 to 70 mile-per-hour winds sustained on Saturday, but I'm not a meteorologist," Mr. Wirtz said, citing information that state meteorologists shared with him at a meeting early Tuesday. "The majority of current tracks have the storm out east of us."
The association works with disaster-readiness and response organizations such as the Red Cross and the National Emergency Management Association to ensure the Island is braced for whatever happens, and it has alerted other organizations to the possible Islandwide impacts of the storm.
The storm's effect on the Island will become more clear depending on how soon and how rapidly the hurricane turns north of the coast of the southern United States, Mr. Wirtz said.
"If it takes a longer, slower turn, that could potentially give us more impact," he said. "But it seems likely we will at least get a significant wind event on Saturday."
Jessica Spaccio, a climatologist at the Northeast Regional Climate Center, said Hurricane Fiona followed a similar path as Lee last September. The category-3 storm passed to the east of New England, resulting in high surf and a small craft advisory in the waters surrounding the Island.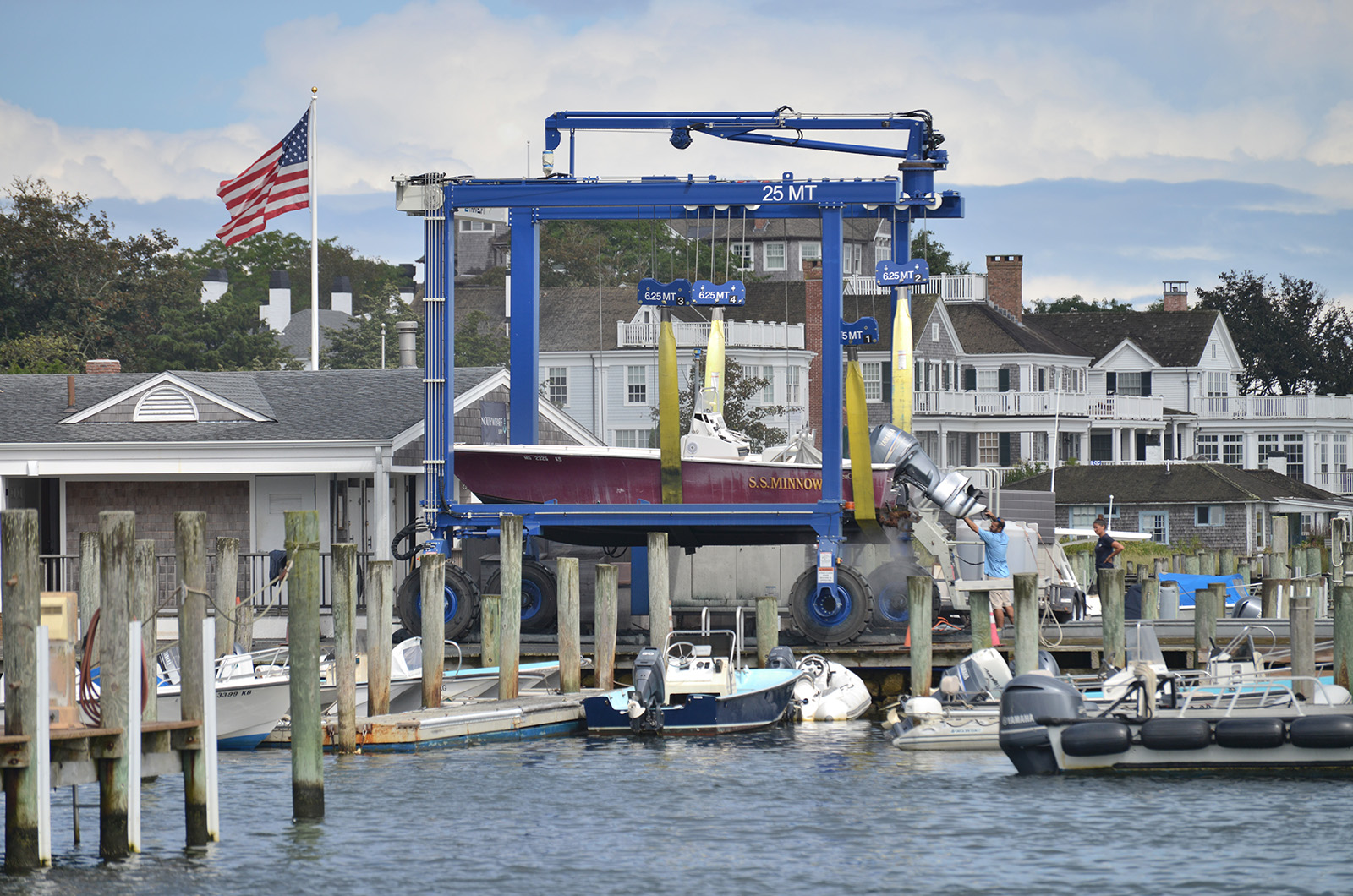 Air travel to and from the Vineyard may be affected by the storm, Martha's Vineyard Airport director Geoff Freeman said. Though the airport will likely remain open, individual airlines will make decisions on potential flight cancellations or delays. Those planning to fly on Saturday should get in touch with airlines regarding possible scheduling changes or to make other arrangements for leaving the Island.
High winds can cause trouble for air traffic controllers up in the tower, and the airport will monitor the weather and close the control tower if it becomes unsafe for staff, Mr. Freeman said. Airport vendors have also been advised to secure any objects that could become projectiles in high winds.
"We're in good shape here," Ms. Freeman said. "Now we'll just wait and see what this storm brings."
Travel over water may also be affected, but it is currently unclear to what extent, Steamship Authority spokesperson Sean Driscoll said.
"Saturday is expected to bring the worst of the winds, which is much more a problem for us than rain and such," Mr. Driscoll said.
The ferry line put out an alert Tuesday warning travelers that Hurricane Lee could affect service, especially on the Nantucket route, as early as Friday night. Disruptions could continue through Sunday morning.
The Island's harbors are keeping close watch on the storm's development, as many boat owners began to pull out their smaller watercraft in anticipation.
Christopher Scott, general manager of Safe Harbor in Edgartown and Vineyard Haven, said that the shipyards have received more than 60 requests to haul out boats from the harbor this week. Typically, the shipyards see between 15 and 20 requests this time of year.
Across the Island, Oak Bluffs harbor master Emily deBettencourt said that the Oak Bluffs harbor does not yet have a plan set for the weekend, but she will keep an eye on the storm's development and act accordingly.
"We are hopeful and prepared to keep boaters informed," she said.
If the town has to halt boaters arriving for their reservations this weekend, Ms. deBettencourt said she would issue 100 per cent refunds to everyone affected.
Chilmark harbor master Ryan Rossi said Menemsha harbor is suspending all transient reservations beginning Friday and recommending all boat owners haul out their vessels before the weekend.
Russell Hartenstine, West Tisbury emergency management director, encourages Islanders to follow Mr. Rossi's lead. He said that because experts cannot predict the storm's movements more than 24 to 48 hours in advance, and even then can only make approximations, Islanders should make sure they are prepared for anything.
"That means checking websites for emergency management and shelter in place directives and making sure that you have all the things you need to make yourself resilient if you're at home without power or utilities," he said.
Though Mr. Hartenstine said he does not anticipate opening the emergency shelter at Oak Bluffs School, he is working with the management team to ensure it is equipped to shelter anyone in need.
To help Islanders feel more prepared for Hurricane Lee, West Tisbury emergency management is hosting an educational event at the Howes House on Friday at 11:30 a.m. Mr. Hartenstine will share information with attendees about how to stay safe before, during and after the storm.