On a late summer day, Greg Skomal slipped on his scuba gear and dropped through the hatch of an underwater shark cage. Curly, a 3,000-pound great white shark was circling nearby. It was a perfect chance for the shark-obsessed scientist and former Vineyarder to get an up-close look at the fish he has been studying his whole life.
But when Curly became lodged in the cables holding the cage, thrashing about for freedom, Mr. Skomal's fascination turned to fear as he envisioned becoming her next meal.
This encounter in 2010 is one of many stories that the renowned marine biologist tells in his new book Chasing Shadows: My Life Tracking the Great White Shark. Through a blend of shark facts and tales of his career, including 23 years on the Vineyard, he explores the complex relationship between humans and sharks and shares how, in the end, his fascination with this top oceanic predator always overcomes his fear.
And, of course, he reveals his suspenseful survival of that harrowing summer swim with Curly.
"I've written, you know, probably over 100 technical papers that probably nobody's going to read except other scientists, and a bunch of aquarium-care books... so this was a bigger step for me," said Mr. Skomal in a phone interview with the Gazette. "Being personal doesn't come natural to me. I really had to think hard about explaining my feelings of being underwater, in a cage and being with sharks... but I really want to inspire people to chase their dreams with this book."
But he almost said no to the idea of writing a book.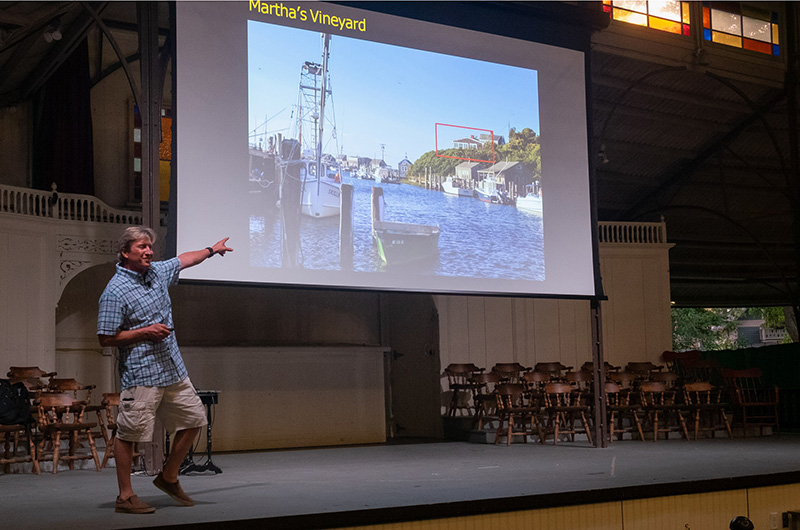 Mr. Skomal is widely known as the country's leading shark expert and has been featured regularly on several national television networks, including National Geographic, the Discovery Channel and PBS. But in 2018, when Mr. Skomal's literary agent encouraged him to write a book exploring his personal captivation with sharks, he was wary.
"I told her flat out that I just didn't have time to do it," he said. "And telling stories, that's not easy for me.
Then he met science journalist and ocean enthusiast Ret Talbot, and with the promise of his co-authorship, Mr. Skomal agreed to step out of his comfort zone.
"[My agent] introduced me to him and, you know, since he's a science writer he understands science and actually knows how to translate it to the public," said Mr. Skomal. "Now, after writing the book, we're very close. He knows more about me probably than anyone. Well, maybe my wife knows just a little bit more."
Mr. Skomal's passion was born in 1968 when, at six years old, he became captivated by an episode of the documentary series The Undersea World of Jacques Cousteau. Mr. Cousteau, a world explorer, was investigating the behavior of sharks in the Indian Ocean, and as a hammerhead shark swam across the television screen, Mr. Skomal became hooked.
"Today I'm close to Cousteau's age when the documentary aired... and in many ways, I'm following in his pioneering footsteps and doing some of the same things Cousteau was doing in the late 1960s — observing, studying and meeting the shark on his own terms," Mr. Skomal writes in the book.
His fixation with great white sharks, also called white sharks, intensified when Steven Spielberg's Jaws — a film that, in many ways, continues to define Mr. Skomal's career — was released in theatres in 1975.
The blockbuster and its human-munching antagonist has heavily influenced movie-watchers' negative perceptions of white sharks, said Mr. Skomal. In Chasing Shadows, he works to set the record straight.
"I don't look at Jaws and think of it as real life. I think of it as a great thriller and horror film, and I encourage people to watch it," he said. "But Jaws is kind of a fairy tale when it comes to white sharks.... [Chasing Shadows] actually lays out what we know and what we don't know about this iconic species in the western North Atlantic and beyond."
As director of the Massachusetts Shark Research Program and a senior fisheries biologist with the Massachusetts Division of Marine Fisheries, Mr. Skomal is always working to uncover the mysteries surrounding the white shark. He spends most of the summer and fall, when weather permits, aboard a boat traveling around the Cape and Islands searching for the region's white sharks, or in his words, "chasing shadows."
Now, almost three months after Chasing Shadows' release, Mr. Skomal said that he is overwhelmed with the positive reception of the book. He hopes it encourages readers to reconsider the common narratives of white sharks and think critically about the future of oceanic conservation.
Mr. Skomal is still spending most of his time out on the water searching for great whites. But when the days grow shorter and the weather turns colder, he plans to take a trip back to the Vineyard from his home in New Bedford to reconnect with Island friends and the sites of many adventures in Chasing Shadows.
"My growth as a scientist is really coupled with my Vineyard experience," he said. "I really think that so much of this book will draw in the Vineyard folks... and that is just very special."