A few days after hanging the Port Hunter sign on Main street in Edgartown, new restaurateurs Patrick and Ted Courtney received a visit from an old-timer. The man showed the brothers numerous old photos of the space including one that featured the front of the brick building and a sign mounted on steel with white lettering which spelled out First National. The sign was almost identical to their new sign, down to the font size and style.
"It kind of came back around... It was nice," Ted said. "We felt like we were doing the right thing."
The stately brick building, now home to the Port Hunter seafood restaurant, was built in the early 1930's to house the First National market, a general grocery store. The visitor, a former employee of the store, had been pleased by the similarity, as were the Courtney brothers, who had given much thought to each detail of the restaurant.
Patrick Courtney, 30, and brother, Ted, 28, live in downtown Edgartown year-round. When In The Woods closed down and the opportunity came to move into the lease at the corner of Main and Summer streets, they decided on a restaurant.
"We just felt like this was a great space for a restaurant," Patrick said.
The brothers grew up eating "really truly fresh seafood," and are committed to serving it to their customers, they said. "I feel like that's one of our strengths," Patrick said. "A majority of my friends here are fishermen or charter captains. We have great resources locally . . . this is one of those areas in which we can do better."
They hope to distinguish themselves from other restaurants by offering locally-sourced seafood on a small, carefully constructed menu. They have been able to source more local products than they had originally hoped.
"We thought we were going to be able to feature some local things, but it's great, we've been able to have more fantastic vegetables and fish from the Island than we expected," he said. They've recently added a vegetarian lasagna to the menu, one of head chef Jeremy Davis's specialties, which features produce from local farms.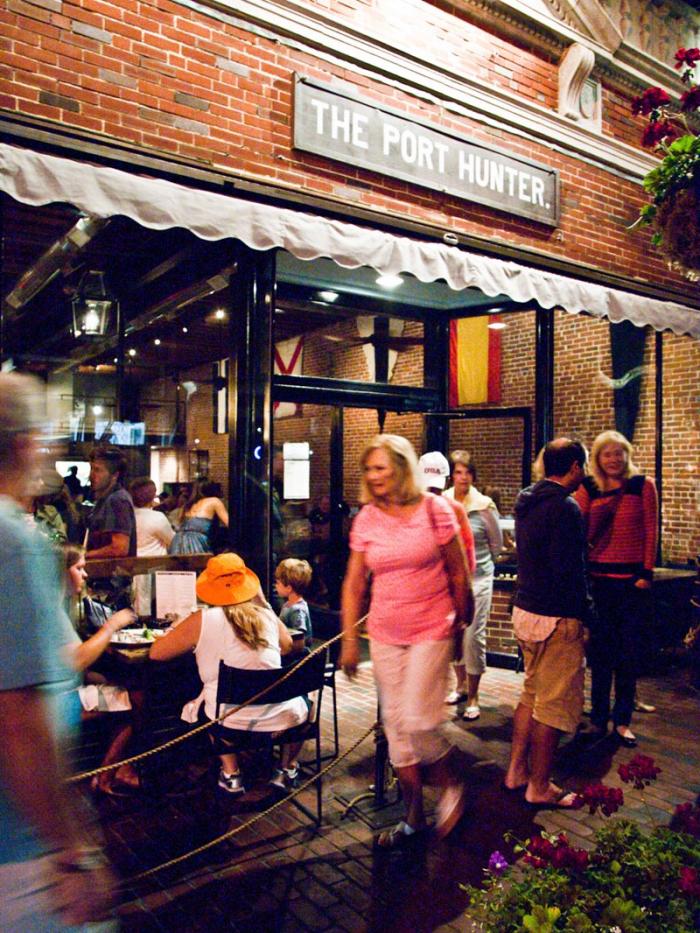 But Port Hunter is not the first Courtney brothers' business. They have co-owned Backwater Trading Company, a retail store on the far end of Main street, for five summers.
"We are really fortunate in the fact that we get along well," Patrick said, and his brother, the quieter of the two, nodded in agreement. "We approach a lot of things in a similar fashion. Imagine what you could get done if there was someone really similar to yourself, if there were two of you."
Though they've worked in retail all their lives, they say the restaurant business is more demanding.
"It's just as hard as everybody said it was going to be, and a little bit harder," Patrick said, his voice muffled by the incessant clink of dishes coming from behind the bar. But hiring a competent "core group of employees" headed by general manager Carlo Stanisci, has helped lessen the workload, they say. The spacious dining room allows for bands to play in the window area on Monday nights.
Port Hunter is the name of a 1918 ship that wrecked in the Vineyard Sound. The ship's contents, including army gear meant for soldiers fighting in World War I, were salvaged by Islanders and brought to shore. Naming the restaurant after the shipwreck was, "a nod to the resourcefulness of Vineyard people but it's also a great fishing spot," Patrick said. The decor of the bar stays true to this theme with salvaged marine decor including refurbished Edgartown Harbor docks serving as tabletops, and navigational channel markers illuminating the bar from above.
After completing elementary school in Edgartown, Ted and Patrick attended middle school in Florida. Patrick stayed in Florida for high school, while his brother attended high school in New Hampshire. Both went to college in Colorado, taking advantage of the access to snowboarding and skiing just down the road.
"It was different, because it was trout fishing instead of bass fishing, but the change of scenery was really nice," Patrick said.
As young boys, the two worked in their father Geno Courtney's stores downtown, especially Shirt Tales, and the Paper Store.
"We grew up in the retail store since we were little kids," Patrick said. "Geno would put a milk crate behind the cash register. You're in there making change... it was great work experience at an early age."
Geno Courtney, a well-known businessman in town, advised them against going into the restaurant business because he'd lost a lot of money in that area in the past.
"The boys came up with the restaurant business and I fought it," he said. "I said they were crazy to go into it, but they were persistent. When it came to the point of no return, I had to go ahead and support them."
Now that they are successful in their venture, he's pleased. Monday night's waitlist, scribbled on a sheet of legal pad paper, exceeded 30 parties.
"They are two brothers working very well together," Geno said. "They came up with the concept, and their mother and I supported them morally as much as we could . . . it's good to see two local boys doing this."
"He's been a huge supporter of this," Patrick began, and Ted completed his thought. "If it wasn't for him, we wouldn't be able to do this."
Port Hunter will serve dinner exclusively this summer, and next summer they hope to serve lunch. "Just continue to take small steps," Ted said. "Keep on doing what you can accomplish slowly, and then go on to the next thing."