They weren't on the farm, out at sea, behind the line or in their home kitchens.
For the first time, Island authors Susie Middleton, Catherine Walthers, Melinda Fager, Jessica B. Harris and Robert Lionette all had lunch together. And they did so with 70 other people.
The lunch affair, called Cook the Vineyard, dished out an afternoon of culinary magic to vegetarians and carnivores alike at Lola's Southern Seafood in Oak Bluffs. It was sponsored by Martha's Vineyard Magazine, Edgartown Books and Edible Vineyard.
The meal began shortly after 2 p.m. with brief introductions by Martha's Vineyard Magazine editor Paul Schneider, who also filtered questions for a rather informal panel discussion throughout the event. Authors stuck around after the discussion and signed their books. The menu selected by Kathy Lola Domitrovich celebrated the Island's bounty, with each course a different recipe plucked from the various cookbooks, but keeping a southern "Lola-influence" present from appetizer to dessert.
For the appetizer course, Ms. Middleton's deviled eggs with spinach, basil and toasted pine nut pesto were served. "I'm not a vegetarian," she admitted as people began to eat. "I'm a vegetable freak and I love pesto." Ms. Middleton, whose journalism roots came before her roots in the ground, has a simple yet formal approach to cooking, she said. "I'm all about technique."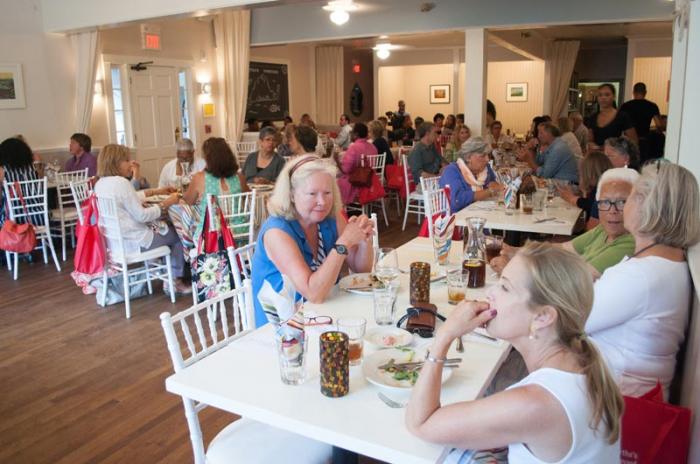 Catherine Walthers also spoke about her background in journalism. She recalled a fondness for food early on, but remembered never seeing a female chef in a kitchen. That inspired her to combine her background in writing and reporting with her passion for food, so she begin cooking and eventually authoring cookbooks. Lola's served her baby green arugula salad with raspberry mint vinaigrette.
Melinda Fager, who is also a photographer, spoke about living on the water. A recipe for pan-seared local striped bass from her cookbook was served. "It's always a celebration when a bass is caught and brought in my house," Ms. Fager said. She shared other stories of her husband coming home with fresh fish, and said she always wanted to share that joy, so she made a cookbook. "I'm a photographer so I wanted a chance to capture the beauty," she said.
The authors, who sat side by side facing the crowd, also discussed the challenges of writing recipes down in a book — whether it was their first, third or 12th.
Mr. Lionette, who developed and tested recipes for Morning Glory's Farm Food, the farm's newest cookbook, said it was not easy. "I'm a professional chef and this is the first time I tried to put recipes in a book for home cooks," he said. To test each recipe, he packed up his knives and put fresh produce in his car to start measuring out herbs and baking cobblers in a less familiar cooking environment: other people's kitchens. "It was a challenge," he said.
Ms. Harris spoke less about the challenges of putting a book together and more about the challenges of gathering ingredients one may not think are available on the Island, like okra, her favorite food, which guests tasted on Monday in her summer Southern succotash side. The recipe is from her book, High on the Hog: A Culinary Journey From Africa to America. "You have to look for it," she said of okra. And if it's not there? "Buy it frozen. The succotash can be made all year round, with frozen okra, canned tomatoes and corn," Ms. Harris said.
Speaking of corn, toward the end of the meal, Mr. Lionette interjected with some good news: "We harvested our first corn on Saturday," he said. The crowd cheered.
"We don't grow okra," he added, smiling at Ms. Harris. "But I'll be exploring that when I get back to the farm."