A new publication from the Vineyard Gazette Media Group makes its debut this week. The Vine, a full-color tabloid, brings original stories and a fresh, contemporary look to the special topical sections the company has produced for many years.
The inaugural issue of The Vine, released for Valentine's Day, includes the Heart of the Vineyard, a directory of Island nonprofit organizations, produced for the first time in 2014. This comprehensive directory provides basic information about all Island organizations that rely in whole or in part on community support to fulfill their important missions.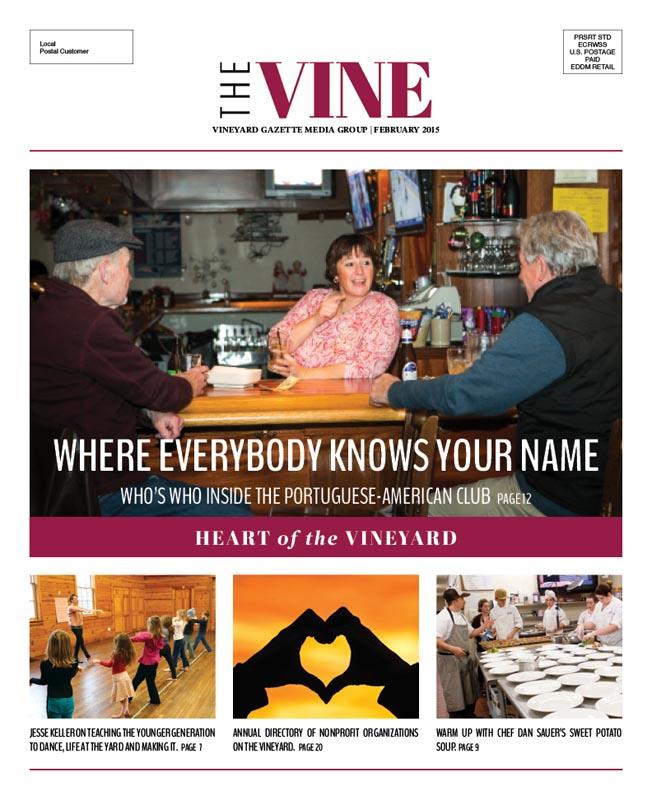 Future issues of The Vine will focus on topics that include Healthy Living, Home & Garden, Automotive and Real Estate.
The Vine will be mailed to off-Island subscribers of the Vineyard Gazette and distributed free to every Island mailbox for a total circulation of between 17,000 and 24,400, depending on the time of year. A total of 10 issues of The Vine will be produced in 2015.
The Vineyard Gazette Media Group began distributing its special sections for free Islandwide last year. They were well received, but "some readers were confused about what they were getting and how it related to the Gazette," said Jane Seagrave, publisher.
"Though each of these publications contained great information, there was no unifying theme that connected one to another," she said. "We wanted to create something that readers would recognize from one month to the next that was distinct from the Gazette."
The company enlisted the help of Hayes Design Studios to come up with a clean, up-to-date design, and asked Sydney Bender, a past editor of Edible Vineyard magazine, to be editor. New features to appear regularly include a selection of photos from the Vineyard Gazette's Instagram account and Second Take, in which a member of the community describes a Vineyard moment when they suddenly saw something from a new perspective.
For more information about The Vine or to inquire about advertising, please contact publisher@mvgazette.com.