The children's room at the West Tisbury library has mice. And bees have made a home in the wall, not too far from an owl.
This sounds like the start of a children's book about a crazy infestation at the library, perhaps, or maybe a case for a good exterminator. But these mice are tucked under patchwork quilts on tiny beds. The owl holds a magic wand in her beak, and the bees, like the rest of the library's new inhabitants, are made of paint, part of a new mural being created by artist Linda Carnegie.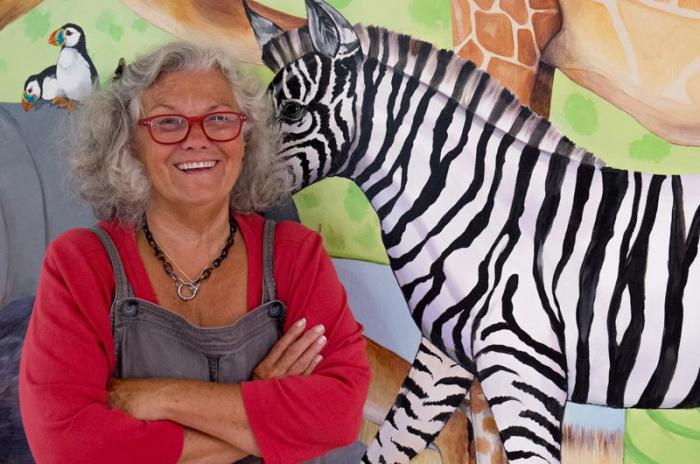 The brightly-colored mural, designed for the youngest of readers and fit for a storybook, is a tribute to Cathy Brannen, a children's librarian and West Tisbury resident who died in December. It is a fitting legacy for Mrs. Brannen, who was passionate about books, children and the West Tisbury library. And the mural's cross-continental origins show the depth of her friendships.
Cathy and her husband, John, lived in London for four years. Mrs. Brannen made lots of close friends there, some at the Kensington Chelsea Women's Club, Mr. Brannen said this week. "We called them her London friends, her London ladies."
"Most of them could not make her funeral in December, but they wanted to honor her in some way," he said. West Tisbury children's librarian Nelia Decker sat next to one of the London friends, Shereen Taylor-Berger, at Mrs. Brannen's memorial service in Boston, and the two came up with the plan for a mural.
"They started talking and Shereen got this idea, knowing Cathy's love of libraries and kids, that that would be a good way to honor her," he said.
The London ladies got together, about 15 in total, and donated a large amount of money to have the mural done, Mr. Brannen said. The characters are drawn from British and French children's literature, including some of Mrs. Brannen's favorite books.
Mr. Brannen said the mural might be especially valuable for the couple's young granddaughter. While she may not remember her grandmother, he said, "she'll be able to go to the library."
Ms. Decker, the children's librarian, said some young patrons are already responding to the mural. "One little boy was sitting there and said, this should be an owl. And Linda made it an owl." (Ms. Carnegie admitted that she was going to be painting an owl anyway, but she is happy to take reasonable suggestions.)
"We're so pleased, so many people have supported Cathy Brannen and supported this project," Ms. Decker said. "It's a way to make this space more enticing and more lovely."
Ms. Carnegie has been working on the mural free-form with acrylics and wall paint. She has ample experience painting murals for children, including work at Massachusetts General Hospital and Columbia Presbyterian Hospital in New York city. She was eager to contribute to the newly-renovated West Tisbury library; the old library featured Carnegie murals in the children's room, but they were lost during the renovations.
Now her work will also be featured in the new library, which was completed last year.
"I get to do it again," Ms. Carnegie said as she worked on the mural early this week, wearing overalls splattered with paint and holding a plate dabbled with shades of blue. "It's really fun."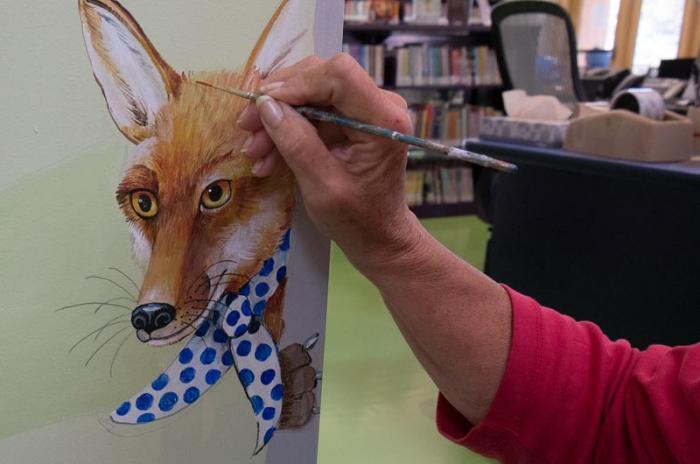 The tribute to Mrs. Brannen will soon be joined by other murals painted by Ms. Carnegie around the children's room, thanks to donations from the Martha's Vineyard Cultural Council and others. Ms. Carnegie is already making plans for those blank walls with a tree theme.
The space dedicated to Mrs. Brannen is full of familiar creatures and charming details, many of them painted at kids' eye-level. The mouse family, inspired by the Brambly Hedge books, inhabits a tree, their cozy home full of fun Vineyard touches: a heath hen in glass and a model ship adorn the mantle, and a picture of the Vineyard hangs above the bed of one of the sleeping mice. The mouse family's lamp, Ms. Carnegie pointed out, is a jar full of fireflies.
Nearby is Hedwig, Harry Potter's faithful owl, and a certain bear who is fond of honey. There's a country village with flocks of sheep in a pasture, Peter Rabbit nibbling on carrots in a garden, Paddington the bear in his blue coat.
A little red door with an acorn knocker is painted on the base of one wall, one of several in the mural. "Kids love little doors," Ms. Carnegie said. She planned to add more details, a few bugs in the garden, perhaps, and she will paint the tree canopy high up on the wall. She pointed out the spot where she planned to put a dedication to Mrs. Brannen, planning to make it look like a carving on the tree.
While Ms. Carnegie never met Mrs. Brannen, she said she reveled in the spirit of the project and working in the library, surrounded by storytimes and children looking for a book to take home.
"I like hearing their voices," she said, brushing light blue paint on the wall, just below the spot where she planned to paint Babar floating toward the ceiling in a hot air balloon.
For more pictures of the mural, visit the library's Facebook page.