Roads were flooded and lightning struck in more than one place when a line of severe squalls raced through the Vineyard Wednesday morning.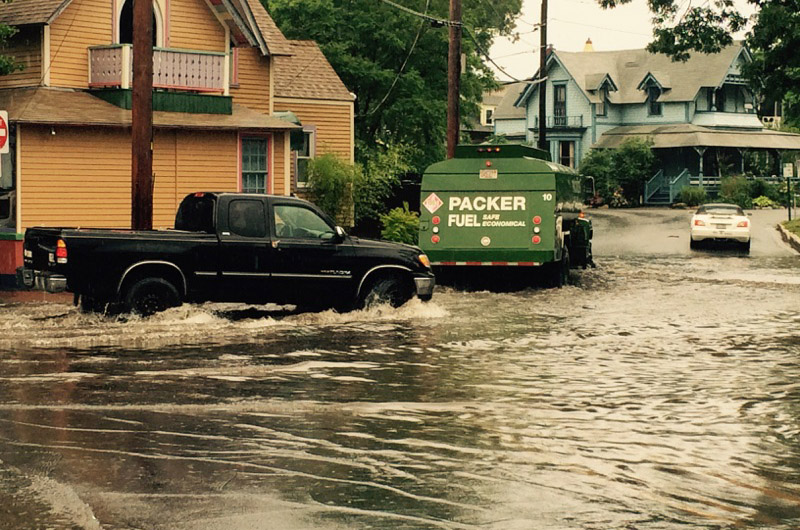 Torrential downpours left the busy Five Corners intersection knee-deep in water and traffic snarled. The Black Dog Bakery saw about a foot of water in its store, which sits below sea level. "Customers ran in here with their dogs when it started pouring, and waited out the rain," said store manager Tracy Leigh Adams.
The Dukes County communications center was inundated with calls and reports of lightning strikes, flooding, and disabled vehicles from around the Island, a busy dispatcher told the Gazette Wednesday morning.
Sharky's Cantina in Oak Bluffs reported minor damage to the restaurant after its building was struck by lightning. "Wood that must have been over 200 years old at the top of the building exploded 20 to 30 yards in each direction down Circuit avenue," owner JB Blau said. "We lost two TVs and other electronics, our phone service, a rice maker fried out, but everybody is okay."
"Our manager was knocked to the ground — he was leaning on a beer cooler and ended up on the floor. That was a shock, no pun intended," Mr. Blau said.
The West Tisbury fire and police departments responded to three calls about lightning strikes on residences. No strikes were confirmed. "People probably smelled something different," said police chief Dan Rossi. The fire department also responded to gas and fire alarms.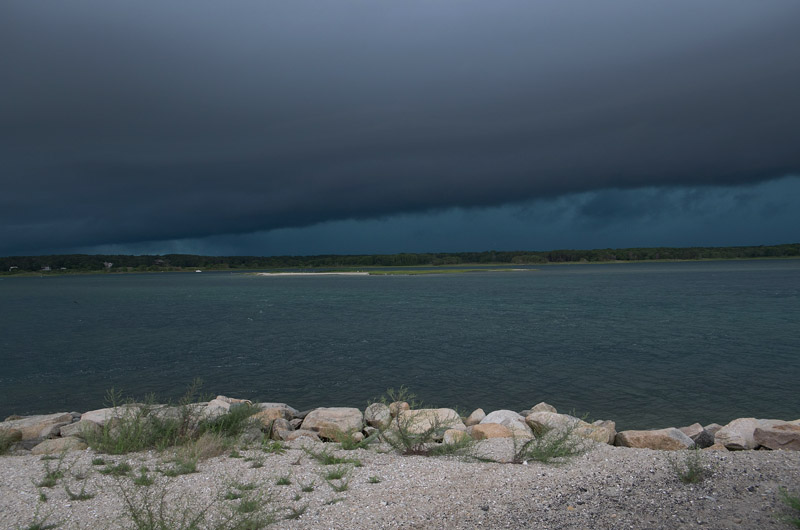 Aquinnah police chief Randhi Belain reported that a temporary metal beacon at the lookout past the shops at Aquinnah Circle had been struck Wednesday morning. The beacon is serving as a short-term replacement during the Gay Head Light relocation project. The Aquinnah Shop restaurant had electrical issues as a result of the lightning strike, and was the only affected establishment at the Circle.
Also in Aquinnah, flooding on State Road near the lower end of Moshup Trail slowed traffic. The fire department pumped out a puddle to re-open the inbound traffic lane. The outbound lane stayed open.
Edgartown fire chief Peter Shemeth reported no storm-related incidents or alarms. "We dodged a bullet," he said. The Tisbury fire department fielded calls about branches on power lines, none of which required a response. "We got out of it pretty easy," said chief John Schilling. Similarly, Chilmark reported few alarms.
On Wednesday morning the National Weather Service in Taunton issued a severe thunderstorm warning for southeastern Massachusetts, with possible lightning strikes and damaging winds in excess of 60 miles per hour.
A special marine warning went out for coastal waters extending 25 miles south of the Vineyard and Nantucket for severe weather capable of producing water spouts and small hail. The squall line was located along a line extending from Mashpee to near Oak Bluffs to near Long Point on the Vineyard, moving northeast at 30 knots.
Dukes County emergency managers monitored the weather and issued updates, along with state emergency managers.
By early afternoon the sun was out, although remnants of flooding were visible.
Alex Floyd contributed reporting.