When Rick Mast decided to start a chocolate company with his brother Michael, the two set a date to show up at work two months later, promptly at 8 a.m. The idea was to first take the summer off to do whatever they wanted.
"Once we committed, we had to be all in," Rick Mast said. "So I went to the Vineyard to figure out what this was going to be all about."
Nearly 10 years later, Mast Brothers Chocolate is one of the leading craftsman companies in the world, with locations in Brooklyn, London and soon Los Angeles. They have a six-week waiting list for chocolate bars (there are 19 varieties) and a design aesthetic now mimicked by artisans across the country. Oh yes, and they also have really, really good chocolate.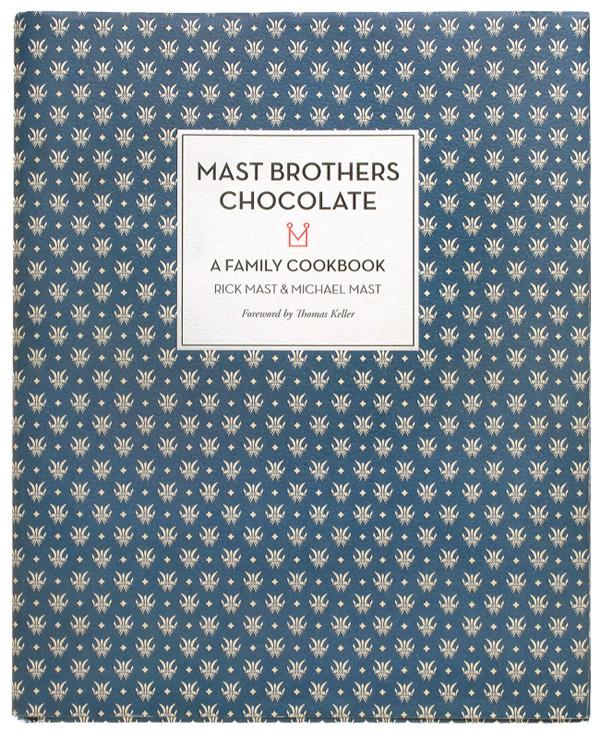 "My Vineyard experience was really important and influenced how I approached Mast Brothers, changed it, altered it, improved it," Mr. Mast said on a recent morning at the Brooklyn chocolate factory. He spent that Vineyard summer falling in love with the Island and his girlfriend Natasha, and cooking at the Outermost Inn with Dan Sauer. "It was a really inspirational summer."
Now the Mast Brothers share a glimpse of what it took to start a family chocolate business in The Mast Brothers Chocolate: A Family Cookbook, which weaves intimate memories, food tales and recipes. Mr. Mast will speak about the cookbook at the book festival on Sunday at 11:15 a.m. in the Menemsha Tent at the Chilmark Community Center.
"The book was a chance for us to share our story as much as it was to reflect on what we're doing with our lives," the author said.
The recipes start with a simple glass of chocolate milk and become more complex as the stories and company grows. From a childhood growing up in Iowa to Thomas Keller dropping by their chocolate factory in Brooklyn, each story reveals a little bit more about the company and the brothers.
"The scariest part of the whole book was those stories," Mr. Mast said. "We were exposing ourselves a little bit. But we thought that was important. The idea was somebody might be making a glass of chocolate milk or chocolate chip cookies . . . . and there are these food memories that are often times connected with things like a chocolate chip cookie or a glass of milk.
"Food is definitely a huge part of our memory system, it's how you define certain moments," he added.
After studying classical music in college and working at music venues across the country, Mr. Mast eventually decided to move to New York to go to culinary school, cooking his way around the city's fine dining kitchens. He said his obsession with food has always been based on curiosity. That curiosity eventually led to chocolate.
"I loved the challenge of, how can I make chocolate from scratch in my apartment?" he said. "To think about chocolate, something so basic and something so universally loved. I felt pretty disconnected to how it was made."
But where to get beans?
"And what are beans?" he said with a laugh. "There was a big learning curve."
"The way we ended up getting our first bag of beans delivered to our living room was literally by calling the cacao futures people on Wall Street and asking them, do you guys have any extra cacao beans lying around?" Mr. Mast recalled. "They directed us to somebody who thought it was crazy what we were doing and they shipped a bag of beans, made an exception for us, and the FedEx guy showed up at our three-story walk up."
Mr. Mast and his brother were always keen on going into business together.
"We complimented each other really well and we always dreamt of starting a family business," he said. "Not only do I love food and chocolate making, but I loved the prospect of building a team. I love talking to people about chocolate and the idea of coming up with packaging ideas. I loved the prospect of building a chocolate factory. There's no element of Mast Brothers as a business that I'm not super stoked about.
"Even in our apartment, we knew there was something special about what we were doing. It wasn't just how delicious the chocolate was, or how fun it was to introduce people to how chocolate is made, it was the whole spirit of it."
The brothers still enjoy working together.
"The phrase that my brother and I have said many times, there's nobody that you'll fight harder with than your family but there's nobody that you'll fight harder for than your family," he said. "It still holds true today. In any business, you want to surround yourself with someone who will argue with you."
Growing up in Iowa, Mr. Mast always romanticized about the ocean. Perhaps it was that romantic idealism or his time on the Vineyard, but one day in the break room, he was going on about the "glories and virtues of simplicity" when he had a thought: the brothers should sail their beans from the Dominican Republic to the Brooklyn docks.
"I said, it's going to be way cheaper, no oil and just wind, and way more fun," he recalled. "And I said it in a very casual way like a Vineyarder would say. Everything's possible in that mindset and I think it's a brilliant way to think."
And sail they did on a cargo vessel named the Black Seal out of Falmouth, captained by Eric Loftfield. The brothers and their friends spent a month aboard the 70-foot, three-masted schooner before docking in Red Hook.
"The idea was to do them annually, but there are not enough boats out there and people out there that want to do it," Mr. Mast said. "We're hoping through the book that it will inspire some people to join that community and that mindset."
Mr. Mast is now married to Natasha, daughter of retiring Martha's Vineyard Commission executive director Mark London and his wife Linda Thompson. They visit the Island regularly with their son Sebastian.
"As soon as I stepped on the Island it changed the way I thought about a lot of things," Mr. Mast said. "There is an opportunity to think about what a utopian existence is like. And I think that is great, it's something to learn from and apply to your life. In my case it was building a chocolate company."