They came for the recipes. They stayed for the writing.
It's an apt epigraph for Chris Fischer's Beetlebung Farm Cookbook published last spring. The cookbook is that rare hybrid, filled with recipes and essays that are unique and delicious. And yes an essay can be delicious. Just ask anyone, even the judges at the James Beard Foundation, which each year assigns the top honors in the cookbook world.
On Tuesday, Mr. Fischer's book won a James Beard Award in the category of American Cooking. The book was a collaboration of Vineyard talent. Emma Young did the design, Gabriela Herman the photography and Catherine Young everything else. Or in Mr. Fischer's words, "I call her the general contractor of the book."
Mr. Fischer accepted his award Tuesday evening at Chelsea Piers in New York city. Like at the Oscars, the host (Ming Tsai) held an envelope with the winner's name hidden inside.
"I didn't plan a speech," Mr. Fischer said. "It would have been bad luck."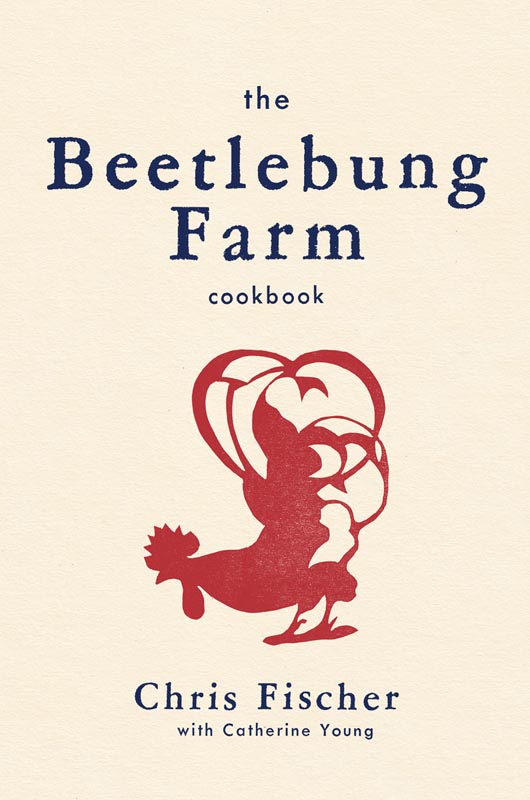 After his name was announced, Mr. Fischer thanked his publisher and editor, the co-creators of the book and his family. In many respects the cookbook is about family along with a tour of Martha's Vineyard, the rural one where you walk in waders out into the bay to gather scallops, carry a shotgun or a bow and arrows to hunt deer, and get poison ivy while foraging for nettles. It is both a journey down memory lane, guided by Mr. Fischer and his ancestors who have worked the land at Beetlebung Farm for decades, and very much grounded in present day — the one that prizes fresh local ingredients above all else.
Consider the small list for grilled sea bass: olive oil, salt and lemon. Plus the freshest fish possible, caught yourself or by a local fisherman.
There are egg dishes, chicken dishes, pasta, pancakes and polenta. Rhubarb comes calling as does ricotta, kale, lobster and vegetables in every shape or color. In most cookbooks, however, the home cook does some quick calculations as to how much time a dish might take and then chooses the shorter ones. Not so with the Beetlebung Farm Cookbook. This book was meant for lingering, and the longer a dish takes to cook the more time there is to read the essays that accompany it. Consider this opening paragraph about oysterman and well known leader of the band Johnny Hoy and the Bluefish:
"I went to see Johnny because he doesn't answer his phone. I went on a Sunday when the weather was ugly — figuring he'd be home. I bumped along the rutted road under angry skies to his house until I got to his yard, busy with scrap wood, split logs, boats, chickens, anvils, cinder blocks, buoys, coiled rope, tractors (one yellow and one red), leftover stone, and some scaffolding — an assortment of mismatched clutter, but all useful. That is why it was there."
Several years ago Mr. Fischer began writing a regular column for the Vineyard Gazette on food and family and the Island. He said that column was the genesis for the book.
"It became a platform and my learning curve on how to write," he said. "The deadlines helped a lot too."
Mr. Fischer will soon return to the Island, and in early June take the helm at a new restaurant in Edgartown in partnership with Patrick and Ted Courtney and located at the former Edgartown Deli. They are still working out the details, including a name and the menu.
"The first thing we did was get rid of the fryolater and replace it with a pasta maker," Mr. Fischer said.
But until then he will continue eating his way through New York city. On Tuesday night, after the awards, restaurateur and Vineyarder Keith McNally helped him celebrate at Minetta Tavern, and on Wednesday Mr. Fischer enjoyed three lunches in a row. He also purchased some of the finest salami New York city has to offer at Di Palo's in Little Italy for his father Albert O. Fischer who taught him how to hunt and is the subject of many essays in the book. "He's really into salami these days," Chris said.