Chris Fischer knows Martha's Vineyard well. Sitting outside the Chilmark Store last Sunday afternoon, he pointed towards a building about 20 feet away.
"I went to school in that police station," he said. "It used to be a two-room schoolhouse."
Just across the street is the Chilmark Community Center where Mr. Fischer spent much of his early childhood, especially his summers. A bit farther down is the family homestead, Beetlebung Farm, the primary subject of Mr. Fischer's new book, The Beetlebung Farm Cookbook.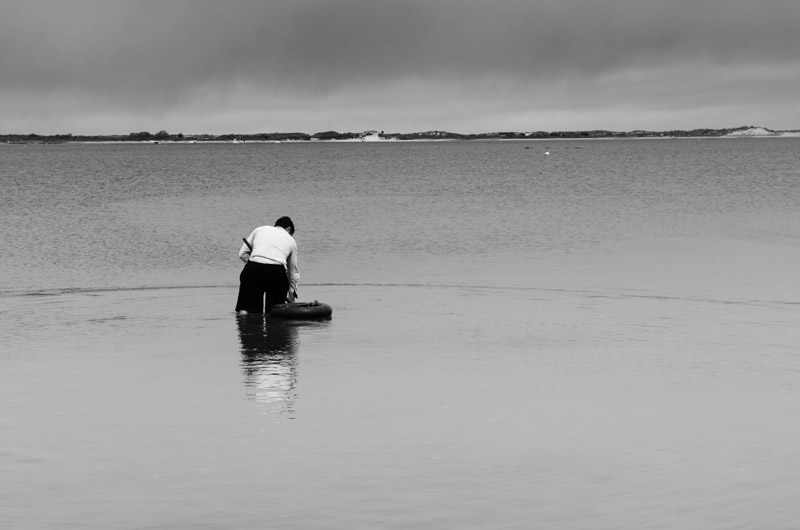 The farm's location is fairly central to Chilmark, and it is also central to the core of Mr. Fischer's life. The cookbook, which in between recipes is filled with essays about family and farming, demonstrates Beetlebung's profound impact on him. Growing up, it was the place of many family gatherings.
"As I got older I came to appreciate family meals there," said Mr. Fischer. "We'd gather for lunch every day in the summer time, and looking back on it, it was miraculous, but it was so normal. We'd have four generations of our family sitting outside sharing lunch on any day of the week."
Mr. Fischer, like generations of his family before him, is a true Vineyard native, but Beetlebung Farm is a fairly recent addition relative to their 250-year history on the Island. His grandfather purchased the farm in 1961, following years of working other people's land.
"He did what he could with the tools that he had," said Mr. Fischer. "And he did a lot."
The farm soon became a focal point for the family, becoming a place to work as well as gather, and has mostly remained so to this day. Mr. Fischer's cousin Josh raises meat for the farm. His grandmother ran a beauty shop on the property — the sign still hangs beside a door to the house. And after moving to New York city, Mr. Fischer returned to work the land.
"I went off and learned to cook food," said Mr. Fischer. "When I came back, I wanted to grow food."
His grandfather and aunt were working on the farm at the time, and eventually after the two watched the young man long enough they decided he could operate it himself. Mr. Fischer didn't think he was ready, but as he pointed out, "You never really feel ready for anything."
In New York city, Mr. Fischer worked under renowned chef Mario Batali. He also did a stint cooking in Europe, and for the past two summers was the chef at the Beach Plum Inn in Menemsha. In fact, it was at the Beach Plum Inn that Mr. Fischer met his co-author on the cookbook, Catherine Young. Ms. Young had been dining all summer at the Beach Plum before she introduced herself at the end of the season. Ms. Young had written cookbooks before, and she soon became Mr. Fischer's sounding board and source of support in writing down and organizing recipes, eventually putting them into the book that she in turn helped structure.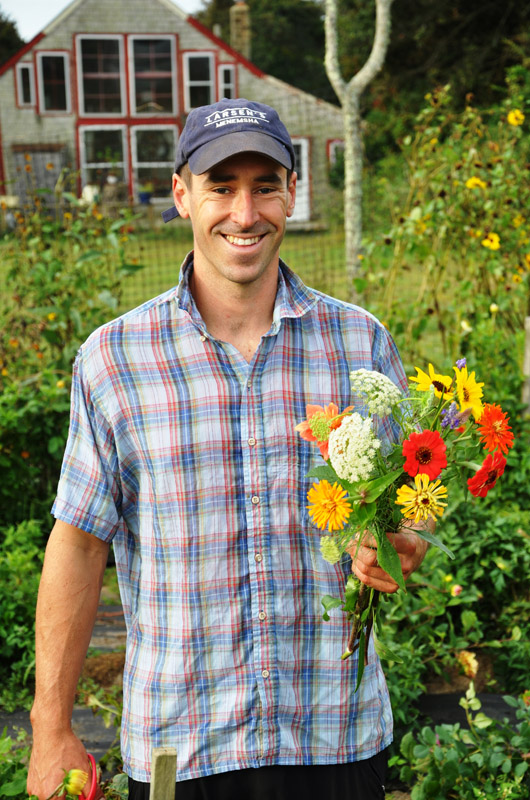 "She basically became the project manager," said Mr. Fischer. "There's no way this book would be anything close to what it is without her."
But the genesis of the cookbook goes back farther than his relationship with Ms. Young. Mr. Fischer started writing a column for the Vineyard Gazette several years ago, wanting to write and believing he had something to say.
"The book came about through wanting to share what was here and what was happening," said Mr. Fischer. "And I thought my perspective on this food movement was worth sharing."
The essays in the book range from his father's farming and conversations with his plants to a piece on musician and oyster fisherman, Johnny Hoy. The mood of many pieces reflects a yearning for a more sustainable form of food production, one that harkens back perhaps to a previous time period.
"My dad talked about missing the simple life of his childhood or of his ancestors," said Mr. Fischer. "And we're so blessed on Martha's Vineyard to still be able to live in a rural community that is in fact very different from the mainland."
Beetlebung Farm has been updated some but it too does not appear to have lost its rural look from many years ago. Mr. Fischer walked through the farm surveying it with a gaze one could imagine his grandfather employed when he first purchased it.
"I think there's a certain amount of self-sufficiency that comes from living in a rural place and living far away from stores," said Mr. Fischer. "I mean, if something has to get done, you have to figure out how to do it."
Mr. Fischer explained that the farm has needed some repairs over the years, and he pointed to the property's wooden fence that he said needed to be fixed soon. And it is clear that he'll be the one to do it. Mr. Fischer's book does not forget, but rather seeks to remember an older and simpler way of farming and growing food, and in turn, the generations before that practiced it on Beetlebung Farm.
"It's been the center point of my family for a long time," said Mr. Fischer. "And it symbolizes something my grandfather worked for his whole life. And he had it. And now it's up to me."