The Obama family departed from Martha's Vineyard Airport aboard Marine One at about 6:18 p.m. Sunday, bringing the First Family's final Vineyard summer vacation during the Obama presidency to an end.
Several neighbors stood on the North Road in Chilmark and others along the roads in West Tisbury to wave goodbye. At the intersection of Tabor House Road and North Road a large white sign painted with red and blue read "Thank You Obamas," signed by the Keene family.
The President, First Lady Michelle Obama, and daughters Sasha and Malia arrived at the airport at 6:10 p.m. The President was wearing a blue button-down shirt, khaki slacks and sunglasses and appeared to be carrying a to-go style cup of coffee. The First Lady wore a gingham dress with white Converse sneakers.
The First Family boarded Marine One together, bound for Joint Air Base Cape Cod to board Air Force One and journey on to Washington DC. At 6:32 p.m. Marine One touched down in Cape Cod.
The family's departure was moved up by about three and a half hours as storm clouds moved in, threatening an end to a warm, sunny weather that lasted for most of the President's two-week summer vacation.
This was the seventh time the Obamas spent a summer vacation on the Vineyard while in the White House, visiting each year except for 2012.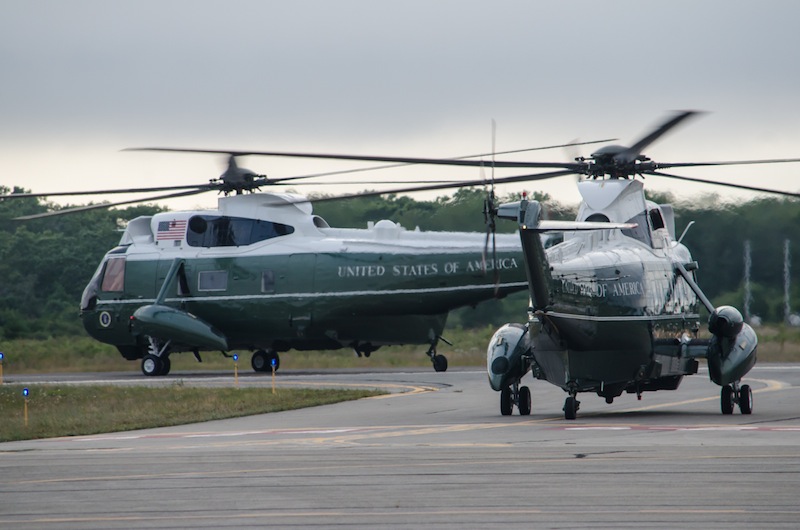 The last day of the vacation unfolded in a familiar pattern, as the President played a round of golf at Farm Neck Golf Club with investor Glenn Hutchins and former UBS investment bank president Robert Wolf, both seasonal Vineyard residents, as well as Cy Walker, advisor Valerie Jarrett's cousin. By 4:45 the motorcade departed Farm Neck, met by clusters of onlookers waving to the President.
The 15-day vacation was quiet and low-key. The President played 10 rounds of golf — six at Farm Neck, three at Vineyard Golf Club in Edgartown, and one at Mink Meadows in Vineyard Haven. The First Family spent four afternoons at a private beach in Edgartown, and per tradition, watched the Oak Bluffs fireworks show Friday from Ms. Jarrett's Oak Bluffs home.
The President and First Lady also spent several nights on the town, visiting a wide range of Island restaurants, most of them for the first time. Down Island, Jimmy Seas, and Red Cat Kitchen in Oak Bluffs; State Road in West Tisbury and Beach Road in Vineyard Haven; and Detente, L'etoile, and Chesca's in Edgartown all received presidential visits.
There was also one late night out in Lola's, where the President and First Lady reportedly attended Vernon Jordan's birthday party last Sunday.
Mr. Obama took a break from vacation mode to campaign for Hillary Clinton last Monday, when he delivered remarks at a private home in Chilmark.
The President will return to Washington D.C. and the last five months of his presidency. He is scheduled to travel on Tuesday to Baton Rouge, La. in response to severe flooding in that area.
More about the President's time on Martha's Vineyard.