Oak Bluffs first graders who consult their supply list will see the promise of a colorful year. Along with a 50-page sketch book, it's suggested they bring colored pencils, crayons and markers in 12 different colors.
On Tuesday, Sept. 8, Vineyard public schools expect to welcome 2,158 students to a new year. Projected enrollment is up slightly from last year, which saw 2,117 students in the six public schools. Official enrollment is recorded following the annual school census on Oct. 1.
Several new faces will line the staff page of yearbooks this school year. A total of 69 new staff members joined the school system including 36 new teachers and 26 new education support professionals. Following the sudden resignation of the high school principal last summer and a year under interim leadership, principal Sara Dingledy takes the helm at the regional high school, where 677 students are expected to attend.
Vineyard schools superintendent Dr. Matthew D'Andrea said he is especially excited about the stability Ms. Dingledy will bring to the high school.
"She's not just a day-to-day principal who maintains a building, she's someone with vision and that's going to be tremendously beneficial at the high school," Mr. D'Andrea said. "With the changes and instability around the leadership, there hasn't been that."
In the past two years, the high school has come into the spotlight for the poor condition of its facilities, with needed upgrades long overdue. Over the summer, repairs were made to windows, doors and air exchange units, and tests performed on air and water quality.
"Everything came out fine, we're very happy that we know that and that the building is safe in that respect," Mr. D'Andrea said.
Meanwhile, permanent improvements and upgrades are in the early planning stages; in December administrators will learn whether the high school has been accepted into the Massachusetts School Building Authority (MSBA) grant program.
The high school athletic fields remain at the center of an unresolved controversy over a proposal by a nonprofit parent group to refurbish the track using artificial turf. The Martha's Vineyard Commission is considering whether to review the plan and will hold a public hearing at the school on Sept. 15.
The Tisbury elementary school is expecting 308 students this year and is on track with future plans for a new school building using grant funding from the MSBA.
At the Oak Bluffs School, Megan Farrell begins her first full year as principal after taking over for Jack Rizzo who resigned last year. Oak Bluffs expects 419 students.
In Edgartown, 364 students are expected.
At the two up-Island schools, capital projects from heating to roofing repairs were completed, or nearly completed, over the summer. Projected enrollment is up in West Tisbury at 341 students, and down slightly in Chilmark at 44 students. West Tisbury will also receive 14 Project Headway preschool children this year. There remains ongoing tension among the three towns in the up-Island regional district over school spending, and how it is allocated between the two schools.
Mr. D'Andrea, who is beginning his second year as superintendent, has been working on a strategic plan since he took the job. The plan will give the entire district goals to strive for while outlining steps to achieve the goals, optimizing efficiency. Educator growth, student needs, facility needs and budget issues are all themes. He said he plans to work on the draft with staff, community and the school committee in the coming school year.
Under his leadership, the schools are continuing to evaluate existing structures in the school system and experimenting with new ideas.
"Coming in as the new superintendent I thought it would be a good idea to look at our programs and evaluate them and see if they are efficient," the superintendent said.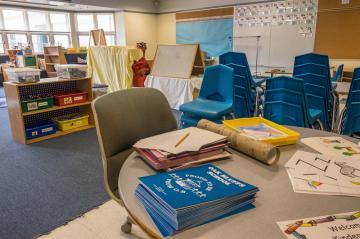 Elizabeth Keefe, a consultant from Lesley University, will help evaluate special education services this fall.
"She is going to come in, interview people, observe programs and spend a lot of time here observing, interviewing and provide feedback on what we're doing well, where we can improve, and give us advice and information about what is being done in other districts," Mr. D'Andrea said. "Which can help us do things better for our students and be more efficient."
The fifth through eighth grades will join the first through fourth grades in a new writing program.
At the Martha's Vineyard Public Charter School, 178 students are enrolled, two shy of a full roster, director Robert Moore said.
Two new science labs, endowed by Robert Day of Edgartown and dedicated to his friend Vernon Jordan, will be open and operating this year. The charter school is also experimenting with enrichment programs this year, three one-hour blocks a week that encourage students to pursue a higher level of learning in an area that interests them.
"For example if a student wants to be reading at a higher level, we'll make it a part of their life every week," Mr. Moore said.
Teachers and staff at the charter school will focus on collaborative problem solving, a small group method to help students improve their feelings about school, introduced by Harvard University and Massachusetts General Hospital.
And thanks to a student initiative at the end of last year, the charter school will switch from plastic to reusable utensils, to start the year off on a green note.